China Hawks in Congress Want Beijing to Pay Compensation For Coronavirus Pandemic
China hawks want Beijing to pay compensation over the novel coronavirus outbreak, and expect the U.S. to cut supply chains with Chinese firms in critical sectors.
Republican congressmen told Newsweek that they believed China should be held accountable for its efforts to suppress reports of the new disease in December last year, as well as its wider failure to be transparent with the international community.
They also said the Chinese Communist Party's actions amid the pandemic were "disgusting" and "disgraceful" as they suggested the U.S. should further split with Beijing.
"The Chinese Communist Party's blatant mishandling of the coronavirus pandemic exacerbated the public health and economic crisis currently plaguing the international community," Sen. Marco Rubio (R-FL) told Newsweek in an emailed statement.
"At the same time, Beijing is exploiting the crisis for geopolitical gain and to spread misinformation that only further endangers public health.
"My sole focus right now is ensuring Florida and our nation have the resources to make it through this pandemic, but the time will come soon to hold the Chinese Communist Party fully accountable for its disgraceful actions."
Sen. Rick Scott (R-FL) echoed his colleague's view on the coronavirus outbreak, arguing that China held "a lot of responsibility" for deaths and job losses in America and other countries.
"The World Health Organization has parroted whatever China has said instead of doing an investigation, which makes no sense to me," the ex-Florida governor said in an interview. "I think China has a lot of responsibility for the number of people that have passed away, the number of people who've gotten sick and the number of people that have lost their jobs."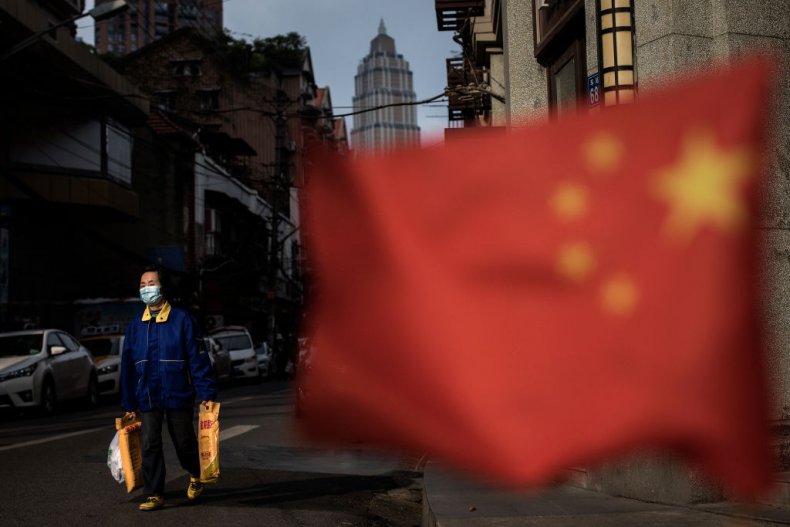 Rep. Mike Gallagher of Wisconsin told Newsweek that he held China "primarily responsible" for the COVID-19 outbreak and expected the country to be "held accountable" once the pandemic was under control.
"When the dust settles, I do think they will have to be held accountable for their initial opacity, and their subsequent propaganda effort," the congressman said.
But he also recognized that the United States and other countries besides China would have to take a look at the way they responded to the pandemic.
Gallagher said: "Now, every country I think will look at their own response mechanisms and the resiliency of their healthcare system and find supply chain failures. Certainly we have become dangerously dependent on Chinese pharmaceutical and Chinese manufacturing."
President Donald Trump's reaction to the COVID-19 outbreak and the ensuing pandemic have been the subject of scrutiny, with critics pointing out that the commander-in-chief was comparing coronavirus to the seasonal flu in March as others have noted that U.S. testing for the disease has lagged behind other countries.
His latest decision to withhold funding from the World Health Organization drew further ire this week, with Microsoft founder Bill Gates calling the move "dangerous" in the middle of a pandemic.
But serious questions have also been raised about the actions of Chinese authorities when the outbreak first came to light.
The first cases of COVID-19 in the Chinese city of Wuhan were noted in December—with a later report claiming that the first case of the disease in the area may have been traced back to November.
Chinese authorities were quick to quash talk of a SARS-like disease emerging in the country. When Dr. Li Wenliang, 34, alerted classmates to patients being brought in with a disease similar to the SARS virus on December 30, his message ended up going viral. Rather than providing full details to the world, Chinese censors came down on Li for "spreading rumors" and forced him to sign a statement promising not to commit other "unlawful acts."
On December 31, China alerted the WHO to cases of pneumonia. It took until January 12 to publicly share the genetic sequence of COVID-19, and at around the same time the country's authorities were still falsely maintaining that there was "no clear evidence" of human-to-human transmission of COVID-19.
It was not until January 23 that Wuhan—the epicenter of the pandemic and a city occupied by 11 million people—was subject to stringent travel restrictions.
The Associated Press also reported on Wednesday that Chinese President Xi Jinping and senior officials delayed telling the public that the novel coronavirus spread was likely to become a pandemic. A Chinese Foreign Ministry official said the report of a six-day delay was "unfair."
"I think what we've seen is, had the Chinese Communist Party been more transparent early on, we could have dramatically reduced infection," Rep. Gallagher said.
The lawmaker is one of many China hawks on Capitol Hill calling for Beijing to be held accountable for its actions. But what does accountability look like, in their view?
Several have suggested that China should be told to pay some form of direct compensation to countries and individuals, with Sen. Josh Hawley (R-MO) and Rep. Elise Stefanik (R-NY) putting forward a resolution last month that called for a probe into China's "lies and actions" as well as payments for the harm caused by its initial cover-up. The resolution was co-sponsored by Republican Sens. Martha McSally of Arizona, John Cornyn of Texas and Tom Cotton of Arkansas.
Sen. Hawley also unveiled legislation this week that aims to give Americans the power to seek damages from the Chinese government by opening it to U.S. civil claims.
"We need an international investigation to learn the full extent of the damage the CCP has inflicted on the world and then we need to empower Americans and other victims around the world to recover damages," he said in a Tuesday statement.
Sen. Lindsey Graham further called for world governments to "send China a bill" for the COVID-19 pandemic this month, and hinted that the U.S. needed to cut some supply chains with Beijing.
"We may have to revise the Foreign Sovereign Immunities Act to allow people to claim damages from China," Rep. Gallagher said in an interview.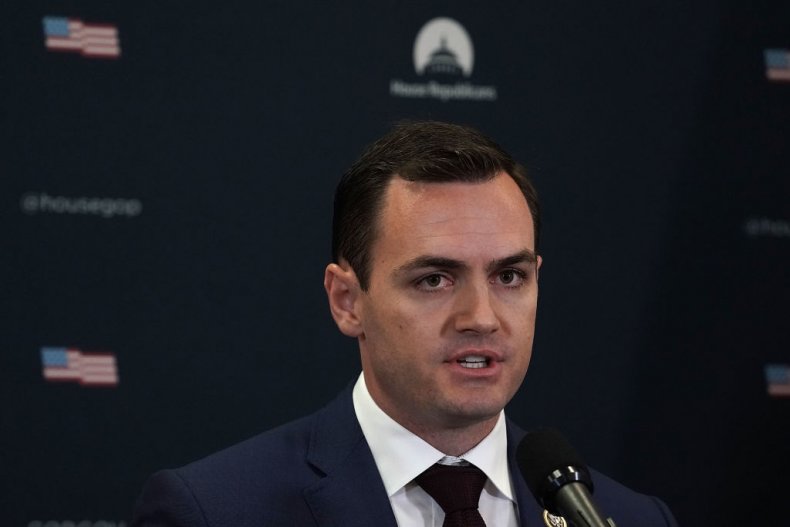 He later added: "Now what the mechanism is for that compensation, I don't yet know. But at the very least, we cannot allow them to get away with the lies in the propaganda that we're seeing on social media."
On top of their efforts to hand Americans the power to seek compensation from China, hawks have also pushed for the U.S. to cut its supply chains with China in key sectors—most notably pharmaceuticals and telecommunications.
The White House Director of Trade and Manufacturing Policy Peter Navarro has been fighting for President Trump to sign a "buy American" executive order that would block purchases of overseas medical goods, according to The New York Times.
Sen. Rubio also introduced legislation in mid-March that aimed to cut U.S. dependence on Chinese medical supply imports. His bill received bipartisan support, with former Democratic primary candidate Elizabeth Warren backing the proposal.
Around the same time, Sen. Scott put forward the American-Made Protection for Healthcare Workers and First Responders Act—a bill that would authorize the Department of Homeland Security to build a stockpile of personal protective equipment (PPE) as well as prohibiting federal agencies from purchasing PPE from foreign suppliers.
"I think we ought to hold them accountable for the losses we've all incurred and the deaths that have been incurred," he told Newsweek. "I think China has to be financially held accountable."
In a statement announcing his bill in March, the senator added: "We cannot continue to rely on countries like Communist China, who lied about the Coronavirus and refuses to be a partner in solving this crisis, for critical supplies."
His colleague Marsha Blackburn (R-TN) signaled support for such a measure last month, telling other senators that she wanted the U.S. to "end Chinese control over our health and wellness in this pharmaceutical supply chain."
Rep. Gallagher also said that he believed America would have to consider how it might reshore some of its supply chains with China. He said: "I'm not talking about a total decoupling. Wisconsin farmers want to sell soybeans to China, that's fine. If we want to buy cheap t-shirts from China, that's fine. But I don't think we can be dependent on them for API's and our pharmaceuticals, the active pharmaceutical ingredients.
"And I think certainly when it comes to the future of healthcare, telecommunications and 5G internet, we can't be dependent. "
He added that he believed a hawkish "consensus position on U.S. foreign policy" was emerging around China.
"On the Armed Services Committee, which I work on, I don't see much disagreement with my Democratic colleagues on the issue of Huawei and 5G," the congressman said.
President Trump has also sniped at Beijing amid the ongoing pandemic, questioning its official figures on coronavirus infections and deaths as well as calling COVID-19 the "Chinese virus," a label some have called racist.
"I would say I was glad to see the president shift from a more rapprochement focus tone with General Secretary Xi, which he voiced early on, to a more confrontational tone, because I think it is warranted," Rep. Gallagher said in late-March.
"And I don't think we do ourselves any good by ignoring Chinese culpability. I don't think it's racist to suggest that that's true, and to name the virus accordingly."
Sen. Scott said: "I think it's disgusting what China's done. I've been clear on China: I don't think they're for democracy. They are not a competitor, they're an adversary. They steal our jobs, they steal our technology, and now they've killed people because of their actions."
Newsweek has contacted the Chinese embassy for comment and will update this article with any response.