China Holds Military Drills in Hong Kong As Big Protests Planned for New Year
China has conducted major military exercises in Hong Kong ahead of large demonstrations planned for New Year's celebrations as protesters keep pushing for wider reforms in the semi-autonomous city.
The Chinese People's Liberation Army Hong Kong Garrison released footage Sunday of its land, air and sea forces conducting joint drills in Victoria Harbor, a rare display of might within the city itself as it undergoes worsening unrest. Among the equipment seen in the training, which took place Friday, were a Z-8KH helicopter, a Type 056 corvette and other vessels operating off the waters of Hong Kong.
Ye Weibang, deputy captain of Type 056 corvette Qinzhou, told the official China Central Television (CCTV) that the maneuvers included escort, search and rescue, inspection and capture operations.
"Compared to the past, this exercise lasted a long time, involved more troops and the training's content was closer to actual combat, which tested us a lot," he added.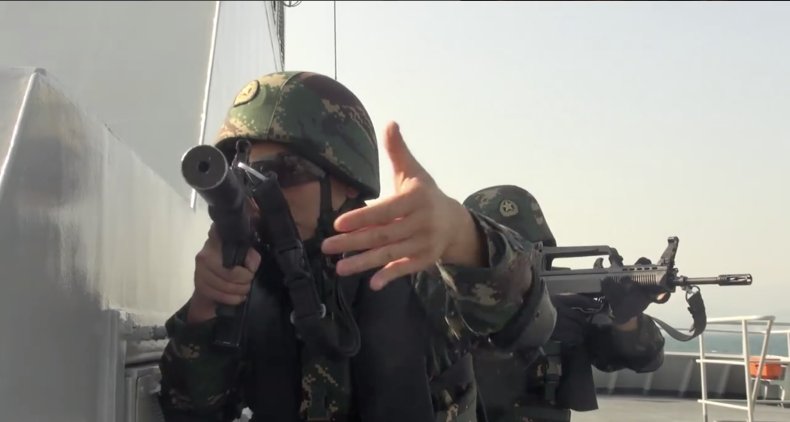 Though no official connection was made, the drills came as Hong Kong braced itself for a new wave of rallies coinciding with New Year's Eve and New Year's Day. For months, the East Asian economic hub has been rocked by protests initially opposed to a proposed bill that would allow the extradition of suspects to the mainland but now focused more broadly on the removal of Chief Executive Carrie Lam and distancing the city from the central government in Beijing.
Since being handed over by the colonial United Kingdom in 1997, Hong Kong has been subject to "One Country, Two Systems" rule, affording it a 50-year special administrative status that opposition forces argued has already begun to erode. Some activists have called for total independence from China, which has vowed to defeat any separatists trends and even intervene directly if necessary as clashes between protesters and police worsened.
Hong Kong Police have already announced "crowd safety management measures and special traffic arrangements" ahead of expected New Year's events. Reuters reported Monday that large events called "Suck the Eve" and "Shop With You" were set to consume major commercial areas such as Lan Kwai Fong and the very same Victoria Harbor in which Chinese forces drilled on Friday, while a police-approved New Year's Day march was set to begin at Causeway Bay and end in the Central District.
While many rallies have been peaceful, instances of violence have left citizens and security forces alike fearing potential escalations. Gatherings around Christmas saw masked rioters throwing firebombs at police and train stations, according to the Hong Kong police, who have struggled to contain a situation that the central government's mainland office said last month was "sliding into the abyss of terrorism."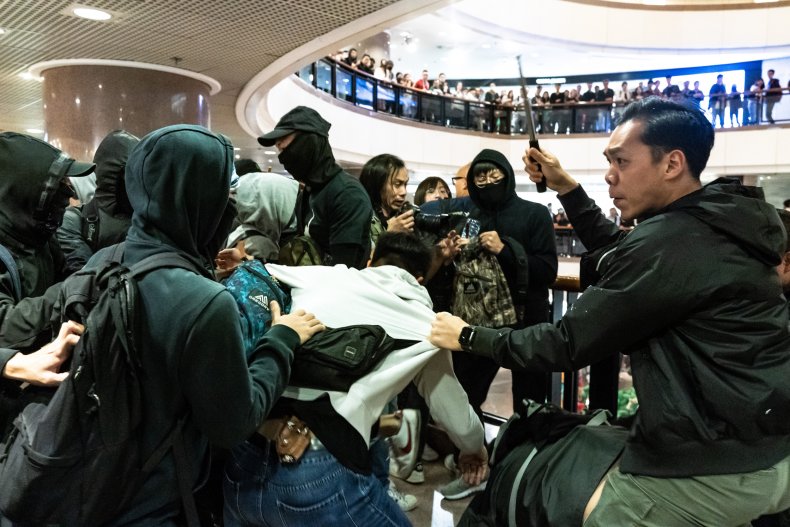 Also last month, the United States passed the Hong Kong Human Rights and Democracy Act, condemning China's response to the crisis and threatening to sanction officials involved in cracking down on demonstrations. Beijing has condemned Washington for interfering in what the Chinese government considers to be an internal matter.
Shortly after the U.S. bill was signed into law, the Chinese Foreign Ministry suspended U.S. Navy visits to Hong Kong and warned further steps could be taken to discourage Washington's intervention in Chinese affairs. Beijing has also hit out at U.S. officials and lawmakers for meeting with Hong Kong activist leaders.
The two countries have said they reached, an in-principle, first-phase arrangement to settle their global trade war, but still remain in dispute over various other sovereignty issues including the sovereignty of self-ruling Taiwan and the maritime boundaries of the South China Sea.