As China, India Reject U.S. Offer to Help Resolve Border Conflict, Questions Emerge Regarding Trump and Modi Contact
China and India have rejected the White House's offer to play a mediating role to resolve recent clashes along their disputed border, and questions have emerged about President Donald Trump's recent claim to have spoken with Indian Prime Minister Narendra Modi about the issue.
Asked about Trump's tweet Wednesday in which he said the United States has "informed India and China that the United States is ready, willing and able to mediate or arbitrate their now raging border dispute," Chinese Foreign Ministry spokesperson Zhao Lijian told reporters in Beijing on Friday that the situation is "generally stable and controllable" and that both sides could handle it on their own.
"China and India have full-fledged border-related mechanisms and communication channels," Zhao said. "Both sides have the ability to properly resolve the problems between the two countries through dialogue and consultation without the need for third-party intervention."
Trump's offer also came up on Thursday in New Delhi during a virtual press conference held by Indian Foreign Ministry spokesperson Anurag Srivastava. He maintained that India and China "have established mechanisms both at military and diplomatic levels to resolve situations which may arise in border areas peacefully through dialogue and continue to remain engaged through these channels."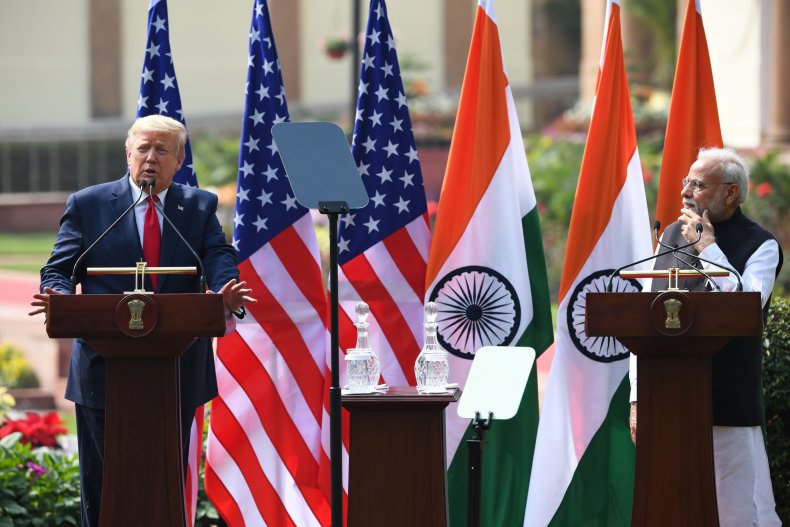 But later that day, Trump suggested he had spoken directly with Modi about the border issue, saying the Indian leader "he's not in a good mood about what's going on with China."
The Indian Foreign Ministry, however, said Friday that the two heads of state have not been in contact since April 4 and that the conversation revolved around the drug hydroxychloroquine, according to a statement carried by a number of major Indian news outlets. Trump has supported the use of the drug in treating COVID-19 and has said he used it himself in spite of growing concerns over its efficacy and potential risks among health experts.
The White House and Indian embassy in Washington did not immediately respond to Newsweek's request for comment.
The denial echoed the fallout of Trump's attempts to play interlocutor between India and Pakistan in their own tense Kashmir border dispute last summer. Then New Delhi issued a denial after Trump claimed to have secured Modi's support for a U.S. mediation role, something Islamabad was pushing for at the time.
The armed forces of the U.S. and India did establish recent contact, though. The Pentagon released a readout Friday of a telephone conversation between Defense Secretary Mark Esper and Indian counterpart Rajnath Singh, who together "discussed a range of regional security issues and the Secretary expressed his firm commitment to India's leadership across the Indo-Pacific" among other topics.
The Indian Defense Ministry said Esper and Singh "reviewed progress on various bilateral defense cooperation arrangements and expressed their commitment to further promote our defense partnership."
Beijing and New Delhi officials have offered few details on the situation along their long-contested border, but media reports from both countries have revealed unarmed clashed between Chinese and Indian troops in at least four spots: Pangong Tso, Galwan, Demchok and Daulat Beg Oldie. The two countries briefly went to war in the 1960s over territory in this region of Ladakh and Aksai Chin as well in another pass separating Sikkim and Tibet, where they skirmished in 2017 in hand-to-hand combat.
While that clash was prompted by China's construction of a road along land claimed by Indian ally Bhutan at Doklam, or Donglang, the latest scuffle appeared to be sparked by India's building of observation points and bridges at the Himalayan lake of Pangong Tso and the valley of Galwan. These areas often witness dueling patrols by both armies.
Beijing and New Delhi have both stepped up efforts to assert contested territorial claims in recent years. While Chinese President Xi Jinping has emphasized his country's sovereignty over Taiwan and the South China Sea, Modi has ramped up efforts to expand his control of disputed Kashmir, including Ladakh.
Increased Chinese military activity in the Asia-Pacific has angered the Trump administration, which is also feuding with Beijing over trade, the political status of Hong Kong and the handling of the novel coronavirus pandemic. On Friday, the president simply tweeted: "China!"