China Joins Russia in Blasting 'Illegal' Strategy Backed by U.S. in Syria War
China has joined Russia in criticizing a strategy of unilateral military actions and economic sanctions followed by the United States in Syria as the country marked a full decade of civil war.
Chinese Foreign Ministry spokesperson Zhao Lijian lashed out during a press briefing Tuesday at what he claimed were the harmful effects of foreign intervention in Syria's long-running multi-sided conflict.
"In the past 10 years, Syria has been injured by illegal invasion and foreign occupation and maimed by terrorism and unilateral sanctions," he said. "National development has almost ground to a halt."
Zhao said there were lessons to be learned from this intervention.
"There are profound lessons the international community can take from this tragedy," he said, "and an important one is that wanton interference in internal affairs and unjustified pressuring and sanctions bring nothing but misery."
Zhao endorsed recent remarks delivered by United Nations Special Envoy for Syria Geir Pedersen in which he said he supported a "Syria-led and owned" peace process backed by international diplomacy. He said China would play an active role in fostering efforts to find a political solution in Syria.
"Over the past decade, on the basis of respecting Syria's sovereignty, independence and territorial integrity, the Chinese side has been promoting the political process in Syria and supporting the U.N.'s mediation efforts," Zhao said. "We maintain that terrorist forces in Syria must be uprooted and Syria's efforts to uphold national security and stability must be supported."
In doing so, he argued, Beijing would continue to oppose what it saw as unhelpful and illegitimate attempts to influence the outcome in Syria.
"We urge the relevant countries to lift their unilateral sanctions and illegal blockade over Syria and support Syria's efforts to improve its people's livelihood," Zhao said. "China will continue to play a positive role in advancing an early, peaceful, just and proper settlement of the Syrian issue."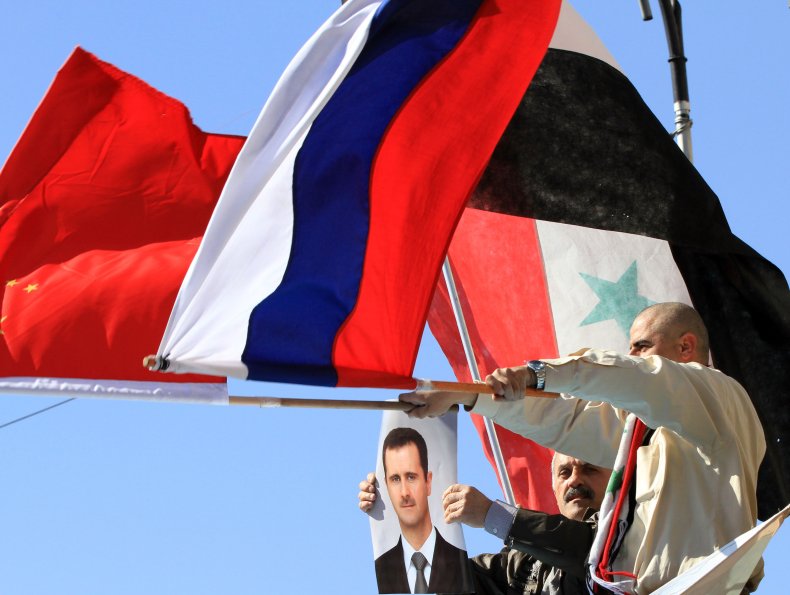 Zhao, who has previously accused Washington of "meddling and trouble-making" in Syria and a number of other conflict-ravaged countries, did not mention the U.S. by name on Tuesday, but many of his points mirrored language in statements sent to Newsweek by Moscow's embassy in Washington to mark Monday's 10-year anniversary of Syria's war.
"It is important to cease the cruel sanction campaign against the Syrian people and put an end to illegal military presence in the Arab Republic," the embassy said at the time.
The embassy also noted there was a potential for U.S.-Russia cooperation in Syria, but based specifically "in providing humanitarian assistance to those in need, countering terrorism and pushing forward political process with a common goal to achieve peace."
Syria's war has killed more than 500,000 people and displaced millions more internally and externally over the past decade.
As swelling anti-government protests were met with an increasingly tough crackdown by security forces in 2011, the country descended further into a civil war in which the U.S. and its Western and Middle Eastern allies would side with the opposition. When a resolution seeking to condemn Syrian President Bashar al-Assad emerged at the U.N. Security Council that October, however, China and Russia utilized their permanent member status to block it.
Beijing and Moscow have since vetoed, mostly jointly, at least 15 more U.N. Security Council resolutions pertaining to Syria, and have unsuccessfully attempted to draft their own as well. An additional 16 resolutions have also been adopted throughout the conflict with unanimous support by all five permanent U.N. Security Council members.
As the war dragged on, however, Western permanent members France, the United Kingdom and the U.S. would also go on to provide assistance to the insurgency, and then later establish an international coalition in 2014 to battle the Islamic State militant group (ISIS) as it overtook the largely rebel-held country.
The trio, though predominantly the U.S., has also deployed a limited number of ground troops in a presence considered an occupation by the Syrian government and its allies, Iran and Russia.
Both Moscow and Tehran have offered direct aid to Damascus, allowing it to regain most of its lost territory, save for that under the control of the Pentagon-backed, mostly Kurdish Syrian Democratic Forces in the northeast and pockets under the control of an opposition largely backed by Turkey near the northern border.
China, for its part, has avoided direct military involvement in Syria, though it has sounded the alarm on groups such as the East Turkestan Islamic Movement, a jihadi organization comprised largely of Uighurs and active both in Syria's northwestern Idlib, China's northwestern Xinjiang and across parts of Central Asia.
Beijing has chosen to focus on reconstruction efforts in Syria and trade with Damascus, which has expressed interest in joining Chinese President Xi Jinping's Belt and Road Initiative of infrastructure projects around the world. Both China and Russia have looked to capitalize on potential post-war deals with Syria on commerce, transportation and other key sectors.
China also announced last month it would send 150,000 COVID-19 vaccines to Syria, which has also approved Russia's Sputnik V vaccine for use.
The U.S., on the other hand, has continued to blacklist any dealings with Damascus, and continues to seek political reform.
State Department spokesperson Jalina Porter said Monday that under the Assad government, the Syrian people "have suffered innumerable atrocities, and we will continue to work with the international community to promote accountability and call for the release of those arbitrarily detained, information on whereabouts of the missing, and unhindered humanitarian assistance to the Syrian people."
In line with previous policy statements, she called for a diplomatic resolution to hostilities.
"We will also continue to promote a political settlement to end the conflict in Syria in close consultation with our allies, partners, and the United Nations," she said. "A political settlement is the only way to sustainably end the conflict, prevent greater suffering, and provide the peace and stability the Syrian people deserve."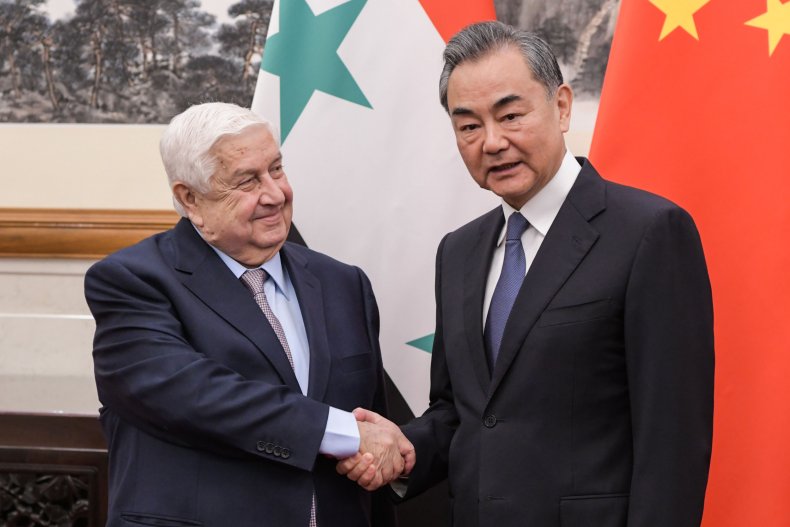 In Damascus, however, Deputy Foreign Minister Bashar al-Jaafari railed Tuesday against Western countries that "have become accustomed to politicizing the work of United Nations organizations and bodies and interfering with the work of these organizations during the war on Syria, by fabricating pretexts and lies in files such as human rights, chemical weapons and humanitarian aid."
He said these countries were guilty of "the worst forms of abuse against the Syrian people by imposing unilateral coercive economic measures and through their direct and indirect involvement in the terrorist war that is being waged against Syria and its people."
A number of Arab League states, including Saudi Arabia, have already begun to call for Syria's reinstatement to the 22-member group since its membership was suspended early in the war. The calls come as Assad is set to soon face elections, though past presidential races have played out largely uncontested in favor of the longtime Syrian leader.
Syria was also one of the 17 signatories, alongside China, Russia, Iran and others, to join the international gathering known as the "Group of Friends in Defense of the Charter of the United Nations."
The group recently shared with Newsweek its call for, among other things, "promoting the prevalence of legality over force and for discussing, articulating possible means and coordinating joint initiatives for fostering respect to the principles of sovereignty, equality of States, non-interference in the internal affairs of States, peaceful settlement of disputes, and to refrain from the use or threat of use of force against the territorial integrity or political independence of any State."