China Launches War Games Near Taiwan, Sends Official to Tell Island You Belong to Us
The Chinese military began live-fire exercises Wednesday in the waterway that separates it from Taiwan, a breakaway island nation still claimed by the mainland government in Beijing.
China's Taiwan Affairs Office Director Liu Jieyi said the drill, which the Fujian Maritime Safety Administration described as lasting from 8 a.m. to midnight local time, was designed to "safeguard China's sovereignty and territorial integrity," according to the official China Global Television Network. As Beijing increased and intensified its South China Sea presence, its rhetoric targeting Taiwanese autonomy has grown more militant.
Related: China Says U.S. Should Give Syria's Assad 'an Opportunity to Explain' Before Trump Attacks
Liu himself met with Taiwan's Hualien County Governor Fu Kun-chi on Wednesday, urging him to stick to the "one-China principle and resolutely oppose all kinds of 'Taiwan independence,'" according to Liu's office. Chinese Foreign Ministry spokesman Hua Chunying also emphasized this talking point to reporters.
"There is only one China in the world, and Taiwan is an indispensable part of China's territory," Hua said during a regular press briefingWednesday.


The U.S. has recognized the communist government in Beijing as the sole representative of China since 1972, when Washington agreed to forego regular ties to the rival government in Taiwan. The U.S. has, however, sold weapons to Taiwan and President Donald Trump broke with tradition in December 2016 by accepting a congratulatory call from Taiwanese President Tsai Ing-wen. As Trump edged closer to a trade war against Chinese President Xi Jinping last month, the Republican leader signed a travel agreement with Taiwan.
Xi has already laid out sweeping reforms to his country's armed forces, which he sought to transform into a state-of-the-art warfighting machine in the coming decades. He has overseen the commissioning of China's first aircraft carrier, which was to soon be joined by the nation's first homemade aircraft carrier.
Over the past year, China has conducted more military drills near Taiwan, and Xi promised last month any attempts to challenge Beijing's claims to the island nation would be "doomed to fail" and invite "the punishment of history." After mobilizing a thousand marines in the largest exercise of its kind last month, China held its biggest military parade in history last week. Xi himself joined the massive aircraft carrier formation, announcing Wednesday's drills and telling sailors it was "urgent" to strengthen the navy.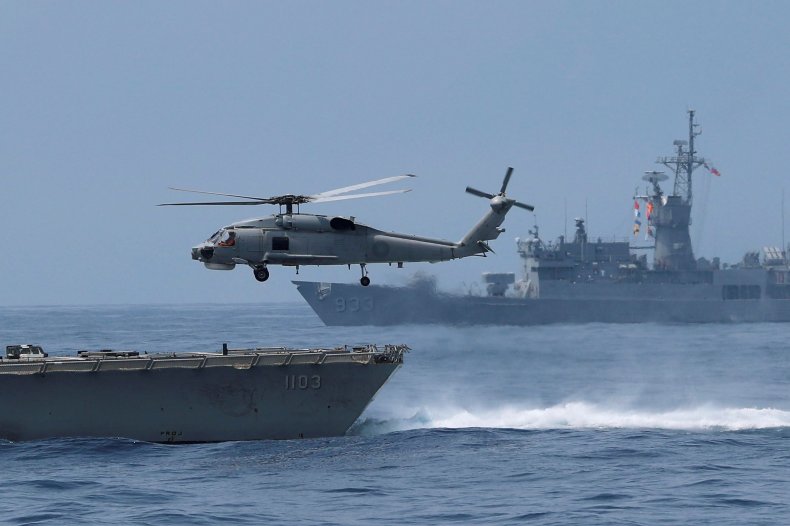 When asked Monday if the upcoming drills in the Taiwan Strait were targeting Taipei's aspirations of total independence, Chinese Taiwan Affairs Office spokesman Ma Xiaoguang said, "the Chinese mainland is firmly against 'Taiwan independence,' according to ruling Chinese Communist Party newspaper The Global Times. "We would like to reaffirm that we have strong determination, confidence and capability to destroy any type of 'Taiwan independence' scheme in order to safeguard the country's sovereignty and territorial integrity."
The Taiwanese Defense Ministry said Wednesday that a Chinese Xian H-6K bomber passed through the nearby Miyako Strait to carry out long-distance training activities, but described the maneuver as "not unusual." Nevertheless, Ministry spokeswoman Chen Chung-chi condemned the exercises.
"The Chinese communists have been using cheap verbal intimidation and saber rattling on every aspect of the Republic of China in the hope of affecting our morale or creating social unease," Chen said, according to Reuters.