China Must Prepare For 'Military Clash' Over Taiwan And 'Strike Back' at U.S. Interference, State Paper Says
China must "strike back" against U.S. interference over Taiwan and prepare for a "direct military clash," Beijing state media has said.
On Tuesday, Alex Wong, U.S. deputy assistant secretary at the Bureau of East Asian and Pacific Affairs, became the first official to visit Taiwan after President Donald Trump signed the Taiwan Travel Act, which allows for and encourages high-level official visits between the two countries.
China strongly condemned the legislation as they have long considered the self-governed island to be a wayward province. During his speech at the National People's Congress on Tuesday, President Xi Jinping said any attempt at separatism is "doomed to fail" and those involved will face the "punishment of history.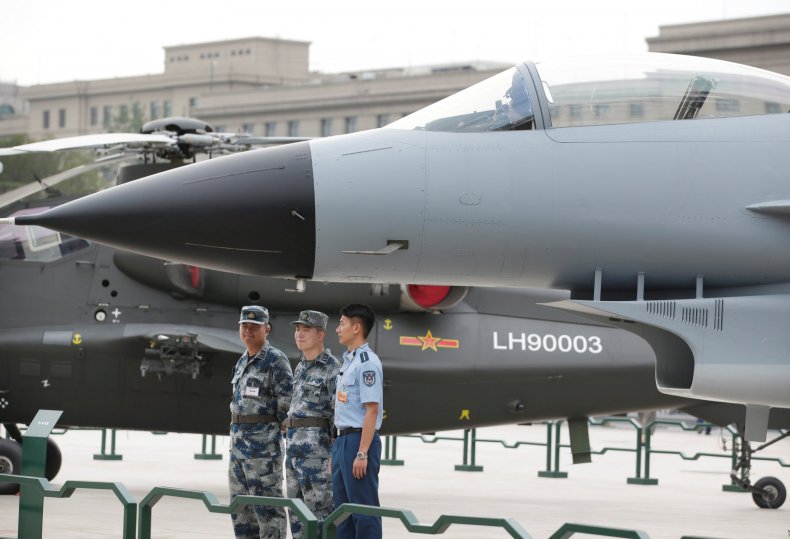 "We must strike back against Washington's implementation of the Taiwan Travel Act," Global Times, the ruling Communist Party's official paper, said in an editorial on Thursday. "The mainland must also prepare itself for a direct military clash in the Taiwan Straits. It needs to make clear that escalation of U.S.-Taiwan official exchanges will bring serious consequences to Taiwan."
It added: "This newspaper has suggested that the mainland can send military planes and warships across the Taiwan Straits middle line. This can be implemented gradually depending on the cross-Straits situation."
The Taiwan Travel Act sparked concerns in the mainland that high-level visits may eventually lead to the U.S. recognizing Taiwan as a country, which would set a precedent for other nations to follow suit.
The Chinese Embassy in Washington heavily criticized the legislation and said it "severely violates" the political foundation of the China-U.S. relationship." It also condemned America for ignoring "One China," a policy in which the U.S. recognizes Beijing's idea that it has sovereignty over Taipei.
In 1949, Taiwan became a self-ruled island, although still officially the Republic of China. Since then, Chinese Communist leaders have wanted to regain the province and has never renounced the use of force to bring it back under Beijing's control.
Last December, China's military drills around Taiwan escalated. Taipei said they posed an "enormous threat" to the island's national security, despite Beijing's claims that they were routine.
Taiwan's first female president and leader of the independence-leaning Democratic Progressive Party, Tsai Ing-wen, said she wants to preserve peace but will defend Taiwan's security and way of life if pushed to do so.