China Praises Ukraine Resistance, Pledges Economic Support
China's ambassdor to Ukraine has praised the strength of the Ukrainian people and promised to respect the choices of its sovereign government in a subtle move to balance its pro-Russia complexion.
At a meeting with regional authorities in Lviv on Monday, Fan Xianrong pledged to help Ukraine rebuild after the war. His message was a slight departure from the official line in Beijing, which still maintains general support for Moscow.
"China is a friendly country for the Ukrainian people. As an ambassador, I can responsibly say that China will forever be a good force for Ukraine, both economically and politically," said Fan, who relocated with his diplomatic staff from Kyiv toward the country's western border with Poland.
"We will always respect your state, we will develop relations on the basis of equality and mutual benefit. We will respect the path chosen by Ukrainians because this is the sovereign right of every nation," Fan told Maksym Kozytskyi, a Lviv military official, according to Ukraine's state news service Ukrinform.
"China will never attack Ukraine, we will help, in particular in the economic direction. In one year, our country imports goods from around the world worth more than $3 trillion. We are ready to help you develop. In this situation, which you have now, we will act responsibly. We have seen how great the unity of the Ukrainian people is, and that means its strength," the ambassador said.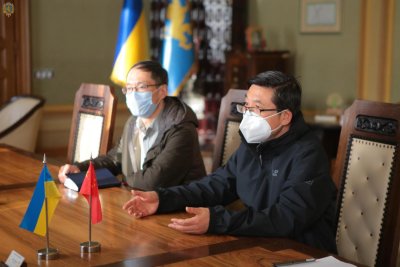 The readout, which was also published in Ukrainian by the Lviv regional government, contained no Chinese condemnation of President Vladimir Putin's actions or an acknowledgment of the many deaths caused by the ongoing Russian bombardment of major cities including Kyiv. But it's the furthest China has gone so far to offer rhetorical support for Ukraine and its choice to align with the West. In Beijing, meanwhile, officials continue to rail against the U.S. and NATO while calling attention to Moscow's security demands.
During a three-way call with French President Emmanuel Macron and German Chancellor Olaf Scholz last week, China's President Xi Jinping told his Western counterparts that they needed to help promote "a balanced, effective and sustainable European security framework." He called for equal dialogue between the EU, Russia, the U.S. and NATO, but failed to mention a role for Kyiv—a sharp contrast with the West's pledge never to discuss Ukraine without Ukraine.
This week's diplomatic move in Ukraine was also extremely understated. Fan's meeting in Lviv wasn't disclosed by the Chinese Embassy and is yet to be reported by Chinese media outlets or appear on the country's social media platforms in any official capacity. It reflects the Chinese government's outwardly pro-Russia and anti-American sentiment.
Beijing's posture contrasts with much of the world, with 141 countries at the United Nations having voted to condemn Russia's actions and requested an immediate withdrawal of its troops. China abstained at the vote in the General Assembly on March 2.
However, further outreach to Ukraine may indicate that China will not help sustain Putin's war by providing material aid to Moscow, a possibility over which U.S. officials had expressed concern after Beijing vowed to continue trading with Russia.
Following Newsweek's live blog for the latest on the Russia-Ukraine war.