China Sanctions Nancy Pelosi Over 'Provocative Actions' After Taiwan Visit
The government of China has announced it will impose sanctions against Speaker of the House Nancy Pelosi following her trip to Asia where she visited the island of Taiwan.
The country's foreign ministry announced the decision to sanction Pelosi and members of her family on Friday morning in a statement and called the Democrat's recent actions "provocative" and "vicious."
"Despite China's serious concerns and firm opposition, Pelosi insisted on visiting Taiwan, seriously interfering in China's internal affairs, undermining China's sovereignty and territorial integrity, trampling on the one-China policy, and threatening the peace and stability of the Taiwan Strait," a spokesperson for the foreign ministry said in a statement.
It was not immediately clear what the sanctions would entail.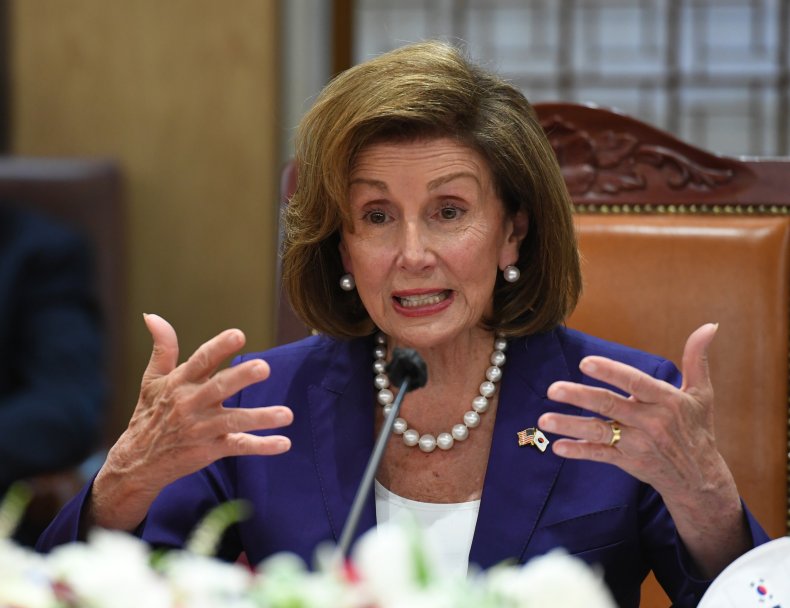 The move comes after Pelosi's visit to Taiwan, which China claims as part of its sovereign territory. The Chinese government expressed outrage at Pelosi's decision to visit the island and organized live-fire military exercises in response.
The Associated Press reported on Friday that the sanctions were unspecified but foreign ministry Vice Minister Deng Li said China would "prevent the country from splitting with the strongest determination, using all means and at any cost."
"Pelosi's visit to Taiwan is a blatant political manipulation and a blatant and serious violation of China's sovereignty and territorial integrity," Deng said. "In response to the U.S.-Taiwan collusion and provocation, China's counterattack is only natural."
Deng was referring to China's live-fire drills near Taiwan. The Taiwanese defense ministry said on Friday that Chinese ships and warplanes had crossed the mid-line of the Taiwan Strait, which has been considered an unofficial buffer zone between China and Taiwan.
Pelosi had appeared to downplay the controversy surrounding her visit to Taiwan during a joint-press conference with Taiwanese President Tsai Ing-wen on Wednesday.
"I think they made a big fuss because I'm speaker—I don't know whether that's the reason or an excuse. Because they didn't say anything when the men came," Pelosi said.
Six male U.S. lawmakers visited Taiwan and met with Tsai in April. The Chinese government protested the move at the time but their reaction to Pelosi's trip has been notably stronger.
Pelosi is the most senior U.S. political figure to visit Taiwan since then-Speaker of the House Newt Gingrich in 1997. The Chinese government expressed outrage about Pelosi's trip before her arrival and summoned the U.S. ambassador in Beijing, Nicholas Burns, to protest.
The U.S. does not formally recognize Taiwan as an independent country but successive U.S. administrations have provided key support to the island, including supplying arms.
Newsweek has asked Speaker Pelosi's office for comment.
Update 8/5/22 6:05 a.m. EDT: This article has been updated with comments by Chinese foreign ministry Vice Minister Deng Li and background information.