China Says U.S. Must Face up to Democracy Failures on Jan. 6 Anniversary
The United States must face up to its own "democracy deficit" instead of trying to promote American democracy around the world.
That was the verdict in Beijing when China's Foreign Ministry was asked to comment on the one-year anniversary of the January 6 insurrection, during which hundreds of Donald Trump supporters stormed the halls of Congress in an attempt to overturn the result of the 2020 presidential election.
The Chinese government has spent the past year criticizing America's democratic system and promoting itself as a better form of democracy. A 50-page white paper published ahead of President Joe Biden's Summit for Democracy last month extolled China as a "democracy that works."
At a regular press briefing on Thursday, ministry spokesperson Wang Wenbin told reporters that the attack on the U.S. Capitol "shocked the world and provoked deep thoughts," presumably about the suitability of democracy in general and American democracy in particular.
"The numbers from a recent NPR survey reflected general concerns and strong skepticism about American democracy among the American public and the international community," said Wang. "American democracy is full of holes and the 'Kabul moment,' when U.S. forces hastily withdrew from Afghanistan, exposed the serious harm caused by imposing American democracy on others."
Biden's democracy summit was America's attempt to "pretend itself a democratic leader," he said. The two-day event brought together representatives from more than 100 nations. China wasn't invited.
"There is no superior form of democracy in the world, and neither is there one universal model of democracy," Wang said.
"What the U.S. needs to do is put aside its arrogance and prejudice, abandon its selfishness and hegemony, face up to its own 'democracy deficit' and respect the right of all countries to explore and develop a democratic path that suits their own national conditions."
Analysts say Beijing is using its growing influence in the United Nations and other international organizations to legitimize its own form of governance, by attempting to redefine concepts such as democracy and human rights.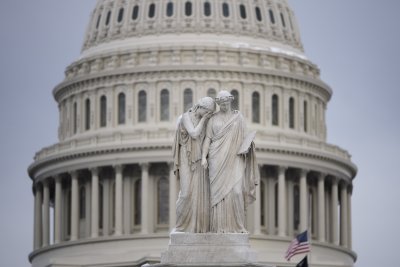 To that end, China has pointed to last year's Capitol riot, the American evacuation from Afghanistan and the political and social divide in the U.S., contrasting them with its seemingly more stable and effective political system. This emphasis is particularly prevalent in domestic messaging, which takes place in a largely isolated information environment.
In the U.S., arguments continue over the causes and implications of last January's attack. Democrats and Republicans still don't agree on what the riot meant for America and therefore haven't settled on how to bolster its democracy for the future.
Nearly 700 people have been charged for their role in breaching the Capitol. Four people who were at the scene died on January 6 and a fifth the day after. In the months that followed, four police officers who had responded to the riot died by suicide.
This Statista graph shows the status of cases for Capitol riot defendants.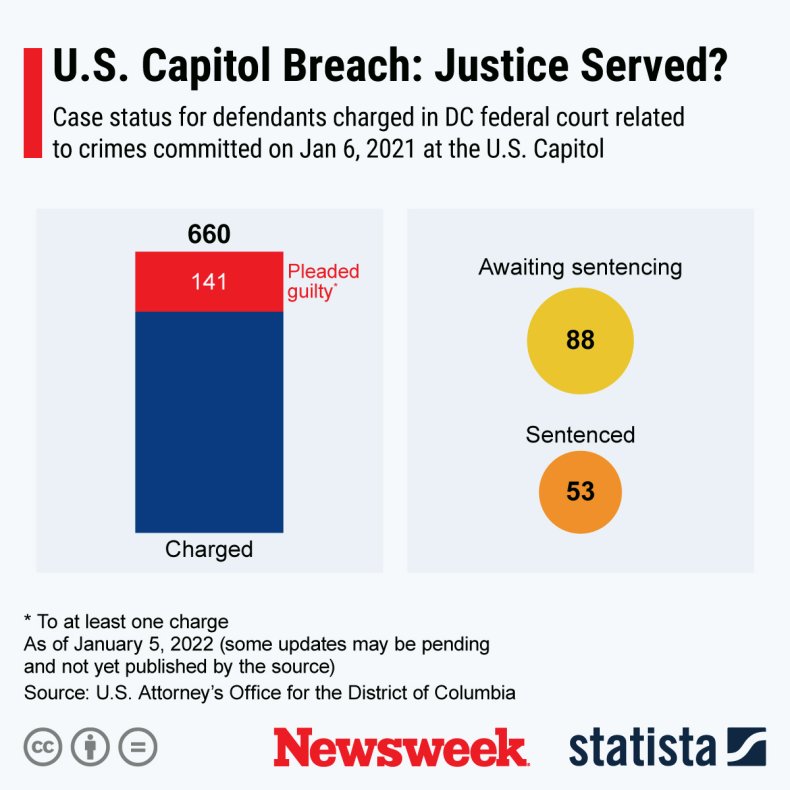 A number of lawsuits have been brought against former President Trump for allegedly inciting the violence by disputing the result of the presidential election. He had scheduled a press conference for Thursday but has since called it off.
The White House and members of Congress will mark the anniversary of January 6 with a day of events, beginning with remarks by President Biden at 9 a.m. ET.
On Wednesday, an op-ed in the Global Times, the Chinese Communist Party-owned tabloid, declared that the U.S. was in irreversible decline. It was a depressing time to be American, the newspaper said.