Joe Biden's Summit for Democracy Is Missing Some Surprising Countries
President Joe Biden will fulfill a campaign pledge next month when he hosts the inaugural Summit for Democracy from the White House, but the event is already dividing opinions because of some notable omissions in the list of participants.
Every U.S. ally and major Western government will be represented at the summit, which is scheduled to take place virtually between December 9 and 10. These include Asian treaty allies Japan, South Korea and the Philippines, fellow Quad member India, and Australia and Britain, longtime partners who are also members of the newly minted AUKUS security pact.
However, a closer look at the guest list reveals some telling absentees. Neither Russia nor China will attend, with the latter having overtaken the former as the foremost threat in the eyes of American defense planners and supply-chain policymakers alike.
Every European Union member apart from Hungary will be present. Hungary's authoritarian prime minister, Viktor Orban, maintains close relations with both Moscow and Beijing, but the country has also been a NATO member for more than two decades.
Turkey, a NATO member since 1952, has also been snubbed.
For observers who follow the U.S. political and military realignment to the Indo-Pacific—a region China is likely to dominate in the absence of American attention—it is the omission of important Southeast Asian governments that stands out.
Of the 10 members of the Association of Southeast Asian Nations, only three are invited: the Philippines, Indonesia and Malaysia. Missing from the list are Brunei, Cambodia, Laos, Myanmar, Thailand, Singapore and Vietnam.
Some align closer with Beijing, while others are not democracies, but the bloc is described in Washington as central to maintaining the regional "rules-based order."
The absence of Singapore—a U.S. security partner with naval and air base agreements—at first appears particularly controversial. But analysts in the city-state told Newsweek that it's just as well Prime Minister Lee Hsien Loong's government wasn't invited.
At a Bloomberg forum last November, shortly after the U.S. presidential election, Lee dismissed the idea of Singapore ever joining Biden's proposed "coalition of democracies" against China, describing it as a "Cold War–style" lineup.
"I believe Singapore would prefer not to be lumped or corralled into any ideological camp," said Collin Koh, a maritime security analyst at the S. Rajaratnam School of International Studies in the city-state. But Singapore's absence from the summit is unlikely to change its importance in the eyes of the U.S. and vice versa.
"Ultimately, I don't think an invite matters for co-operation for Singapore or the U.S.," said political scientist Ian Chong, who pointed to the many available channels between the two governments.
The way to look at it, then, may be to detach Biden's democracy summit from the broader U.S. realignment to the Asia-Pacific region.
"The administration's Indo-Pacific strategy is based on a network of minilateralisms not multilateralism," said Adrian Ang, a research fellow at Singapore's S. Rajaratnam School—a reference to smaller, more targeted groupings such as the Quad and AUKUS, both of which seek to counter areas of China's growing influence in the region.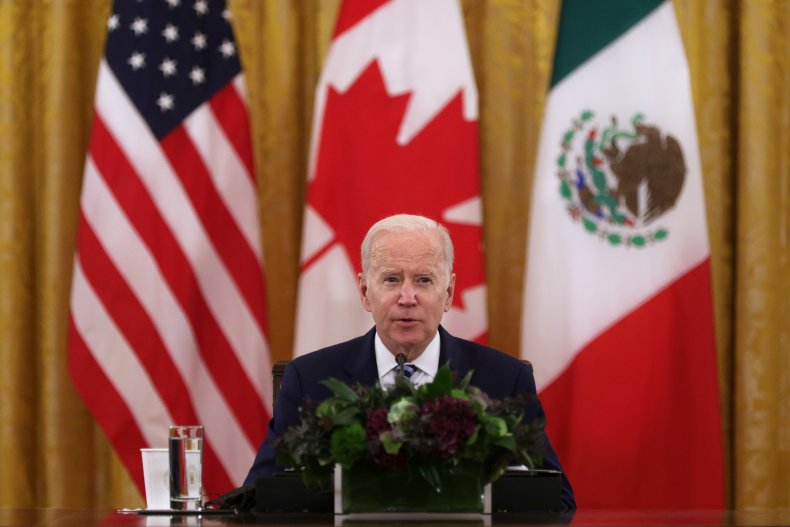 According to Chong, the gathering of 110 governments could be Biden's way of "using different modes of engagement to reach out to different states and entities." "Something substantial may come out of it for participants," he added.
One of those is likely to be Taiwan, a hot potato in U.S.-China relations for more than 40 years. Its officials will be the only representatives from a government with which Washington has no formal diplomatic relations. For Taipei, the event holds great significance as a chance to showcase achievements in governance in the absence of widely recognized statehood.
A State Department spokesperson told Newsweek on Thursday: "The goal of the invitation list was to ensure the summit reflects regional as well as socio-economic diversity, and also that it includes a slate of both well-established and emerging democracies.
"We are embracing a big tent, with a clear-eyed recognition that no democracy is perfect. The United States reached out to a regionally diverse set of democracies whose progress and commitments will advance a more just and peaceful world."
The department added: "Our goal is to be as inclusive as possible, within logistical constraints. We will work to ensure that all relevant voices and viewpoints feed into the summit process. In the  long run, we  seek to engage any  and all countries that show a genuine willingness in making commitments that support the summit's goals."