China Upset With U.S. 'Cliques' After Joe Biden Meets With Quad Nations
China came out in strong opposition to the U.S.-led Quad summit on Monday after President Joe Biden hosted the leaders of India, Japan and Australia at the White House to discuss a wide range of initiatives aimed at countering Beijing's growing influence within and beyond its neighborhood.
The first in-person gathering of Quad leaders last Friday was described as a "historic occasion" in a joint statement released by Biden and prime ministers Narendra Modi, Yoshihide Suga and Scott Morrison.
The leaders called their vision for the partnership "ambitious and far-reaching," while China's Foreign Ministry accused the group on Monday of "forming closed and exclusive cliques."
The post-summit communique didn't mention the People's Republic of China or include a direct rebuke of Beijing. Only in one paragraph did the leaders call for adherence to the United Nations Convention on the Law of the Sea and said they would "meet challenges to the maritime rules-based order" in the East and South China seas—a reference to China's aggressive assertion of territorial claims in its surrounding waters.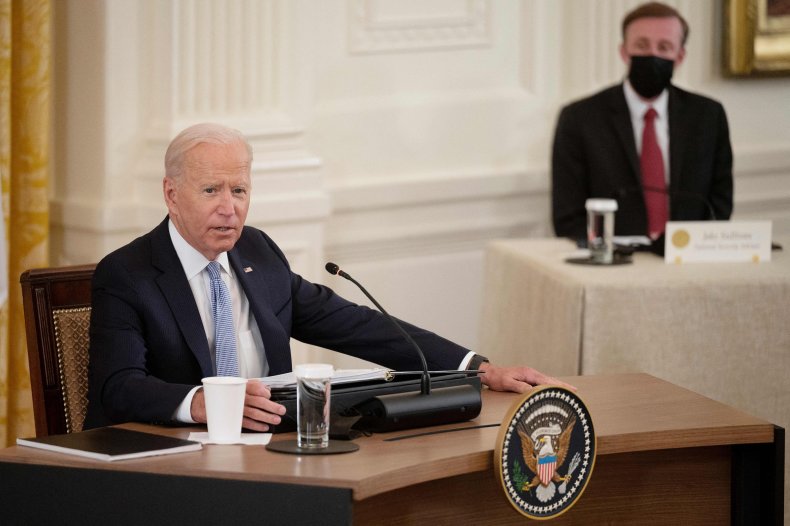 Yet despite the distinct lack of references to traditional security matters, the decidedly China-focused nature of the summit was clear from the meeting notes, which painted a picture of the Quad nations seeking to offer viable alternatives to China-led proposals at every turn and in some of Beijing's most influential arenas.
These included the Quad's recommitment to global health and climate contributions, with the group pledging to pool resources to offer countries more vaccines, safer 5G networks and supply chains, as well as provide sustainable infrastructure development.
The announcement of a Quad infrastructure partnership to complement the G7's Build Back Better World program was another pointed challenge to China's Belt and Road Initiative, which is considered Chinese leader Xi Jinping's foreign policy centerpiece.
Asked about the outcomes of the summit on Monday, Chinese Foreign Ministry spokesperson Hua Chunying accused the Quad leaders of exaggerating the threat posed by China to "drive a wedge" between Beijing's relations with regional countries.
"China is firmly opposed to this," said Hua, who called China's rise "a growing force for world peace and a blessing for regional prosperity and development." The official said the U.S. wanted an international order in which "American hegemony, bullying and domination" could continue.
The Quad nations "should abandon their outdated Cold War, zero-sum mentality," Hua said, repeating Beijing's demand to "stop forming closed and exclusive cliques."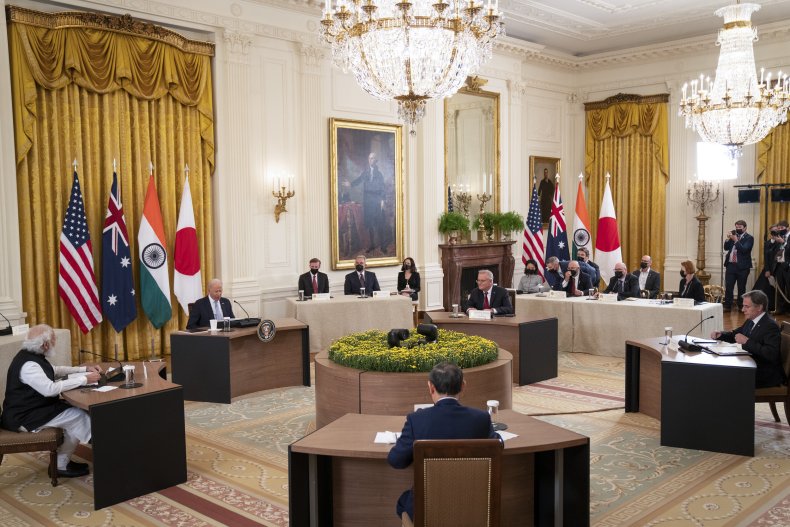 Similar responses out of Beijing in recent months appear to reflect a recognition of intense U.S.-led coalition building efforts since Biden entered the White House. Washington's rallying of allies—both big and small—have led China to warn against Cold War–style "bloc confrontation."
Speaking at the UN General Assembly last week, Biden told world leaders that America was not seeking a new Cold War, but areas of concrete cooperation between the U.S. and China now seem increasingly unlikely.
The revival of the Quad during the administration of former President Donald Trump looks to have been fully embraced by Biden, who has further elevated its importance. In 2018, Chinese Foreign Minister Wang Yi famously predicted the group would dissipate "like the sea foam in the Pacific or Indian oceans"—a nod to the rescaled Indo-Pacific regional architecture that has Quad members anchoring each of its four sides.
However, the two leaders summits this year—a virtual meeting in March followed by last Friday's in-person dialogue at the White House—have appeared to prove the Quad to be a flexible forum in which members engage in a range of topics that include, but are not limited to, security matters. In contrast, observers including China may perceive the newly formed AUKUS pact—between Australia, the U.K. and U.S.—as more oriented toward traditional defense and security.