China 'Spamouflage' Uses Capitol Riot as Evidence American Democracy Is on Its 'Deathbed'
A pro-Chinese push on social media is starting to gain traction, and it's capitalizing on the Capitol riot that happened on January 6 as ammunition for arguments against America's democracy.
Graphika, a social media analyst firm, dubbed the effort "Spamouflage" and has found that after two years, the social media posts are beginning to reach real users, including viral influencers. Accounts have been reportedly amplified by Chinese diplomats and with an increased focus on the United States, Graphika predicted Spamouflage could "continue the drumbeat of confrontation" between China and the U.S.
In the last year, more than 1,400 unique videos were produced, according to Graphika, and were typically reacting to world events within 36 hours, including the Capitol riots.
"The riots presented a golden opportunity to gleefully declare—with ample visual evidence—that 'American-style democracy' is on its deathbed," the report said.
Videos have targeted America for having a "double standard" in how it treated the protests in Hong Kong and the Capitol riot. A video using footage from the Capitol riot that was posted on January 7 called the violence a "beautiful sight." A reference to House Speaker Nancy Pelosi: In 2019, she used the phrase to describe the pro-democracy push in Hong Kong.
It's a comparison Chinese officials have also made, and Graphika said themes of Spamouflage videos and media coming out of officially Chinese Communist Party outlets have been "largely indistinguishable." They both amplify the subthemes of the riots being evidence that democracy is in an "irreversible state of disintegration and decline" and that the system is "too fragile" to handle 21st-century challenges, therefore not suitable for other countries.
"We don't know exactly who is behind this network: We know that its messaging is very aligned with the Chinese government's political messaging and objectives, but that in itself isn't sufficient to establish with confidence who are the operators behind these fake accounts," Camille Francois, Graphika's chief innovation officer, told Newsweek. "We also know that the operators of this network are persistent: An enormous amount of their fake accounts have been detected and deactivated to date, but they continue to reappear across platforms."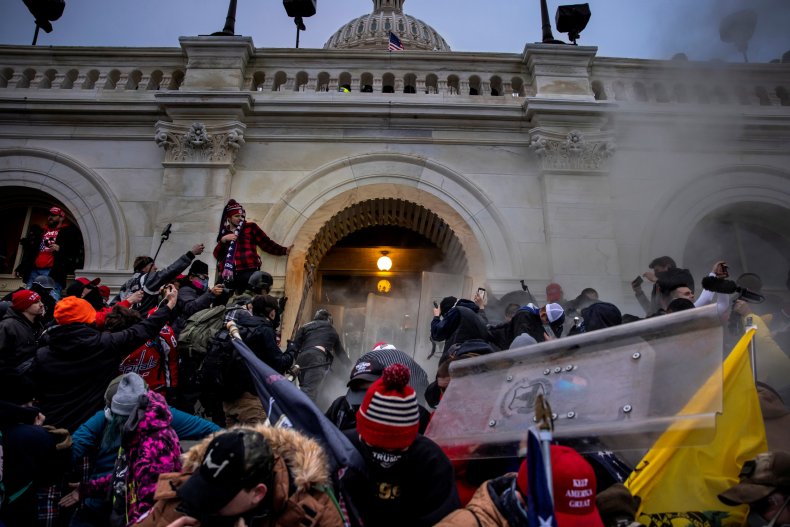 America's handling of the pandemic, former President Donald Trump, former Secretary of State Mike Pompeo and the Democratic Party have also been the focus of videos.
"The unifying theme that underlay such posts was that America is broken, and American democracy is not a model that any country should emulate, regardless of which party rules in Washington: the storming of the Capitol 'tore the false mask of American democracy to pieces,' as one video narration stated," Graphika's report said.
It wasn't until the second half of 2020 that Spamouflage "broke out of its bubble" and began to reach real users. It's been amplified by Chinese officials and foreign politicians on Twitter and by YouTube channels with tens of thousands of followers.
On Twitter, the network used "personality" accounts, where they interspersed videos with retweets of official Chinese state accounts to give "them enough of a veneer of authenticity to withstand a casual glance." When an account was taken down, Graphika reported they'd launch a new one with the same name.
"Such 'personality' accounts provided the bridge between the vast mass of Spamouflage content and authentic users," Graphika said.
The same success hasn't been seen on Facebook, where Spamouflage relies mostly on pages and not profiles. Although voluminous and "spammy," Graphika said it's had "low-impact."
Social media networks generally agree that the networks' use of coordinated fake accounts violate their terms of service, Francois said. But, they don't agree on exactly what it is. Some consider it "spam" and others put it in the "influence operations" category.
Trump had goals of establishing a new relationship with China based on his America First agenda, but tensions ran high in the final year of his administration. The COVID-19 pandemic escalated the rhetoric between the two countries and Graphika found President Joe Biden's inauguration did little to assuage the tension.
While the Spamouflage network has only had "sporadic success," Graphika noted that the volume and speed that videos are being produced suggests it has "significant resources" behind it.
Update: This article has been updated with comment from Camille Francois, Graphika's chief innovation officer.