China is developing medium- and long-range stealth bombers that would be capable of striking regional as well as global threats, according to a new report.
Besides the United States, China is the only other nation known to have successfully developed a stealth fighter. The Asian superpower in 2017 launched J-20 fighters into active service, and now the country is working to expand its arsenal.
"Stealth technology continues to play a key role in the development of these new bombers, which probably will reach initial operational capability no sooner than 2025," read a report from the U.S. Defense Intelligence Agency (DIA), according to Air Force Times. The jets are being developed with the ability "to strike regional and global targets.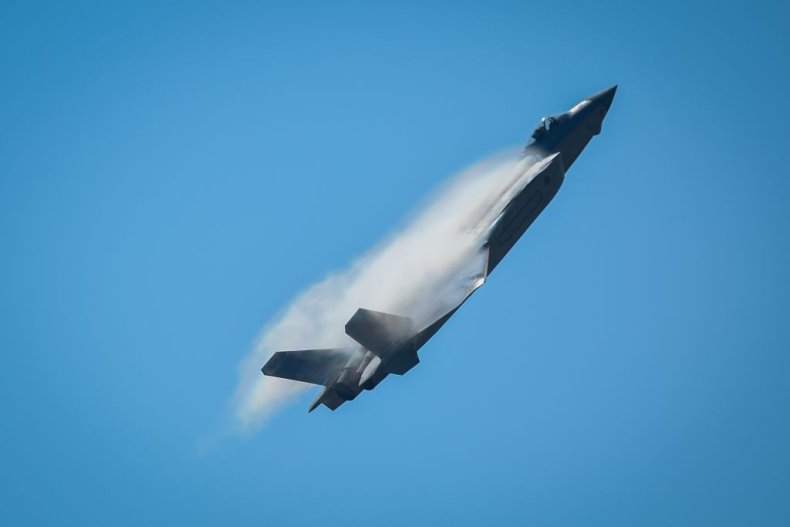 "These new bombers will have additional capabilities, with full-spectrum upgrades compared with current operational bomber fleets, and will employ many fifth-generation fighter technologies in their design," the report continued.
The news comes as tensions remain high between China and the U.S. over alleged espionage and trade tensions. Last week the Chinese government released footage of a successful intermediate-range ballistic missile launch, which reportedly has a range allowing it to strike the U.S. territory of Guam from mainland China.
Beijing wants to demonstrate that "it can hold at risk U.S. strategic assets, such as carriers and bases," Adam Ni, a China researcher at Macquarie University in Australia, told the South China Morning Post after the video was circulated.
President Donald Trump last year launched a trade war that slapped tariffs on billions of dollars in Chinese imports. Beijing responded with similar retaliatory levies. Although negotiations to resolve the dispute appear to be moving toward a positive resolution, the U.S. government has taken action on other fronts as well. Intelligence agencies and lawmakers have raised concerns about Chinese tech companies such as ZTE and Huawei. Analysts warned that the Chinese devices and networks could be used for espionage purposes by Chinese President Xi Jinping's Communist government.
Meanwhile, tensions remain high in the South China Sea, which Beijing claims as its territory. Much of the international community disputes the claim, and the U.S. has pushed back by sending military vessels and planes nearby to patrol the contentious waterway.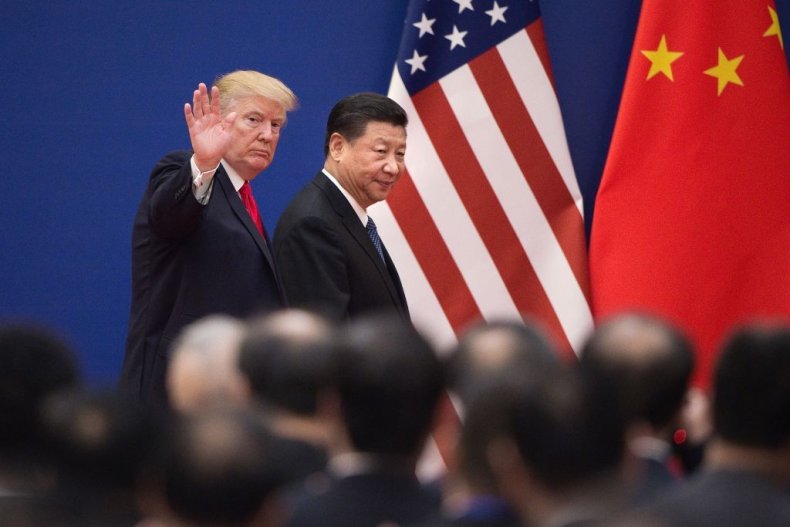 "If the U.S. warships break into Chinese waters again, I suggest that two warships should be sent: one to stop it,and another one to ram it," senior Chinese Colonel Dai Xu said in December.
According to Air Force Times, the development of a medium-range fighter jet with long-range missiles by China's military could give the nation an edge over the U.S. in regional dominance. It suggested that Beijing "may have cracked the code of how to dominate the skies of the Pacific while the U.S. pours money into short-range fighters like the F-35 or long-range bombers like the B-21."
For its part, China has brushed aside Washington's characterization of its actions as a threat. Hua Chunying, a spokesperson for China's Foreign Ministry, said in January that anti-Chinese feelings had reached a level of "hysteria" in the U.S.