China Submarines Used U.K. Warships for Target Practice, State Media Claims
China's nuclear-powered submarines may have been using the U.K.'s aircraft carrier group for target practice before intentionally revealing themselves to British warships, a Communist Party newspaper said on Monday.
The report by the state-owned tabloid the Global Times cited unnamed experts in a direct response to a report out of London claiming the Chinese submarines had been detected "stalking" the Queen Elizabeth Carrier Strike Group (CSG) during its deployment to Asia.
The Daily Express reported on Monday that sonar operators onboard HMS Kent and HMS Richmond, two frigates that form part of HMS Queen Elizabeth's escort fleet, detected a pair of PLA Navy Type 093 submarines shadowing the carrier group from the South China Sea into the Western Pacific.
After transiting the Luzon Strait, a third Type 093 was pinged by the carrier group's Astute-class submarine escort, reported the Express, which said the Chinese warships were detected by their unique propeller sounds.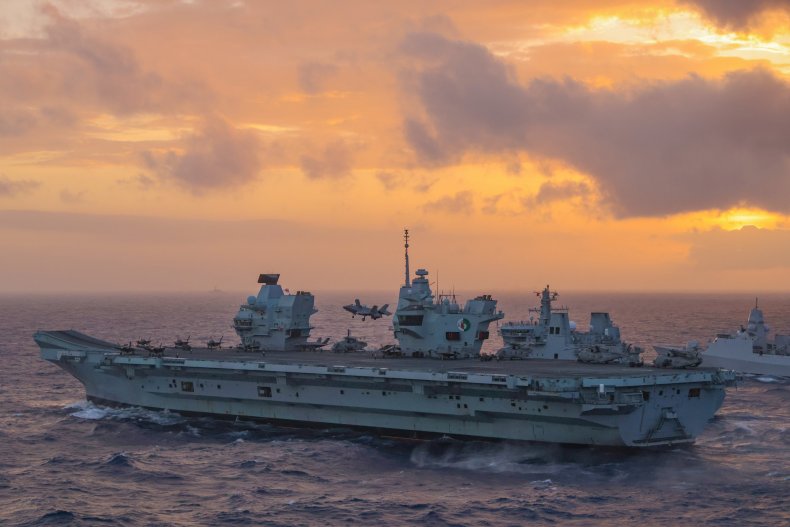 In a quick retort just hours later, the Global Times, which espouses some of Beijing's more hawkish views, sought to dismiss suggestions the Chinese naval assets had been caught unawares during their mission to shadow the British carrier strike group.
"As a necessary measure of defense, it is possible that the PLA used the HMS Queen Elizabeth aircraft carrier strike group as an imaginary target for practice," an unnamed expert told the newspaper.
"It is also possible that the Chinese submarines intentionally revealed themselves after having accomplished their missions, sending a warning to the U.K. carrier group," the report continued.
The Royal Navy's Queen Elizabeth CSG, which is on its maiden voyage to the Indo-Pacific, is on a port visit in Guam while some of its escorts docked at naval bases in Japan.
Echoing sentiments expressed by the Chinese government, the Global Times said the U.K. sent its warships to Asia in order to "flex its muscles" and "stir up trouble."
London, meanwhile, sees the deployment as a sign of the country's commitment to collective security in the region. Last month, Britain announced the permanent deployment of two warships to the Indo-Pacific are beginning at the end of August.
HMS Queen Elizabeth, the Royal Navy's flagship, has been closely watched by observers in Asia since it sailed into the South China Sea, which China claims through its "nine-dash line." Scrutiny by Beijing appears to have been expected.
U.K. Defense Secretary Ben Wallace told The Times of London on July 30 that British warships would "sail where international law allows."
"It's no secret that China shadows and challenges ships transiting international waters on very legitimate routes," he said. "We will respect China and we hope that China respects us."
British forces are taking part in this month's U.S.-led Large Scale Global Exercise 21—also known as LSGE21—which also features Australian and Japanese troops. The drills to increase inter-operability between the armed forces began on August 2 and will run through August 21, according to U.S. Indo-Pacific Command.