U.K. and Germany Don't Have Power to Fight China, State Media Says
The editor of China's Communist Party tabloid has warned German and British warships against taking "willful actions" during their deployments to Asia, suggesting the maneuvers could undermine their governments' relations with Beijing.
German officials waved off the country's frigate Bayern on Monday as it set off on a tour of the Indo-Pacific region. At the end of the year, the warship will become the first German naval vessel to pass through the South China Sea in nearly two decades.
Bayern's deployment came days after the arrival in the region of the Royal Navy's Queen Elizabeth Carrier Strike Group, which passed through the contested waters and is now in the Western Pacific. The presence of European militaries in Asia is seen by some as a commitment to collective security in the region, as well as support for the principle of lawful navigation through critical sea lanes in international waters.
China, which claims almost all of the energy-rich South China Sea, says it supports freedom of navigation, but it frequently warns nations away from the many islands and maritime features it claims in the area.
Hu Xijin, editor-in-chief of the hawkish state-run tabloid the Global Times, described Bayern's Indo-Pacific deployment as the result of "the U.S.' political mobilization of the West." Angela Merkel's government announced the voyage in March—in a move described by observers as an attempt to address concerns that her party was too soft on China before elections next month.
"Obviously, Germany does not want to take on China over their frigate's voyage," Hu wrote in an op-ed published on the newspaper's website on Wednesday, saying European warships would "not create a conflict with China" as long as they pass through the South China Sea "normally in accordance with international law."
He also hinted at a potential diplomatic fallout if German or British warships sought to challenge China's maritime claims.
"We strongly hope that the commanders of those warships have the strategic awareness of maintaining their country's relations with China and will not take willful actions in the South China Sea," Hu said.
"China is not afraid of any provocateurs. Neither Britain nor Germany has the power to fight China in the South China Sea. I believe they are very clear on this."
Beijing has sought through official and unofficial channels to dissuade foreign militaries from challenging its sweeping claims, something so far only the U.S. Navy has done on a regular basis.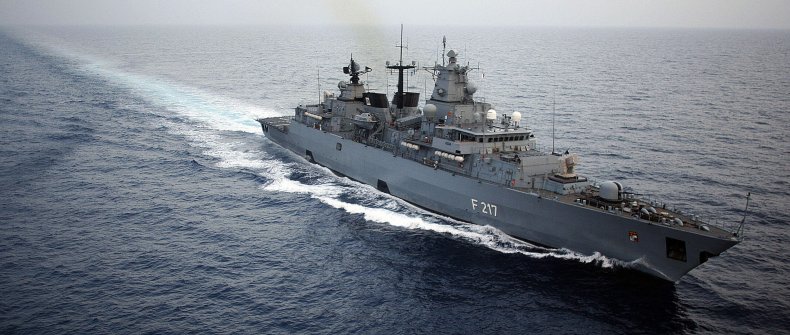 According to the Asia Maritime Transparency Initiative at the Center for Strategic and International Studies, a think tank in Washington, D.C, Germany and Britain are among eight nations that explicitly support the Permanent Court of Arbitration's 2016 ruling that rejected China's claim to all resources within its "nine-dash line." The other six are the U.S., Canada, Australia, New Zealand, the Philippines and Japan.
Despite Berlin's endorsement of the 2016 ruling, Bayern is not expected to sail within 12 nautical miles of Chinese-claimed islands when it becomes the first German warship to transit the South China Sea since 2002.
According to Bayern's official documentation, the vessel is expected to make port calls in Australia, Guam, Japan, South Korea, Vietnam and Singapore.
In an apparent attempt to pre-empt geopolitical tensions with China, the German Defense Minister Annegret Kramp-Karrenbauer confirmed that a request had been made for a port call in Shanghai.
However, China has rebuffed the request, requesting that Germany clarify its intentions, according to a report in Hong Kong's South China Morning Post on Tuesday.
The Chinese Foreign Ministry has asked Berlin to "abide by international law" and "refrain from doing things that harm regional peace and stability," the report said.
On July 30, U.K. Defense Secretary Ben Wallace told The Times of London that British warships would "sail where international law allows."
"It's no secret that China shadows and challenges ships transiting international waters on very legitimate routes," he said. "We will respect China and we hope that China respects us."
The U.K. has committed to permanently deploying two warships to the Indo-Pacific by the end of August.