Lindsey Graham was the first American lawmaker to step off the airplane after his congressional delegation landed at Songshan Airport in Taipei on Thursday evening, starting a whirlwind visit to Taiwan which has already angered China.
The Republican senator for South Carolina is leading the congressional delegation, or CODEL, which was greeted on the tarmac by Taiwanese officials including Foreign Minister Joseph Wu. The group of six U.S. legislators includes New Jersey Democrat Sen. Bob Menendez, their visit an unmistakable signal of solitary with Taiwan's leadership at a time of increasing political and military pressure from Beijing.
Washington severed diplomatic ties with Taipei in 1979. It established formal relations with Beijing in part to take on their once common Cold War foe, the Soviet Union. America's relations with Taiwan have remained robust but officially unofficial, while China still claims the island as part of its territory—and has threatened to use force to capture it.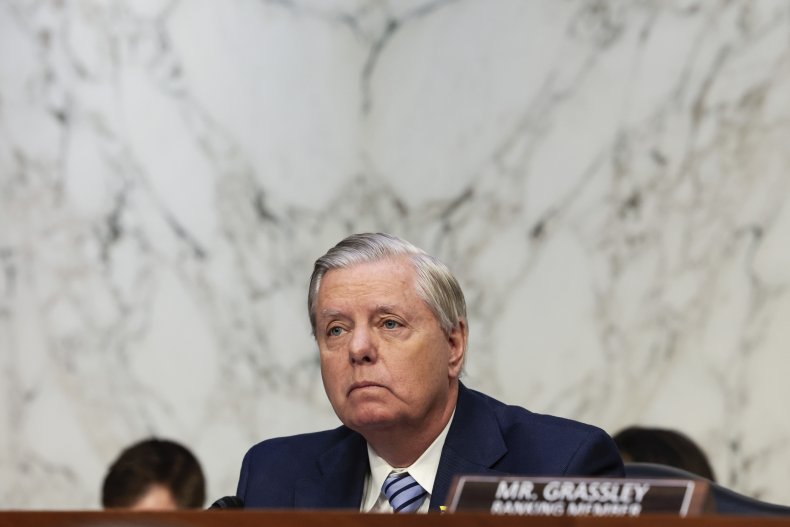 Zhao Lijian, a spokesperson for the Chinese Foreign Ministry, said on Thursday that China "opposes official interactions of any form between the U.S. and Taiwan." The U.S. should "stop going further and further down this dangerous path," he said in a brief response at a regular press briefing in Beijing.
In a statement on its website, Taiwan's Foreign Ministry said the CODEL, the first to visit Taipei this year, asked that Taiwan be included in its Asia itinerary, demonstrating Congress' strong bipartisan support.
"Senator Graham and the other heavyweight members of the U.S. Congress will definitely strengthen the close friendship between Taiwan and the United States, and further deepen the global partnership between the two sides in various fields," it said.
The other members of the GOP-heavy CODEL are Sens. Richard Burr of North Carolina, Rob Portman of Ohio, Ben Sasse of Nebraska and Rep. Ronny Jackson of Texas—all Republicans. The lawmakers, expected to depart Taipei on Friday afternoon local time, were scheduled to meet with Taiwan President Tsai Ing-wen and Defense Minister Chiu Kuo-cheng, among others.
"The members of the visiting delegation will exchange views with our officials on various issues of importance to Taiwan-U.S. relations," the Foreign Ministry said.
Taipei describes the CODEL as pro-Taiwan, with members of the group having either introduced, co-sponsored or supported legislation favorable to the island's security or diplomatic space.
Menendez, who chairs the Senate Committee on Foreign Relations, has backed further arms sales to Taiwan, a call shared by other members of the committee actively monitoring Taiwan's defense planning.
"The U.S.'s commitment to the people of Taiwan—and our obligation to safeguard Taiwan's space to make its own determinations about its own future without threat of coercion or use of force—must be unequivocal," Menendez said at a committee hearing in December.