'Taiwan Will Do Whatever It Takes to Defend Itself,' President Says
Taiwan is on the front lines of "the global contest between the liberal democratic order and the authoritarian alternative," the country's leader has said in a wide-ranging essay that echoed President Joe Biden's rallying cry against autocracy.
Tsai Ing-wen's words, published by Foreign Affairs on Tuesday, came after four days of large-scale training missions by Chinese military planes in the skies near Taiwan. The State Department and White House said the U.S. was "very concerned" by the flights into Taiwan's air defense identification zone, which totaled 149 sorties as of Monday.
"Taiwan does not seek military confrontation," Tsai wrote, saying the island wants "mutually beneficial coexistence" with its neighbors, which in China's case has refused to renounce the use of force against it. "But if its democracy and way of life are threatened, Taiwan will do whatever it takes to defend itself."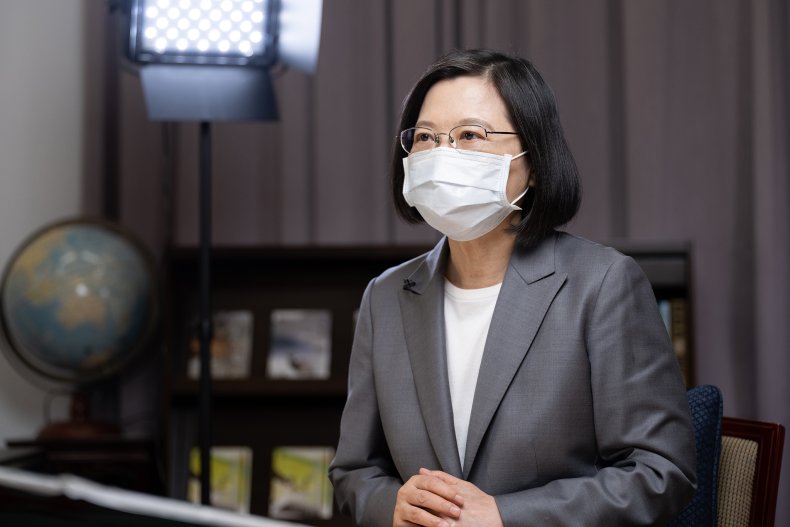 The People's Republic of China has never governed Taiwan since its founding by Communist Party leader Mao Zedong in 1949, but the authorities in Beijing claim the island as a Chinese province. Taiwan—no longer officially recognized by the United States after 1979—continues its standoff across the Taiwan Strait thanks largely to American backing, while its people develop an identity that grows more ideologically distant from China by the year.
Tsai hailed Taiwan's hard-fought democratic transformation of the 1990s, adding: "Taiwan, by virtue of both its very existence and its continued prosperity, represents at once an affront to the narrative and an impediment to the regional ambitions of the Chinese Communist Party.
"As countries increasingly recognize the threat that the Chinese Communist Party poses, they should understand the value of working with Taiwan," she wrote. "And they should remember that if Taiwan were to fall, the consequences would be catastrophic for regional peace and the democratic alliance system.
"It would signal that in today's global contest of values, authoritarianism has the upper hand over democracy," she added in another callback to Biden's framing of democracy versus autocracy."
China's "increasingly aggressive posture," Tsai wrote, serves as what she described as a "wake-up call for democracies," part of which has seen more acknowledgment of Taiwan's precarious position.
"Taiwan will not bend to pressure, but nor will it turn adventurist, even when it accumulates support from the international community," she added, repeating words from an address to the nation in February.
Despite a population that identifies overwhelming as Taiwanese rather than Chinese, the threat of an invasion by China may play an outsized role in their desire to keep things as they are. Polling data shows most prefer Taiwan's indefinite ambiguous existence—known as the "status quo"—instead of a formal declaration of a republic under the name "Taiwan."
Last January, Tsai won re-election on a wide mandate that included the maintenance of the cross-strait status quo. However, her rejection of the Chinese precondition that Taiwan is part of China has led to a breakdown in dialogue with Beijing since she first took office in 2016.
"A fundamental part of this embrace of democracy is a firm belief that the future of Taiwan is to be decided by the Taiwanese through democratic means," she wrote in Foreign Affairs. "The great majority of us regard democracy as the best form of government for Taiwan and are willing to do what is necessary to defend it."
"Those beliefs are tested every day, but there is no doubt that the people would rise up should the very existence of Taiwan be under threat," she added.