Taiwan Feeling 'Considerable Pressure' As China Warplanes Train Nearby
Taiwan's defense chief said on Tuesday that recent Chinese military flights near the island were placing "considerable pressure" on the country's troops, as large waves of People's Liberation Army (PLA) aircraft conducted daily training operations started on October 1.
The latest escalation of military signaling coincided with the 72nd anniversary of the People's Republic of China last Friday, when Taiwan detected 38 PLA aircraft inside its air defense identification zone (ADIZ). On Monday, that figure jumped to 56, bringing the monthly tally to 149 in just four days.
An ADIZ is not part of sovereign airspace. The zone—also declared by neighbors China, Japan and South Korea—extends beyond a nation's territorial boundaries and is used for the identification of approaching civilian and military aircraft. Taiwan's ADIZ, which was drawn up by the United States in the 1950s, encroaches into the Chinese mainland, but Taipei only concerns itself with developments on its side of the Taiwan Strait—Taiwanese jets have not crossed the median line since 1999.
It means the near-daily PLA training flights off southwestern Taiwan are entirely legal, while serving the dual purposes of training Chinese pilots and coercing the island's population and democratically elected government, which is seeking to deepen economic and security ties with others in the region, chiefly the U.S. and recently Japan.
"The continuous and very frequent flights have led to considerable pressure on Taiwan's air force, navy and air defence troops," said Chiu Kuo-cheng, the country's former head of intelligence who was appointed defense minister this February. "But, as I tell my colleagues, this pressure is also a boost that pushes us to make better combat preparations."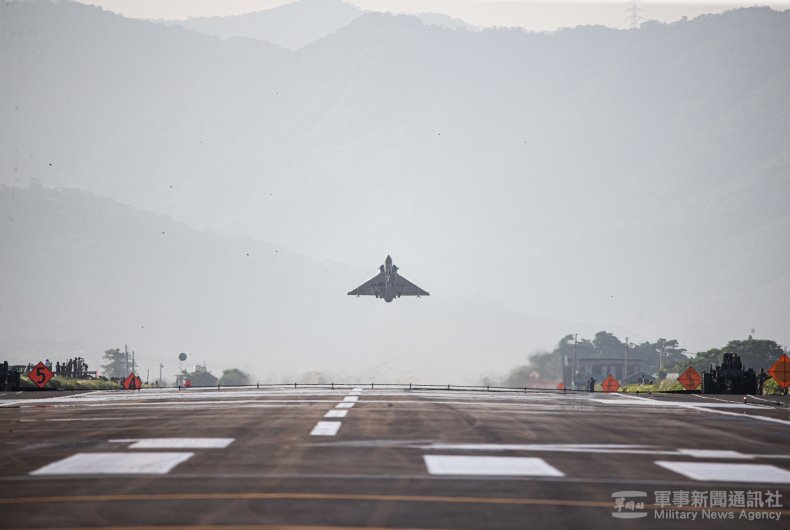 On Sunday, State Department spokesperson Ned Price said the U.S. was very concerned by China's "provocative military activity near Taiwan, which is destabilizing, risks miscalculations, and undermines regional peace and stability." The position was reiterated on Monday by White House Press Secretary Jen Psaki, who said the U.S. was "in touch privately, conveying clear messages" to Beijing via diplomatic channels.
Also on Monday, the Chinese Foreign Ministry responded to the U.S. in a statement: "Taiwan belongs to China and the U.S. is in no position to make irresponsible remarks."
Ministry spokesperson Hua Chunying protested a recently announced U.S. arms sale to Taiwan as well as the strengthening of official and military ties with the island, including the frequent sailing of U.S. Navy warships through the Taiwan Strait.
"China is firmly opposed to them and has taken necessary countermeasures," she added without elaborating. It was unclear whether she was referring to the recent surge in warplane activity near Taiwan.
Asked about the moral support from Washington, Chiu added: "We are very grateful to and welcome any country or group that assists our combat preparations, whether that's rhetorical support or encouragement. But we won't rely on any one country's words to invigorate us."
"Each of us is responsible for our nation's security," the defense official added, echoing a consistent government position that has stressed Taiwan's determination to defend itself, with or without assistance.
Meanwhile, Taiwan's Foreign Ministry thanked the U.S. on Tuesday for its "rock-solid commitment."
Taipei began publishing PLA sorties into its ADIZ last September, when the activity soared to levels not seen since the Third Taiwan Strait Crisis of 1995 and 1996, when China fired missiles into the waters off northern Taiwan as the island prepared for a democratic transition with its first direct presidential election.
According to Taiwan's Defense Ministry data compiled by Washington-based analyst Gerald Brown, the PLA has flown 841 sorties into Taiwan's ADIZ in the last 13 months. October's current count of 149 is also the highest on record so far, surpassing September's 117.
Taiwanese lawmakers have raised concerns about the Chinese military operations taking place between Taiwan proper and the Taiwan-controlled Pratas Island, an atoll in the South China Sea.