China Lays Out Its Taiwan Plans in First Report Under Xi Jinping
China has released a major policy document outlining the strategic patience underpinning its objective of "reunification" with Taiwan. In it, Beijing holds open the door to peace, but warns it could be compelled to use force.
"The Taiwan Question and China's Reunification in the New Era," the first Chinese government white paper on the topic in 22 years and the first under the leadership of President Xi Jinping, was published as a week of intense Chinese military drills around Taiwan appeared to ease on Wednesday.
The report repeats many of Beijing's familiar talking points, including its argument that Taiwan's ruling Democratic Progressive Party (DPP) was responsible for raising tensions across the Taiwan Strait by refusing to accept Beijing's principle of "one China."
President Tsai Ing-wen of Taiwan, who still enjoys majority public approval two years into her second four-year term, is regarded as a technocrat and skilled negotiator. Her party was reelected on landslide to maintain the cross-strait "status quo," Taiwan's uneasy but separate existence from the Chinese mainland, and she has gradually increased the island's defense spending in order to do so.
"The actions of the DPP authorities have resulted in cross-strait tensions, endangered peace and stability in the Taiwan Strait, and undermined the prospects and squeezed the space for peaceful reunification," said the document published by the Taiwan Affairs Office (TAO) and China's State Council Information Office, the propaganda arm of the central government.
"These are obstacles that must be cleared to advance the process of peaceful reunification," it said, hinting at its view of the DPP as a barrier to be removed.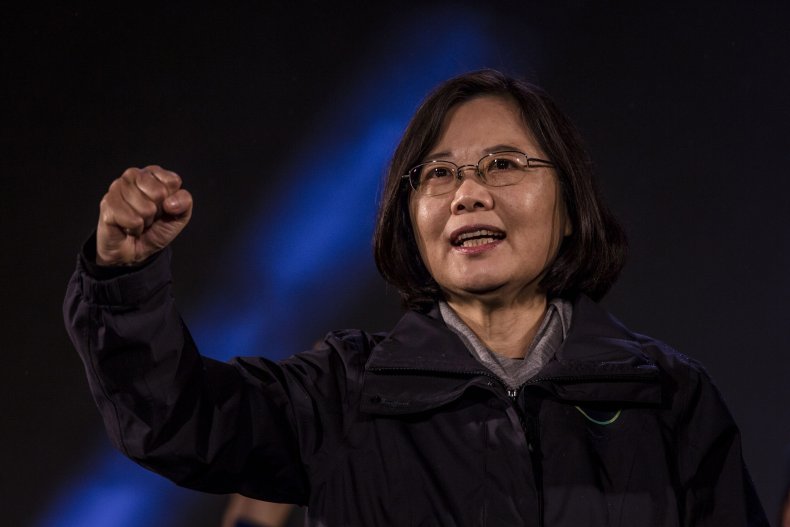 Beijing claims the island as its own, but Taiwan regards itself as a functionally independent country, albeit one with limited international recognition. Since last Thursday, Chinese forces have staged the largest show of force in the seas and airspace around Taiwan proper, as well as its outlying islands, in response to House Speaker Nancy Pelosi's recent high-profile visit to Taipei.
Taiwan and the United States—the island's strongest international backer for decades—both have reacted cautiously in a low-key way that has highlighted Chinese actions as being unilaterally escalatory and destabilizing.
"All I'll say is, we're not going to take the bait, and it's not going to work," Pentagon policy chief Colin Kahl said of Beijing's war games on Monday. "It's a manufactured crisis. That doesn't mean we have to play into that. I think it would only play to Beijing's advantage."
Wednesday's Chinese white paper expresses continuing displeasure at American actions it sees as symbolically and substantively upgrading unofficial U.S.-Taiwan relations—with the goal of "using Taiwan to contain China and obstruct China's reunification."
It also devoted significant paragraphs to the promise of more prosperity for the people of Taiwan under its "one country, two systems" rule. The governance model—first designed for Taiwan—was later used in Hong Kong and Macau. The report declared their application "a resounding success" despite the large anti-government demonstrations that gripped Hong Kong in 2019 and 2020.
"We maintain that after peaceful reunification, Taiwan may continue its current social system and enjoy a high degree of autonomy in accordance with the law," it said.
"To realize peaceful reunification, we must acknowledge that the mainland and Taiwan have their own distinct social systems and ideologies. The 'one country, two systems' principle is the most inclusive solution to this problem. It is an approach that is grounded in democratic principles, demonstrates good will, seeks peaceful resolution of the Taiwan question and delivers mutual benefit," the report said.
The Mainland Affairs Council, Taipei's counterpart to Beijing's TAO, blasted China's "military intimidation" over the weekend. A rolling survey of the island's public found that nine in 10 opposed "one country, two systems" for Taiwan, the MAC said last year. Both major parties—the DPP and the nationalist Kuomintang—have rejected Beijing's proposal.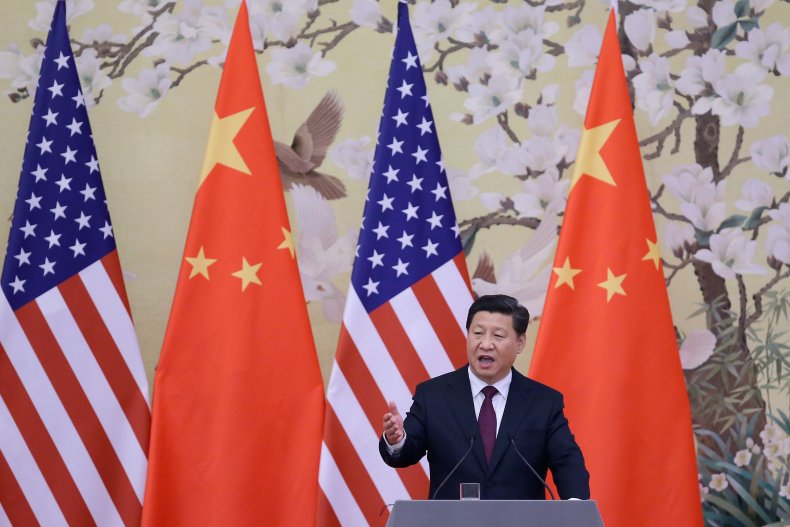 The contents of the white paper, through its familiar language, point to Beijing's intention to continue its Taiwan policy for the foreseeable future, an important signal ahead of the Chinese Communist Party's twice-a-decade national congress this fall, where Xi is widely anticipated to secure a third term as leader, and expected to announced a new vision to resolve the country's longstanding political differences with Taiwan.
While refusing to renounce the possibility of using force to achieve its objective of a political union, the report also places a high bar on such action by repeating known phrases, including words recently uttered by Xi to President Joe Biden during their November 2021 summit.
"We will work with the greatest sincerity and exert our utmost efforts to achieve peaceful reunification. But we will not renounce the use of force, and we reserve the option of taking all necessary measures," it said. "Use of force would be the last resort taken under compelling circumstances. We will only be forced to take drastic measures to respond to the provocation of separatist elements or external forces should they ever cross our red lines."
"Never before have we been so close to, confident in and capable of achieving the goal of national rejuvenation. The same is true when it comes to our goal of complete national reunification," said the document, which once more links Taiwan to China's vision of national glory.