China Military Exercises Live: Taiwan Begins Own Drills as China Extends Maneuvers
China's military exercise, blockading Taiwan's major ports, were scheduled to end over the weekend but military maneuvers were ongoing on Tuesday
Taiwanese forces have launched their own anti-invasion drills
Taiwan's Defense Ministry, which vowed not to escalate the dispute, said Monday it was continuing to track PLA warships and warplanes. No enemy vessels or aircraft had entered the island's territorial sea or airspace, it said.
Heightened tensions across the Taiwan Strait entered their second week as Chinese military drills around the democratically governed island continued for a sixth day in response to House Speaker Nancy Pelosi's recent visit to Taipei
U.S. President Joe Biden said of the situation on Monday: "I'm not worried, but I'm concerned that they're moving as much as they are. But I don't think they're going to do anything more."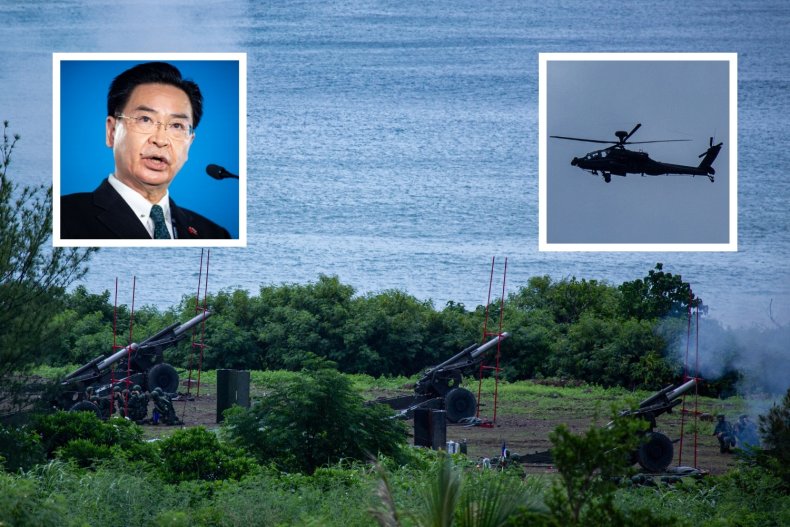 These Are the Latest Developments
Wrapping up this morning's live blog were a sixth day of Chinese military maneuvers around Taiwan—dubbed by some as the Fourth Taiwan Strait Crisis
The drills, which were announced in response to House Nancy Nancy Pelosi visit to Taipei between August 2 and 3, were originally scheduled to conclude on Sunday but continued through Tuesday.
Taiwan's Defense Ministry said it tracked several dozen warplane sorties and 10 Chinese naval vessels around the island as of 5 p.m. local time, a statement said. At least 16 sorties were conducted east of the Taiwan Strait median line, the unofficial Cold War buffer that Beijing now argues doesn't exist.
China has said little about when the drills might end, but earlier in the day, Taiwan's Foreign Minister Joseph Wu called a press conference in Taipei in which he called the Chinese exercises "a serious provocation."
In Washington on Tuesday morning, Pelosi appeared on the Today program and spoke at length about her decision to lead a congressional delegation to Taiwan.
"We cannot allow the Chinese government to isolate Taiwan," she said. "And yes, it was worth it. What the Chinese are doing is what they usually do."
China Coy on Duration of Ongoing Military Drills Around Taiwan
China's Foreign Ministry on Tuesday declined to say how long the country's large-scale military drills around Taiwan would go on for.
Wang Wenbin, one of the ministry's spokespersons, said the exercises were "normal military drills in waters off its own territory."
Beijing announced combat drills in the seas and airspace around Taiwan after a visit to the Chinese-claimed by House Speaker Nancy Pelosi. The exercises were meant to end on Sunday but have been extended twice.
"Relevant authorities have issued notices in a timely manner, which are open, transparent and professional. This move is in line with China's domestic law, international law and established international practices," Wang told a regular press briefing in Beijing.
"This is both a warning we send to the provocateurs and a legitimate step to uphold sovereignty and territorial integrity," he said.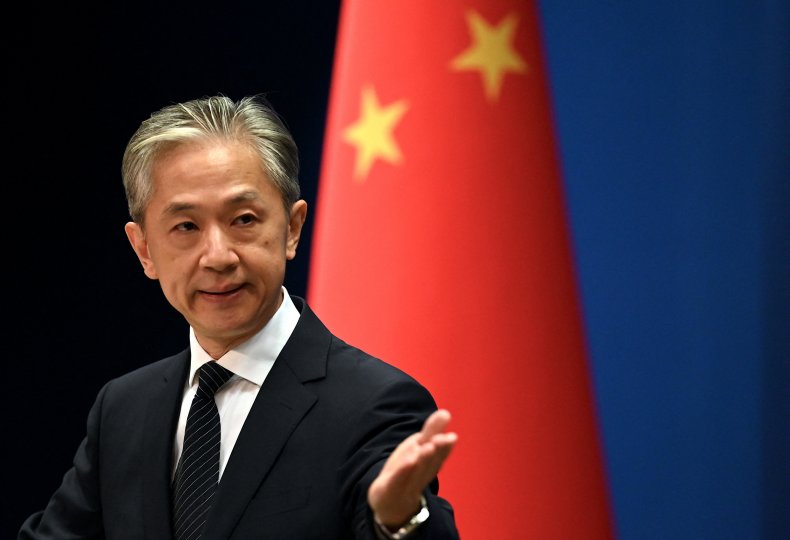 Eight in 10 Japanese Fear Spillover from China-Taiwan Tensions: Poll
More than 80 percent of respondents in Japan are concerned that rising tensions between China and Taiwan may impact Japan's own security, according to a survey published by Japanese broadcaster NHK.
Beijing responded to House Speaker Nancy Pelosi's recent visit to Taipei by launching unprecedented military drills around the island to simulate an effective blockade of major Taiwanese ports. It began with the firing of ballistic missiles over or around Taiwan—Tokyo said five projectiles landed in Japan's exclusive economic zone.
Some 82 percent of respondents feared the growing Taiwan Strait crisis might affect Japan's security environment, the NHK poll found, including 40 percent who said the developments would have a significant impact. 9 percent either didn't expect much impact or expected none at all.
Also in the survey, 34 percent said the prospect of a nuclear threat was growing extreme, while 46 percent said the risk of a nuclear exchange was rising somewhat.
NHK said Monday its telephone survey collected 1,223 valid samples from Japanese citizens aged 18 or older between August 5 and 7.
On Tuesday, Taiwan's Defense Ministry said China's ongoing military drills "demonstrates its threat to the neighboring region."
Nancy Pelosi Gives Her Most Comprehensive Comments on Taiwan Trip
House Speaker Nancy Pelosi defended her recent trip to Taiwan by citing "overwhelming bipartisan support" for the visit that has irked officials in Beijing.
China, which claims Taiwan as its own, had publicly warned Pelosi and privately cautioned the U.S. government that the visit must not take place. The White House argued it had no authority over Congress, while President Joe Biden said of the controversial trip this week: "That was her decision."
Appearing on NBC's Today show on Tuesday morning, Pelosi confirmed that the visit was meant to take place months earlier but had to be postponed due to her positive COVID test.
"I'm very proud of the delegation ... A lot of attention was paid to Taiwan—and that's right," she said. "But it was a bigger visit than that. It followed on the president's direction that we would have a focus on the Asia-Pacific."
Just hours after Pelosi's plane departed Songshan Airport in Taipei, the Chinese military launched its largest-ever war games around Taiwan, escalating tensions to a level not seen in nearly 30 years.
Pelosi said the visit was "absolutely" worth it. "Without any question." The visit, the first by a serving House speaker in 25 years, was well received by the Taiwanese public and by both of Taiwan's major political parties.
"The people of Taiwan welcomed the visit. The Chinese government may not have, but China will not be allowed to isolate Taiwan," Pelosi said. "It's a woman president of Taiwan. We are so proud of her. We want to support her courage," she said of President Tsai Ing-wen, who has called on Beijing to exercise "self-restrain."
Pelosi said: "Why don't we just show China that we support Taiwan? It is part of the ... Taiwan Relations Act. We didn't go there to change our policy; we still support the one China policy. We go there to acknowledge the status quo is what our policy is. There is nothing disruptive about that."
"Just because...the president of China acts like a bully [and] has his own insecurities, it doesn't mean I'm going to have him do the schedule for members of Congress," the speaker said.
A press conference involving members of her congressional delegation would be held on Wednesday, she said.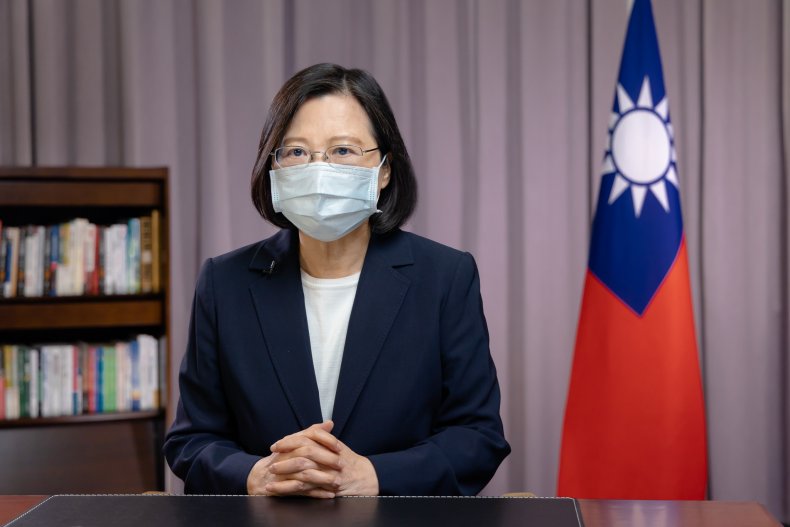 Taiwan Fears China Could Start War: Foreign Minister
Taiwan's foreign minister, Joseph Wu, struck a defiant tone this week as he tried to drum up support for the island against what Taipei and Washington both have described as escalatory actions by Beijing.
"China has always been threatening Taiwan for years and it's getting more serious in the last few years," he told CNN on Monday. "Whether Speaker Pelosi visits Taiwan or not, the Chinese military threat against Taiwan has always been there and that is the fact that we need to deal with."
"I worry that China may really launch a war against Taiwan," Wu said. "But what it is doing right now is trying to scare us and the best way to deal with it (is) to show to China that we are not scared."
U.S. support for Taiwan was "unprecedented," he said.
"The important thing for us is that we need to be prepared," Wu said. "We want to defend the freedom and democracy that we enjoy over here. Nobody can take that away from us."
Earlier reports by the Financial Times indicated the White House had opposed Nancy Pelosi's trip to Taipei before it took place last week. But the House speaker, who many believed had no room to back down once Beijing issued its threats, said she wouldn't allow the Chinese government to dictate her travel.
However, China's decision to quickly launch a week of coordinated military drills, simulating a blockade of Taiwan's major ports, points to long-term planning that has waited for just such a diplomatic incident to begin its threatening military signals, which the White House has called "saber-rattling."
The Chinese war games around Taiwan, at first scheduled until August 7, were extended through Tuesday.
China Extends Military Drills Near Taiwan
The Chinese People's Liberation Army's Eastern Theater Command, which has deployed forces for military exercises around Taiwan since last week, announced Tuesday a second extension to the war games that were meant to end on August 9.
A brief statement on the website of China's Ministry of National Defense said the forces would continue "actual combat" exercises with a focus on "joint containment" and "joint safeguarding" operations.
Taipei slammed Beijing for attempting to "routinize" the military maneuvers in the Taiwan Strait.
The Global Times, the hawkish state-owned tabloid published by the Chinese Communist Party, declared in a headline Sunday that the military drills "will not stop" until Beijing seizes control of the island.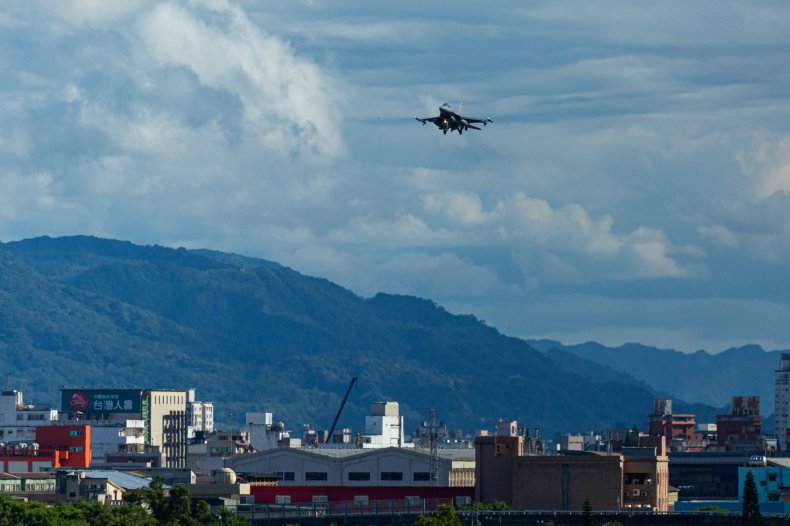 Taiwan Begins Anti-Invasion Exercises
The Taiwanese army began the first of two planned anti-invasion drills on Tuesday as Chinese forces continued to operate in the vicinity of the island—part of Beijing's response to House Speaker Nancy Pelosi's recent visit to Taipei.
Groups of soldiers manning howitzers on a training base in Taiwan's southern county of Pingtung fired shells from the towed gun into the surrounding sea. Another round of anti-landing drills to simulate a Chinese amphibious assault would take place on Thursday, the island's semi-official Central News Agency reported.
The Taiwanese military said maritime zones designated for the live-fire exercises wouldn't overlap with the six closure zones previous announced by the Chinese side.
Dozens of Chinese Warplanes Still Operating in Area: Taiwan
At least 45 Chinese warplanes and 10 naval vessels were detected in the seas and airspace around Taiwan on Tuesday as Beijing's military demonstrations entered their sixth day, the island's Defense Ministry said.
As of 5 p.m. local time on August 9, China's fighter aircraft had flown 16 sorties across the Taiwan Strait's median line, the unofficial buffer that had kept tensions in check throughout the Cold War and for the first two decades of this century.
Taiwan said it had tracked 13 Chinese warships and 39 planes in the vicinity on Monday, part of the largest show of force by China since the Third Taiwan Strait Crisis of 1995 and 1996. Beijing's forces were operating just outside Taiwan's contiguous zone, a maritime boundary extending 24 nautical miles from the shoreline, Taipei said.
Joseph Wu, Taiwan's foreign minister, said China's military drills were an attempt to "routinize" operations closer to the island and "wreck the long-term status quo across the Taiwan Strait."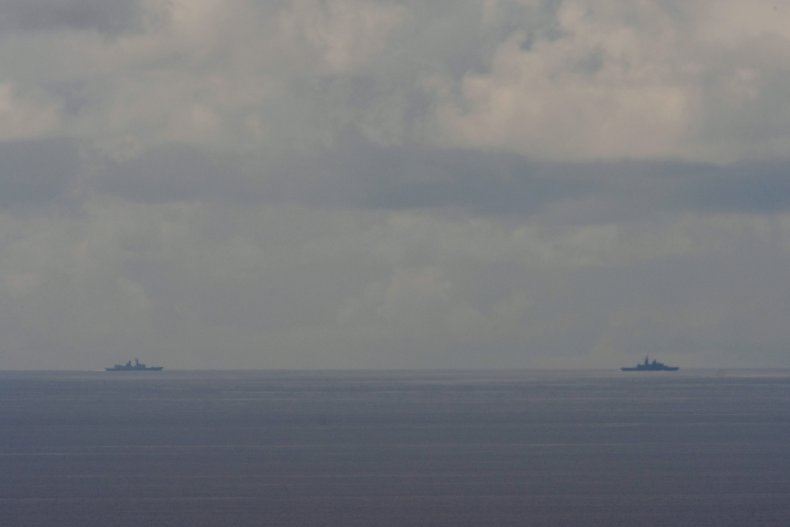 China's Military Drills 'Will Not Panic' Taiwan: Foreign Minister
Taiwan's top diplomat said Tuesday the island wouldn't be cowed by China's week-long military drills in its surrounding seas and airspace.
Foreign Minister Joseph Wu said the Chinese war games, which simulated a blockade of major Taiwanese ports between August 4 and 7, were "a gross violation of Taiwan's rights under international law."
"China has used the drills in its military playbook to prepare for the invasion of Taiwan," he told a press conference in Taipei. Beijing's combat drills were meant to conclude on Sunday but were extended until Tuesday.
"In facing China's joint military exercises, Taiwan's people, society, military and government have displayed resilience and confidence, and remained calm," Wu said. "China's continued attempts to intimidate Taiwan will not panic us, nor will they defeat us. To Taiwan, the values of freedom and democracy cannot be taken away; they are built into our DNA. Taiwan will continue to staunchly uphold its free and democratic way of life."
The Taiwanese official—one of three to be sanctioned by Beijing last November—called on the international community to push back against China by continuing lawful military transits of the Taiwan Strait by air and sea.