China Decries Monthly 'Provocations' As U.S. Warship Transits Taiwan Strait
The Chinese military accused the United States of fresh provocations on Wednesday after the U.S. Navy publicized a warship's transit through the sensitive Taiwan Strait for the sixth time this year.
Col. Shi Yi, a spokesperson for the People's Liberation Army's Eastern Theater Command, said Chinese forces shadowed American vessel USS Benfold as it sailed through the Taiwan Strait between China and Taiwan on Tuesday. The strait is about 80 miles wide at its narrowest point.
"The U.S.'s frequent provocations and grandstanding fully demonstrate that it is a disruptor of peace and stability in the Taiwan Strait and a maker of security risks in the Taiwan Strait," Shi said.
The Benfold, an Arleigh Burke-class guided-missile destroyer, carried out the Taiwan Strait transit "in accordance with international law" on Tuesday local time, the Japan-based Seventh Fleet said in a statement on its website.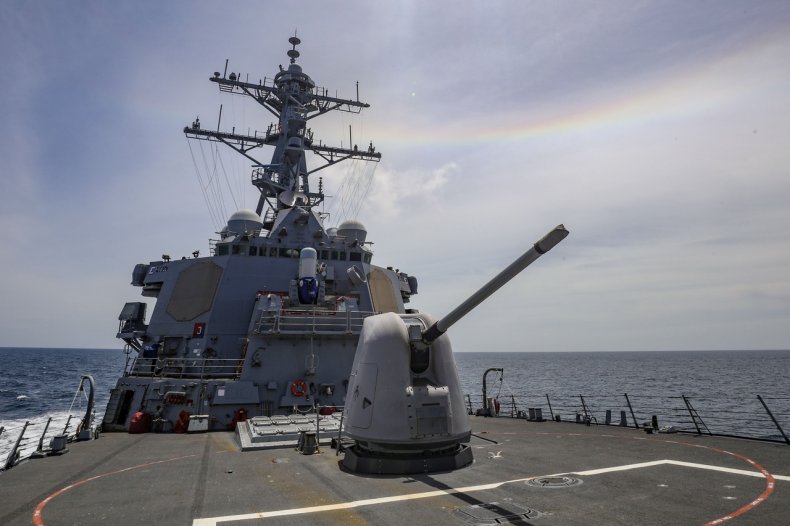 "The ship transited through a corridor in the Strait that is beyond the territorial sea of any coastal State," it said. "The ship's transit through the Taiwan Strait demonstrates the United States' commitment to a free and open Indo-Pacific. The United States military flies, sails, and operates anywhere international law allows."
The People's Republic of China says Taiwan is part of its territory. The democratic island considers itself a functionally independent country. The Taiwanese public rejects the notion of being ruled from Beijing, a situation that leaves Taipei with growing political and military pressure from its cross-strait neighbor.
In a statement on Wednesday, Taiwan's Defense Ministry confirmed that an American warship had traveled north through the strait. Conditions in the seas and skies in and around the Taiwan Strait were normal, the ministry said.
The same warship drew protests from the Chinese government last week after it conducted successive freedom of navigation operations to challenge Beijing's maritime claims in the South China Sea. The Benfold sailed near the Paracel Islands on July 13 and the Spratly Islands on July 16. Both archipelagos are subject to overlapping claims by China and neighboring states.
Tuesday's Taiwan Strait transit—a signal of U.S. military presence that serves to reassure Taipei and other American allies in Asia—was the sixth to be publicized this year in what is now a monthly occurrence. Ticonderoga-class guided-missile cruiser USS Port Royal maneuvered through the waters in May.
The Benfold's operation comes a month after China publicly questioned the legal status of the Taiwan Strait, asserting jurisdiction over the waterway in a manner that suggested American naval operations in the area were unlawful.
The U.S. argued Beijing's position was inconsistent with the UN Convention on the Law of the Sea, also known as UNCLOS, which guarantees freedom of navigation for all vessels in international waters. The U.S. government said it would continue to operate where UNCLOS allows.