China Tells U.S. to Stay Out of South China Sea After Submarine Accident
China has seized upon the U.S. Navy's recent submarine accident in the South China Sea to call for an end to American military operations in the contested waters, with an official on Tuesday accusing the United States of lacking transparency and creating anxiety among regional countries.
Chinese Defense Ministry spokesperson Tan Kefei said Washington, D.C. had taken a "covert approach" to its handling of the incident involving USS Connecticut—one of three Seawolf-class nuclear-powered boats operated by the U.S. Navy—which collided with a mysterious underwater object on October 2.
The U.S. Pacific Fleet confirmed the incident via a statement six days later, saying no sailors were seriously injured and that the ship was headed for repairs in Guam. Tan called the notice "brief and ambitious," and requiring further clarification.
"The United States military has frequently dispatched advanced weapons platforms such as aircraft carriers, strategic bombers and nuclear submarines to flex its muscles and stir up trouble in the South China Sea under the pretext of freedom of navigation and overflight," Tan said in the statement carried by the ministry's website.
"This is the root cause of this incident," he added. "The aforementioned actions by the United States are bound to affect navigational safety, causing serious concern and disquiet among South China Sea littoral states."
The official said: "The United States should stop its close-in reconnaissance in the seas and skies near China's islands and reefs in the South China Sea, end its military deployments against China as well as so-called 'freedom of navigation operations' in the South China Sea."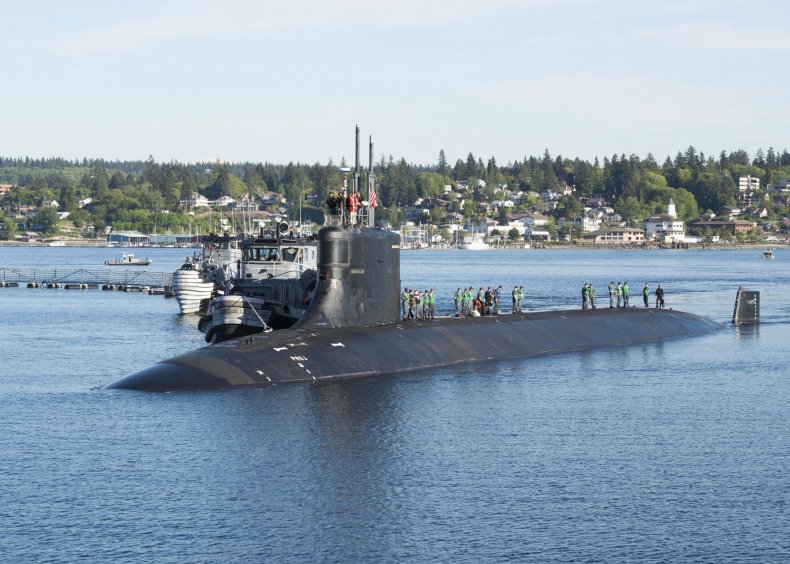 While the U.S. Pacific Fleet has not revealed where USS Connecticut's collision took place—its statement noted only "in international waters in the Indo-Pacific region"—a U.S. Naval Institute report said it happened in the South China Sea, resulting in 11 injuries onboard the nuclear-powered submarine. The U.S. Navy said the incident is under investigation.
The confirmed date, however, puts the stealthy submarine in the region at the same time as three aircraft carrier groups, led by the U.S., conducted a 17-warship exercise in the Western Pacific, while China responded by dispatching 150 military aircraft in five days to the international airspace southwest of Taiwan for its own drills aimed at the self-ruled island.
China has capitalized on the accident to renew calls for U.S. forces to stay away from the region, into which analysts say the Chinese military is eager to expand and exert its own dominance.
Beijing has also opposed the recent AUKUS agreement between the U.S. and U.K. to provide Australia with a fleet of eight nuclear-powered submarines. China's Tan repeated China's objections on Tuesday, raising concerns about nuclear proliferation and an intensifying arms race.