China Trains for 'Winning Battles' in Taiwan, U.S. Views It As 'Threat'
China's armed forces have launched air and naval drills in the disputed waters of the Taiwan Strait, where the United States criticized what it perceived as a provocation against a Pacific partner.
In a statement published Monday, Eastern Theater Command spokesperson Senior Colonel Zhang Chunhui announced the People's Liberation Army had "recently dispatched its naval and air forces, including ships, bombers and reconnaissance aircraft, to cruise around the Taiwan island and conduct necessary training and drills, testing the capability of multi-service integrated joint operations." He said the maneuver is "a normal arrangement within the annual plan and is entirely the justified and legitimate rights of a sovereign state."
It is conducive to maintaining peace and stability across the Taiwan Straits," Zhang added. "The troops of the PLA Eastern Theater Command always keep in mind their missions and tasks, strive to enhance their capability of winning battles in the new era, and will resolutely safeguard China's sovereignty and territorial integrity."
The move was poorly received by the American Institute in Taiwan, a body established by the U.S. government to represent Washington's interests in Taipei. Speaking at an event held to commemorate 40 years of informal U.S.-Taiwan ties, chairman James Moriarty warned that "any attempt to influence Taiwan through threats or coercion, we believe, destabilizes the region and threatens stability in the Taiwan Strait," according to Reuters.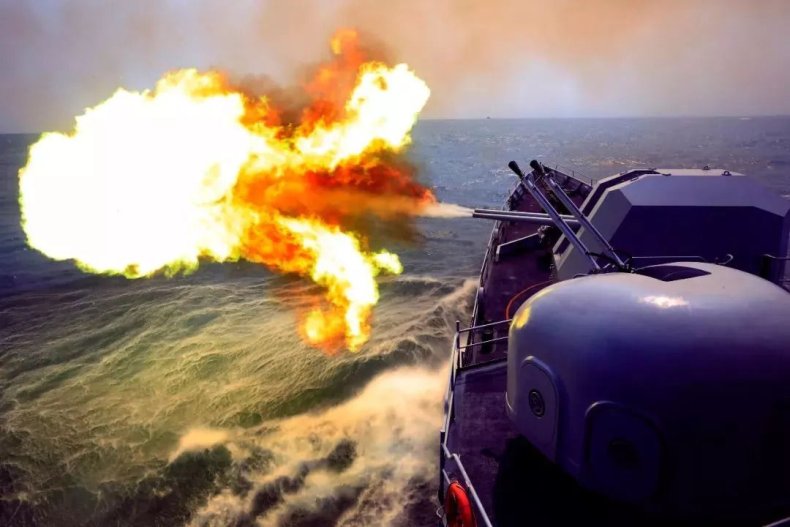 The U.S. has no official relations with Taiwan, but has pledged military support for the self-ruling island nation home to the exiled nationalist government that lost the Chinese civil war to communist forces in charge of the mainland since 1949. President Donald Trump has gradually reinforced U.S.-Taiwan ties since coming to office in 2017, specifically with the passage of the Taiwan Travel Act last year and increasing so-called "freedom of navigation" operations in the contested waters of the South China Sea and Taiwan Strait.
Beijing—which, unlike Washington, has ratified the 1982 United Nations Convention on the Law of the Sea—has condemned efforts by the U.S. to expand its military and political presence in the South China Sea, one of the world's busiest maritime trade routes and thought to hold trillions of dollars worth of oil and gas reserves. China has laid out vast claims to the disputed region and has been accused by the U.S. and regional competitors of militarizing various islands, islets and reefs to reinforce its position.
Moriarty argued that "flying fighter jets and bombers around the island, presumably in connection with what we are doing this afternoon, certainly does not help at all," according to Reuters. Rather, he argued: "It hurts stability. It damages the cross-strait relationship. It damages any attempt by China to win the hearts and minds of Taiwan people."
Taiwan deployed its own air and naval forces in response to the Chinese drills. In a statement, the Taiwanese Defense Ministry said China's "attempts to change the status quo in the Taiwan Strait through military operations and public opinion warfare is not conducive to peace in the Taiwan Strait and affects regional stability."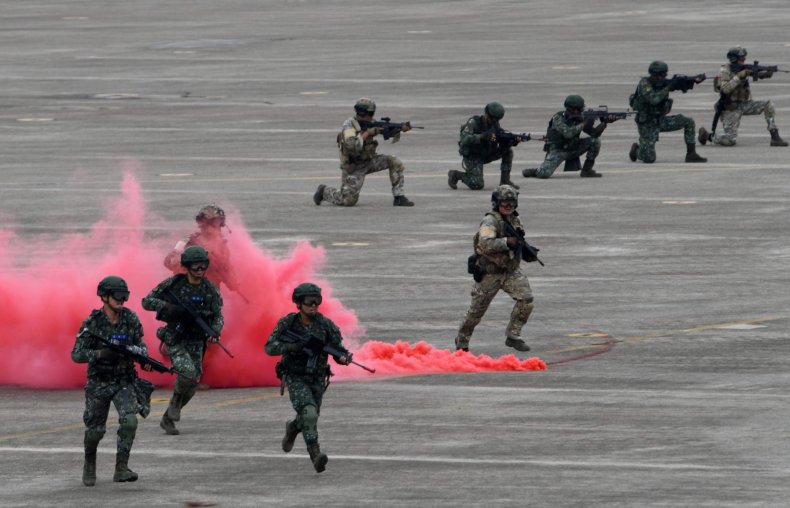 Also attending the American Institute in Taiwan event was a delegation from the House of Representatives, led by former speaker Paul Ryan. He said Taiwan's "embrace of democracy shows a better path for all the Chinese people"—citing a speech given in October by Vice President Mike Pence. Ryan said the Trump administration "wants the rest of the world to be more like Taiwan."
Chinese President Xi Jinping has offered Taiwan limited autonomy as part of a "one country, two systems" deal similar to those given to Hong Kong and Macau. He has maintained, however, that the two would be reunited by force, if necessary.
China was set to mark the 70th anniversary of its navy later this week with a massive ceremony in Qingdao said to include some 60 nations from across the globe. China's navy was also scheduled to begin later this month the Joint Sea exercise with Russia, another designated adversary of the Trump administration's foreign policy that has forged closer ties with China amid a shared opposition to what they view as an expansionist U.S. military.