China Says It 'Does Not Fear Competition' After Biden's Dig at Xi
China said its relations with the U.S. should be defined by coexistence rather than contest, after President Joe Biden took an unscripted dig at his Chinese opposite number in Tuesday's State of the Union address.
"China has always believed that Sino-American relations are not a zero-sum game in which one side wins at the other's expense, and that the respective successes of China and the U.S. are an opportunity, rather than a challenge, for one another," said China's foreign ministry spokesperson Mao Ning.
The planet "can fully accommodate" the prosperity of both China and the U.S., she said Wednesday at a regular press briefing in Beijing.
Hours earlier on Capitol Hill, Biden said the U.S. was now in "in the strongest position in decades" to compete with China. "Before I came to office, the story was about how the People's Republic of China was increasing its power and America was failing in the world. Not anymore."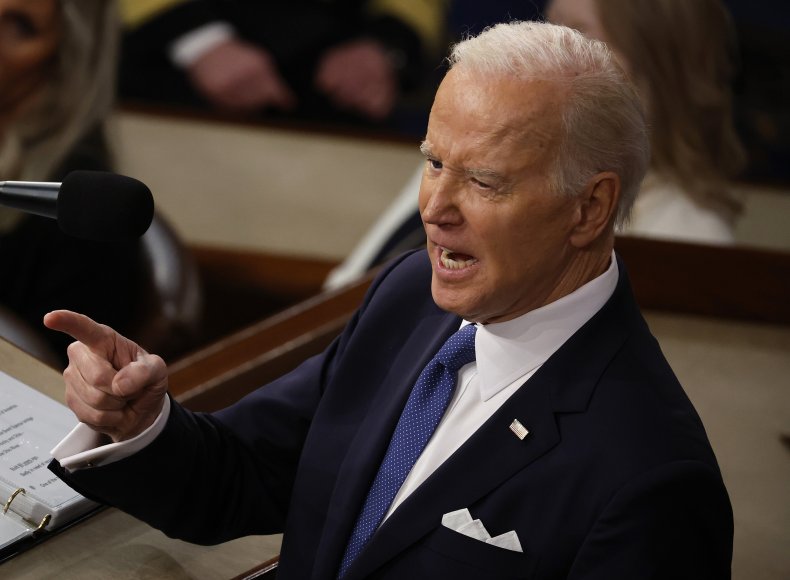 "And let's be clear: winning the competition with China should unite all of us. We face serious challenges across the world. But in the past two years, democracies have become stronger, not weaker," he said.
"Name me a world leader who would change places with Xi Jinping! Name me one!" Biden said, in a surprise departure from the prepared remarks released by the White House earlier Tuesday.
Mao, the spokesperson, didn't respond directly to Biden's naming of China's president in his speech.
"China does not avoid and does not fear competition, but we are opposed to defining the whole Sino-American relationship by competition. Smearing a country under the banner of competition and restricting the legitimate development interests of other countries, even at the expense of global industrial and supply chains, is not the behavior of a responsible power," she said.
Bilateral relations between the world's two superpowers have been strained for half a decade, split by seemingly irreconcilable ideological and geopolitical divides.
Washington's conviction in the long-term challenge posed by China is matched only by Beijing's certitude in a U.S.-led containment effort.
The U.S. seeks "competition, not conflict," Biden said he told Xi in their many conversations. "But I will make no apologies" for investing in key industries that China intends to dominate, or for bolstering America's alliances and military, he said.
Biden also hinted at the spy balloon saga that has gripped the nation for the past week, a new diplomatic spat that has thrown a wrench in Beijing's plans to stabilize ties with its rival at a time of domestic vulnerability.
"I am committed to work with China where it can advance American interests and benefit the world," he said. "But make no mistake about it: as we made clear last week, if China's threatens our sovereignty, we will act to protect our country. And we did."
The U.S. military continues to recover debris from the high-altitude balloon, which the Pentagon assessed had been sent to surveil sensitive sites. China insists the craft was a civilian airship conducting meteorological research, which had been blown off course by westerly winds—and subsequently shot out of the sky in an overreaction.
The Pentagon has said any findings will be shared with the American public, while Beijing has suggested the balloon, which "belongs to China," should be returned.
Do you have a tip on a world news story that Newsweek should be covering? Do you have a question about China? Let us know via worldnews@newsweek.com.