China Accuses U.S. Of Turning Outer Space Into 'a Weapon and a Battlefield'
China's Foreign Ministry spokesperson Zhao Lijian has accused the U.S. of being "the main driver in turning outer space into a weapon and a battlefield."
His comments came during one of the ministry's regular press conferences which often include barbed responses to accusations against China or other developments.
In Tuesday's session, Zhao was asked by Chinese state-run news agency China News Service about last month's opening of the U.S. National Space Intelligence Center (NSIC) and whether it posed a risk to "humanity's overall stability".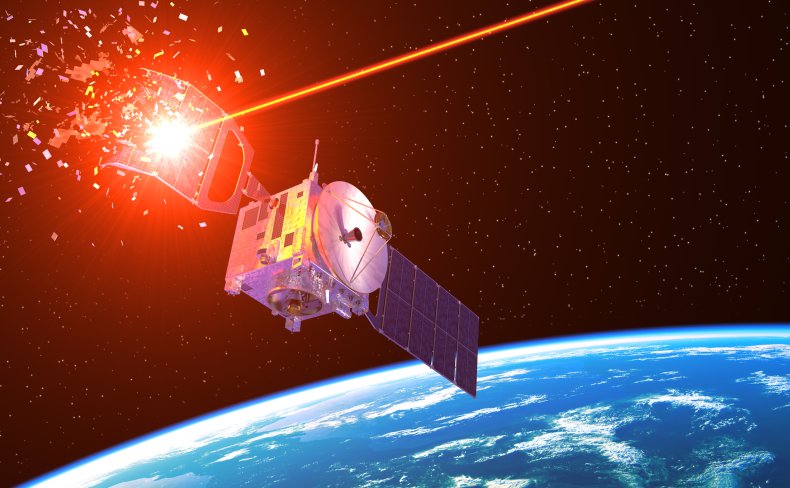 Zhao replied: "The U.S. is the main driver in turning outer space into a weapon and a battlefield. It has long pursued a strategy for dominance in space and openly defined outer space as a war-fighting domain.
"To achieve its strategy, the U.S. has been aggressively developing and deploying a variety of offensive outer space weapons such as directed energy and Counter Communications System, frequently holding military drills and advancing all-round military buildup and preparedness in outer space."
The National Space Intelligence Center (NSIC) was established last month at the Wright-Patterson Air Force Base in Ohio. It will be operated by a unit known as Space Delta 18, which is responsible for "delivering critical intelligence on threat systems, foreign intentions, and activities in the space domain."
"In the years ahead, the [space] environment will only become more contested," said Avril Haines, director of national intelligence, in a statement at an NSIC launch event. "And as we move forward, NSIC will be relied upon to produce and analyze scientific and technical intelligence related to space for the entire nation."
It comes as part of a push for more military space funding within the U.S. government, with the Space Force requesting $24.5 billion in funding for 2023 back in the spring—a 40 percent increase from the previous year, according to military news site Military.com.
Zhao's criticism of NSIC is not the first time that concern about the U.S. presence in space has come from within China. Earlier this year Chinese researchers published an article in which they outlined ways China could strike Elon Musk's Starlink satellite network.
Starlink consists of thousands of small internet-providing satellites in low Earth orbit. The authors voiced concerns that Starlink has cooperated with the U.S. military in the past and could be used for military purposes.
The study called for "a combination of soft and hard kill methods" that could disable some of the satellites, according to the South China Morning Post, which had seen the report.
Despite Zhao's comments, the U.S. is not the only country expanding its military presence in space. Chinese researchers have been developing or proposing multiple anti-satellite weapons including directed energy weapons that could feasibly destroy enemy satellites, The Diplomat reports.
Washington has also voiced concerns about China's ambitions in space. The U.S. Space Force's Vice Chief of Space Operations, Gen. David Thompson, warned last December that China was on a rapid pace in space development, adding to mounting concerns that it could outpace the U.S. in space and gain military advantage, Politico reported.
Newsweek has asked the U.S. State Department for comment.