China Warns of 'Robust' Response If U.S. Boycotts 2022 Olympics
China has warned the U.S. that it would have a "robust response" if the U.S. decides to boycott the 2022 winter Olympics in Beijing over concerns of human rights violations.
The warning comes after U.S. officials said earlier this week that they would consult with allies on how to best handle the upcoming games, amid concerns that China is committing human rights abuses against Uyghur Muslims, Tibetans and citizens of Hong Kong.
"Part of our review of those Olympics and our thinking will involve close consultations with partners and allies around the world," U.S. Department of State spokesperson Ned Price said on Tuesday.
According to the Associated Press, the department initially suggested that a boycott of the Olympics was on the table, but said later that it had not yet been discussed.
Price added Tuesday that the games, which are set to kick off in Beijing in February 2022, are still too far away for the U.S. to have an official stance.
"It is something that we certainly wish to discuss and it is certainly something that we understand that a coordinated approach will be not only in our interest, but also in the interest of our allies and partners. So this is one of the issues that is on the agenda, both now and going forward," he said.
But on Wednesday, Chinese foreign ministry spokesperson Zhao Lijian warned there would be some sort of "robust response" if the U.S. decided to boycott, and denied all accusations that China is committing abuses against ethnic minorities.
"The politicization of sports will damage the spirit of the Olympic Charter and the interests of athletes from all countries," Zhao Lijian said Wednesday, according to the Associated Press. "The international community, including the U.S. Olympic Committee, will not accept it."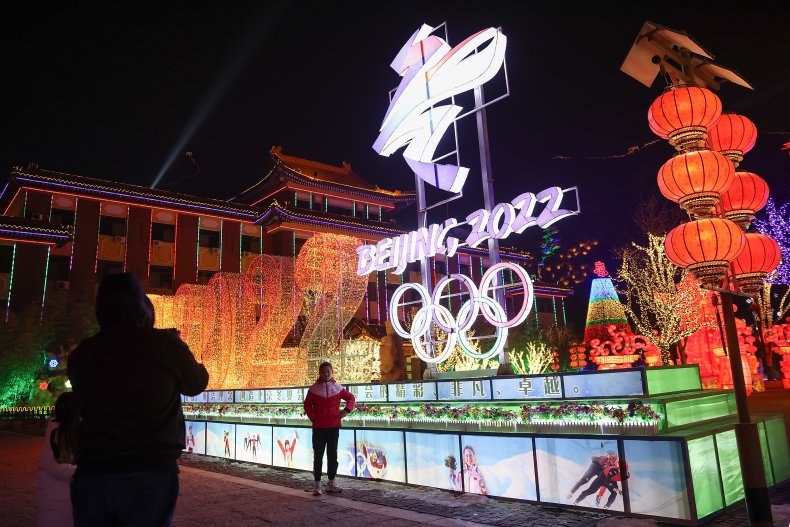 The tense back and forth is unfolding amid a growing effort from human rights organizations and activists to move the 2022 games away from China.
China has been accused of placing over 1 million Uyghurs—a predominantly Turkish Muslim minority—into detainment camps in the Xinjiang region, and forcing them to work against their will.
In October of 2020, the U.S. Department of Labor said that Uyghur workers are forced to "endure dreadful conditions" and "receive little pay, are not allowed to leave, and have limited or no communication with family members. If family communication and visits are allowed, they are heavily monitored or cut short."
In January, the U.S. became the first country to declare that China's ongoing treatment of Uyghur Muslims is considered an act of "genocide."
On top of that, China has also been scrutinized for its treatment of ethnic minorities in Tibet, as well as its severe crackdown on political dissent and pro-democracy protest movements in Hong Kong.
Now, activist groups—including the International Tibet Network, World Uyghur Congress and We The Hongkongers—are calling on Democratic nations to either boycott the upcoming Olympics, or for the International Olympic Committee (IOC) to move the games away from Beijing.
"I think a diplomatic boycott would be very much welcomed by all of our communities. We have been looking towards accountability, and that is definitely part of that path toward accountability," Zumretay Arkin, spokeswoman for the World Uyghur Congress, told the Associated Press recently.
Meanwhile, the IOC has given no indication it would move the games and has instead stated that its position is meant to be politically "neutral."
"We are not a super-world government where the IOC could solve or even address issues for which not the U.N. security council, no G7, no G20 has solutions," IOC President Thomas Bach said last month.
Last month, the U.S. Olympic and Paralympic Committee (USOPC) pushed back against the idea of a boycott, stating that it would be detrimental to athletes.
"While we would never want to minimize what is happening from a human rights perspective in China, we do not support an athlete boycott," USOPC president Susanne Lyons said in March.
"Those boycotts only hurt athletes who have trained their entire lives for this opportunity to represent their country. We believe this is an issue that should be addressed at a government-to-government level with China," Lyons added.
Other forms of protest that have been touted include social media activism, encouraging athletes to skip the opening ceremony, or wearing protest clothing during the games.
If the U.S. does decide to participate in an Olympic boycott, it would not be the first time. In 1980, the U.S. led a boycott of 65 nations against the Summer Olympic Games in Moscow, in protest of the 1979 Soviet invasion of Afghanistan.
Newsweek contacted the White House for additional comment, but did not hear back in time for publication.