China Is Working to Remove President Donald Trump, Mike Pence Warns
China's efforts to meddle in the United States are a significantly greater threat to the country than Russia, Vice President Mike Pence will say in a formal rebuke of Beijing on Thursday.
Citing intelligence experts and highlighting actions allegedly undertaken by the Chinese government, Pence will reiterate the concerns voiced by President Donald Trump that Beijing is working to influence U.S. elections, according to The Wall Street Journal. He will also take issue with China's foreign policy decisions, particularly its financial aid and loans to developing nations, as well as its actions in the disputed South China Sea.
"Beijing has mobilized covert actors, front groups and propaganda outlets to shift Americans' perception of Chinese policies," the vice president will say, according to prepared remarks seen by the Journal. "As a senior career member of our intelligence community recently told me, what the Russians are doing pales in comparison to what China is doing across this country."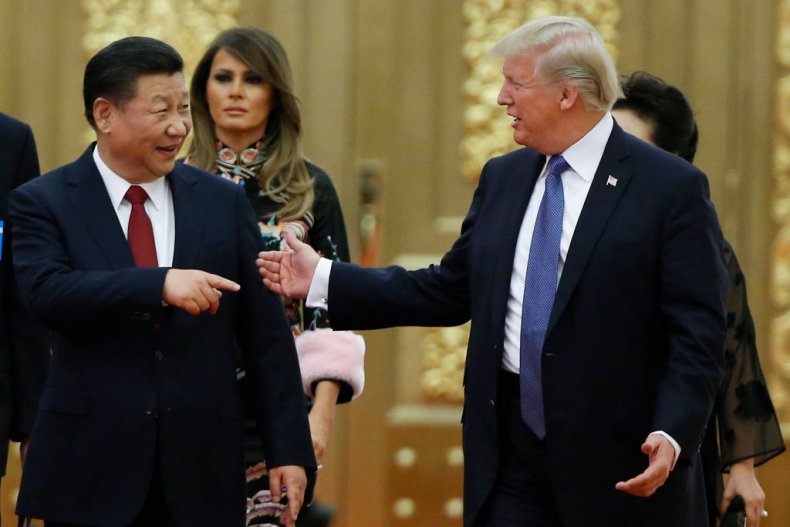 "China wants a different American president," Pence will say. As a result, Beijing has undertaken "an unprecedented effort to influence American public opinion."
The remarks from the Trump administration come following a Wednesday warning from the Department of Homeland Security that a hacker group linked to the Chinese government has launched attacks on American and European technology service providers to steal data, Reuters reported. "We strongly encourage our partners in government and industry to work together to defend against this threat," DHS official Christopher Krebs said in a statement.
Dmitri Alperovitch, chief technology officer of U.S. cybersecurity firm CrowdStrike, also said on Tuesday that, "unfortunately, the Chinese are back," according to Reuters. He said Chinese hackers are now "the most predominant threat actors we see threatening institutions all over this country and Western Europe."
But Pence's rebuke will go far beyond hacking and influencing U.S elections. He will also take aim at China's "debt diplomacy," which he will allege Beijing uses to expand its influence globally.
"The terms of those loans are opaque at best, and the benefits flow overwhelmingly to Beijing," he will say.
The vice president will also raise the issue of tensions in the South China Sea, accusing Beijing of "reckless harassment" of U.S. military operations in the disputed waters. "Beijing is also trying to project its power farther than ever before," Pence will warn, adding that "we will not be intimidated; we will not stand down."
The rebuke comes as trade tensions have escalated between Beijing and Washington in recent months, with Trump slapping $250 billion of Chinese products with new tariffs. He first moved to add the additional levies to $50 billion of China's imports this summer, to which Beijing responded in a tit-for-tat manner, placing new taxes on an equal amount of U.S. products. Last month, Trump added tariffs to another $200 billion of imports, to which Beijing retaliated by adding levies to a further $60 billion of U.S. goods.
China also announced at the end of September that it would cut import tariffs on a range of non-U.S. products. The decision is expected to save Chinese consumers and businesses about $8.7 billion. It also aims to encourage Chinese consumers to avoid purchasing U.S. goods and choose other alternatives.
Although China has denied attempting to interfere in U.S. elections, intelligence experts have raised concerns about the East Asian nation's activities throughout the country.
Michael Collins, the deputy assistant director of the CIA's East Asia Mission Center, told the Aspen Security Forum in July that the threat from China is the most serious currently faced by the U.S. The intelligence official argued that China's current actions in the world could be defined as "fundamentally a cold war."
Speaking at the same forum, FBI Director Christopher Wray told attendees that China is also seen by his agency as the most significant threat to the U.S. He explained that the FBI is investigating economic espionage cases in all 50 states that have alleged ties to Beijing.