China Would Not Like Russia-Ukraine War During Olympics, Wendy Sherman Says
China's President Xi Jinping would not want Russian counterpart Vladimir Putin to further invade Ukraine while the Olympics is underway in Beijing, Deputy Secretary of State Wendy Sherman told a virtual event on Wednesday.
Sherman attended the Kyiv-based Yalta European Strategy (YES) forum with former Estonia President Kersti Kaljulaid, who sought reassurances about NATO's readiness to act, should Moscow take more escalatory steps.
Some 100,000 Russian troops have been amassed along Ukraine's eastern border since last year.
Asked to predict how the coming weeks would unfold, Sherman said: "Well, I don't know what's in President Putin's mind. There's only one person who knows that, and that's President Putin. I suspect even the people around him don't know what he ultimately will do."
"I have no idea whether he's made the ultimate decision, but we certainly see every indication that he is going to use military force sometime, perhaps now and middle of February," the official said.
"We all are aware that the Beijing Olympics begins on February 4, the opening ceremony, and President Putin expects to be there."
"I think that probably President Xi Jinping would not be ecstatic if Putin chose that moment to invade Ukraine, so that may affect his timing and his thinking," said Sherman.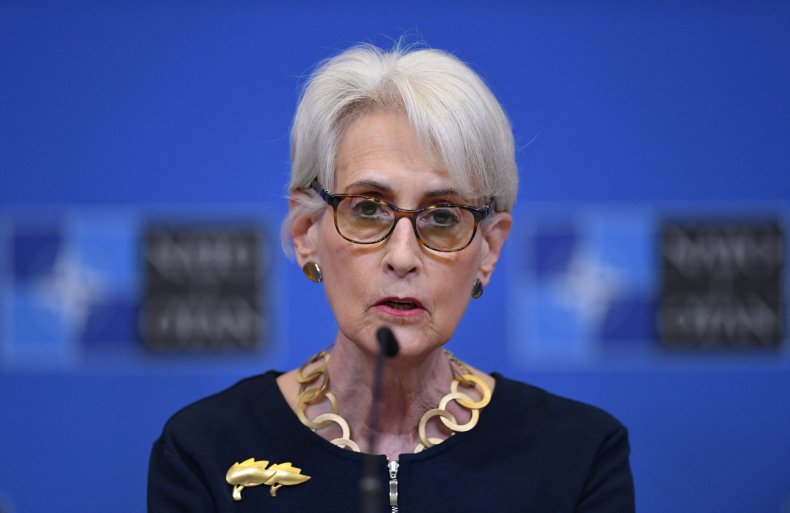 Xi was among the high-profile foreign dignitaries who attended the opening ceremony of Russia's Sochi Winter Olympics in February 2014, an event boycotted by former President Barack Obama, who also declined to send then Vice President Joe Biden or any cabinet secretaries.
Putin pledged last month to attend the Beijing Games amid an American-led diplomatic boycott over China's repressive human rights policies.
The Olympics is a particularly important event for the Chinese Communist Party leadership in a year when Xi is expected to be handed an unprecedented third term in office.
On Monday, China's Foreign Ministry denied a Bloomberg report that said Beijing had asked Moscow not to invade Ukraine in 2022. Ministry spokesperson Zhao Lijian said the report was "made up out of thin air," describing it as an attempt to "drive a wedge in China-Russia relations" and disrupt the international sporting event.
He said China and Russia would "thwart any attempt" to play the two countries off one another. At Wednesday's YES event, Sherman dismissed Moscow's view of Kyiv as a threat to its security.
"Moscow is continuing to use increasingly bellicose and inflammatory rhetoric, and to spread disinformation and propaganda in an obvious effort to paint Ukraine as the aggressor," said Sherman. "Ukraine poses no threat to Russia."
She later said Russia would "find a pretext for whatever action they take," suggesting a false flag operation within Ukrainian territory was possible. She told Kaljulaid that the United States and NATO were preparing for anything, from a "full-on invasion" to "hybrid attacks or subversion or sabotage or coercion."
NATO's proposed sanctions and export controls, the deputy secretary said, would send a united message: "If you take this action, there will be a severe reaction."
She reaffirmed NATO's ambition to have Ukraine as a future member, saying that the decision was for the alliance—not Russia—to make.
The U.S. and NATO returned separate written responses to Moscow on Wednesday after the Russian government demanded, in exchange for de-escalation, guarantees that Ukraine would never join the North Atlantic bloc, and that the alliance would not expand further eastward.
Both requests were rejected.
Secretary of State Antony Blinken, who was open to other possibilities, told a press briefing that he hoped Russia would "take our proposals seriously."
On Wednesday evening Eastern Time, Blinken held a call with China's Foreign Minister Wang Yi, who bemoaned the lack of progress in U.S.-China relations, despite a change in American leadership from Donald Trump to Biden.
For the first time, Wang also expressed China's public support for Russia's position in the ongoing standoff in Eastern Europe. He called for calm but also criticized NATO for what he called "Cold War mentality."
"The security of one country should not be at the expense of the security of others, and regional security should not be guaranteed by strengthening or even expanding military blocs," he said, according to a Chinese Foreign Ministry readout.
"Today, in the 21st century, all parties should completely abandon the Cold War mentality and form a balanced, effective and sustainable European security mechanism through negotiations, with Russia's legitimate security concerns taken seriously and addressed," said Wang.