As China's Xi Jinping Shuns Volodymyr Zelensky, Taiwan Engages With Ukraine
Taiwan has stepped up its quiet diplomatic engagement with local officials in Ukraine following Beijing's continued lukewarm support for Kyiv after Russia's invasion.
Taipei, unlike Beijing, has no official relations with Kyiv; trade and travel ties with Ukraine are technically conducted through Taiwan's diplomatic office in Moscow, whose work covers Russia and 11 former Soviet republics.
The democratic island—the subject of a decades-old territorial claim by China—was quick to side with Ukraine and the West against Russia's attack in February. It appears to have seen an opportunity to expand its voice in Eastern Europe, with Joseph Wu, Taiwan's foreign minister, leading the diplomatic charge.
On Twitter on Monday, he shared details of "an emotional call" with Anatoliy Fedoruk, mayor of Bucha, the scene of what Wu called "some of the worst war crimes" committed by Russia's forces. Taiwan pledged $500,000 to help rebuild the Ukrainian town, its foreign ministry said.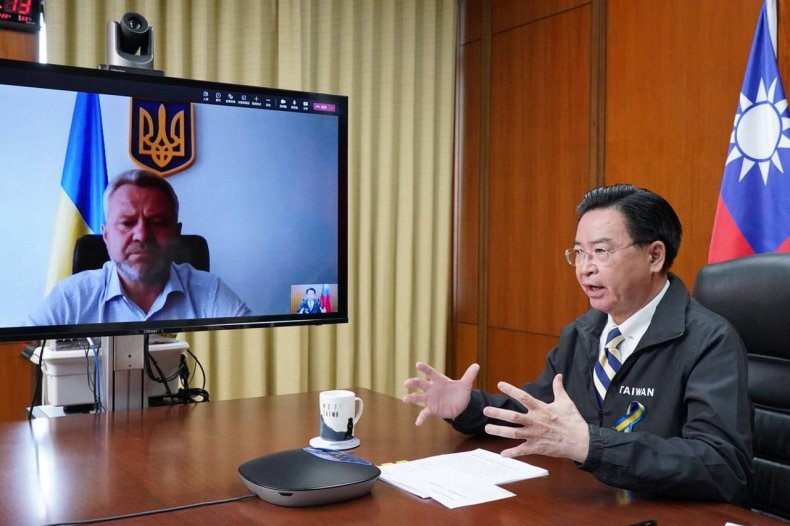 It followed recent calls with Serhii Dumenko, head of Ukraine's Orthodox church, to announce a $1.2 million donation; and with Ihor Terekhov, Kharkiv mayor, to provide $2 million in aid.
On June 15 Lviv Mayor Andriy Sadovyi thanked Taiwan for $800,000 in funds for medical equipment. Similar messages of gratitude have come from individual Ukrainian lawmakers.
The impetus for Taiwan's increasingly public engagement with local authorities in Ukraine comes from civil society. In light of what many on the island see as territorial conquest by the Kremlin, the Taiwanese public has shown overwhelming sympathy for Ukrainians in the 17 weeks since the invasion began.
In March, a relief fund backed by Taiwan's government raised nearly 1 billion New Taiwan dollars ($33.65 million) in a month. The donations, which were in addition to hundreds of tons of medical supplies sent to Europe, went to Ukraine and its neighbors, which were receiving millions of refugees.
Taiwanese officials, including Wu, continue to speak of Ukraine's resistance as something of an inspiration for the island's public, which is girding itself for a similar fight in the coming decades.
China, meanwhile, has hedged its position on the crisis since the beginning, refusing to condemn Russia while not openly backing Ukraine either.
Beijing announced two batches of humanitarian assistance for Ukraine in March, totalling 15 million Chinese yuan ($2.24 million). Its tepid response is very much reflective of its vital geopolitical relationship with Russia, the only major power to side with China in its growing rivalry with the West in general and the United States in particular.
Since Russia launched its invasion of Ukraine on February 24, the Kremlin has published details of two calls between presidents Vladimir Putin of Russia and Xi Jinping of China. Ukrainian President Volodymyr Zelensky, however, is yet to speak with his Chinese counterpart.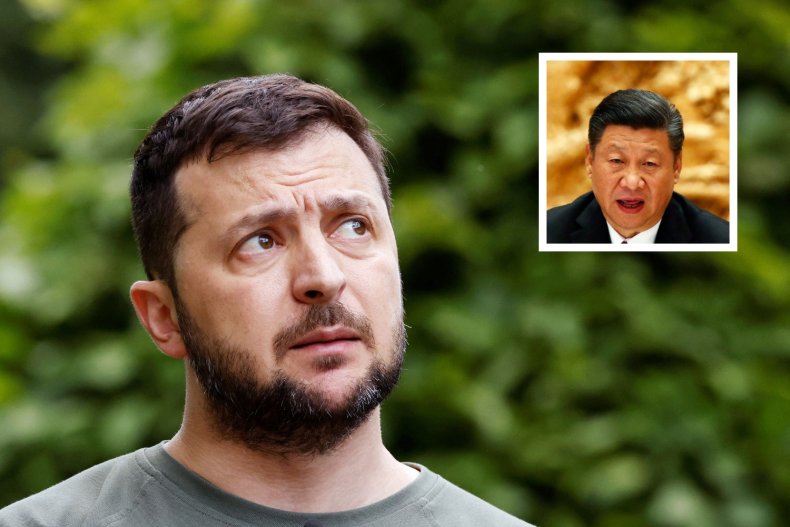 In May at Davos, Zelensky said he was "satisfied with this status quo," in which China refrained from any steps for or against Ukraine. "That is better than helping Russia," he said.
He was less optimistic about the possibility of Beijing applying pressure on Moscow to end the conflict.
"I am not sure that China will," Zelensky said.
Although Beijing's own diplomatic efforts with Kyiv have remained muted, it is doubtless noticing Taipei's attempts to forge ties with non-government officials in Ukraine.
On April 20, after Ukraine's parliament thanked Taiwan for its ongoing support, the Chinese Embassy in Washington told Newsweek that Beijing opposes "official exchanges" between Taiwan and countries that have diplomatic relations with China.
Two days later, Wu held a video call with Vitali Klitschko, mayor of Kyiv, to announce a $3 million donation. But opposition from China—Ukraine's largest trading partner—means Taiwan's officials are unlikely to reach their counterparts in Zelensky's cabinet or the Ukrainian president himself.
"China firmly opposes any form of official contact between countries with diplomatic relations and the Taiwan region. It does not object to normal economic, trade and people-to-people exchanges between countries with diplomatic relations and the Taiwan region. This position is clear and consistent," the Chinese Foreign Ministry told Newsweek in a written statement on Wednesday.
Taiwan's Foreign Ministry did not respond to a request for comment.
China analyst Bryce Barros, from the Alliance for Securing Democracy think tank at the German Marshall Fund of the United States, says Taiwan has capitalized on "chilly relations" between Ukraine and the People's Republic of China.
"This shows that Taiwan wants to continue to be a proud democratic stakeholder in the international system short of having formal diplomatic relations with Ukraine," Barros tells Newsweek.
"Officials between Ukraine and the PRC have publicized some interactions between each other since the war began. However, I think the war provided Taiwan a window to strengthen relations with not only Ukraine, but other [Central and Eastern Europe] countries since China's reception has become increasingly cold across Europe," he concludes.
Update 21/6/22 10:55 a.m. EDT: This article was updated to include comments from Bryce Barros.
Update 23/6/22 3:03 a.m. EDT: This article was updated to include comments from China's Foreign Ministry.