China Clamps Down on Civilian Drones Near Taiwan's Islands
A Chinese city near Taiwan's front-line forces restricted the use of commercial drones this week in a move likely to reduce the risk of an accidental clash amid heightened tensions.
Authorities in Xiamen, a port city in China's eastern Fujian province, have requested all civilian drone sales to be documented with customer identification. Buyers also have to register new devices on a portal managed by the country's civil aviation authority, according to a citywide notice published on Tuesday.
Residents who plan to operate drones in the city will be required to clear a flight plan with local air traffic officials no later than 24 hours in advance. Drones can only fly along authorized routes and are now banned from the airspace above a number of public spaces, according to the announcement.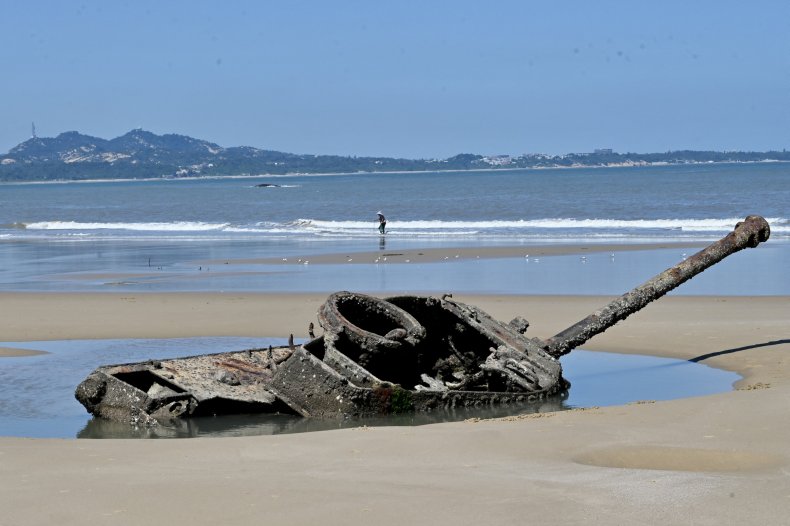 The regulations include provisions for a fine of 1,000 Chinese yuan ($140) for transgressors, or 5,000 yuan for companies, who flout the rules, said the notice, which was jointly published by Xiamen's police, its weather bureau and the regional civil aviation authority.
The restrictions—"to guarantee public safety and maintain order in Xiamen airspace"—come in the weeks after Taiwan's outlying territories, Kinmen and Matsu, reported a number of commercial drone overflights. Both island groups lie on the far side of the Taiwan Strait, some barely two miles from Xiamen.
On social media platforms such as Weibo and Douyin—China's version of TikTok—footage emerged of civilian drones overlooking guard posts on Kinmen, where Taiwan's troops eventually shot down at least one device on September 1.
Taiwan's defense ministry, which rushed anti-drone guns to Kinmen and Matsu in August, said earlier this month that army officers on offshore islands were no longer required to report commercial drone sightings up the chain of command.
Taiwanese soldiers would attempt to expel unidentified drones with flares and signal jammers, but are also cleared to engage them with 7.62 mm caliber firearms or smaller, the ministry said.
Already simmering cross-strait tensions threatened to come to a head in August after China launched a series of unprecedented war games around Taiwan in response to House Speaker Nancy Pelosi's visit to Taipei. Beijing claims the island as its own and is rapidly developing the military means to take it by force if necessary.
Experts don't anticipate a Chinese invasion within the next decade; most believe Beijing lacks a coherent, long-term plan to achieve its objective of political control over Taiwan. However, there are growing concerns that an unintended military accident or collision could elevate cross-strait frictions into a shooting war.
It was never clear whether the Chinese military was involved in the commercial drone overflights, although Taiwan-based experts suspected at least tacit endorsement by Beijing as part of a hybrid strategy of psychological warfare against the island's public.
This week's announcement by Chinese authorities in Xiamen may go some way toward alleviating concerns, even as Beijing continues to send warplanes and military drones into the airspace around Taiwan each day.