Taiwan Tracks Military Drone From China in Air Defense Zone
Taiwan said its forces flew combat air patrols and readied surface-to-air missiles on Monday in response to approaching Chinese aircraft including a military drone, a sign that Beijing's frequent operations around the island are becoming increasingly complex.
At least nine People's Liberation Army aircraft entered Taiwan's air defense identification zone (ADIZ) on that day, the Taiwanese defense ministry said. They included two J-11 fighter aircraft, four H-6 nuclear-capable heavy bombers, two Y-8 support aircraft and an unmanned aerial vehicle, or UAV, better known as a drone.
The deployment of interceptor aircraft and land-based anti-aircraft missile systems are now part of the standard response by Taipei, whose ADIZ acts as a buffer covering the international airspace around Taiwan. Taipei, Beijing, Tokyo and Seoul are among the governments maintaining their own ADIZ in the neighborhood. Countries expect foreign aircraft to self-identity when passing through the zone, but it isn't regulated under international law.
Taiwan identified the Chinese UAV as a BZK-007 reconnaissance aircraft. It has a wingspan of nearly 50 feet and can maintain a speed of around 140 miles per hour for a flight time of 16 hours. An illustrated map published by the defense ministry showed it operating in the skies southwest of Taiwan.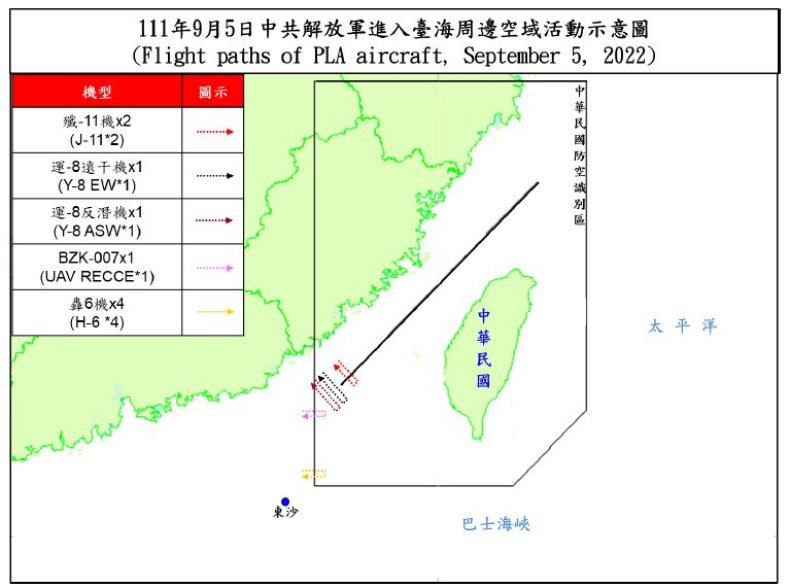 It was the first time Taipei publicly acknowledged the presence of a Chinese drone operating inside its ADIZ; all the previous reports were of manned aircraft only. Taiwan said it spotted a Chinese military drone in its "surrounding region" on Sunday, but the model wasn't specified and it apparently it didn't enter the island's ADIZ, parts of which overlap with China's own.
Japan's defense ministry, meanwhile, has reported a number of Chinese UAV sightings, including in the airspace east of Taiwan.
China asserts Taiwan is part of its territory, a claim rejected by the democratically elected government in Taipei. Beijing refuses to rule out the use of force against the island, which began detecting frequent PLA flights into its ADIZ in 2020, leading Taiwan's defense ministry to publicize the maneuvers for the first time in September that year.
The number of ADIZ incursions for 2022 rose to a record 1,112 sorties as of September 5, according to an online database kept by U.S.-based analysts Gerald Brown and Ben Lewis. There were 140 sorties more than last year's total, and nearly three times as many as the estimated 380 PLA flights in 2020.
August also marked the busiest month of Chinese military activity around Taiwan since records began, with the PLA flying at least 446 sorties into the island's ADIZ, the statistics showed. Beijing buzzed Taipei's air defense radars on each of the month's 31 days—another record.
Some months had previously experienced occasional days of double-digit PLA sorties. Most incursions since early August have involved 10 aircraft or more, and on nine days they involved more than 20 warplanes.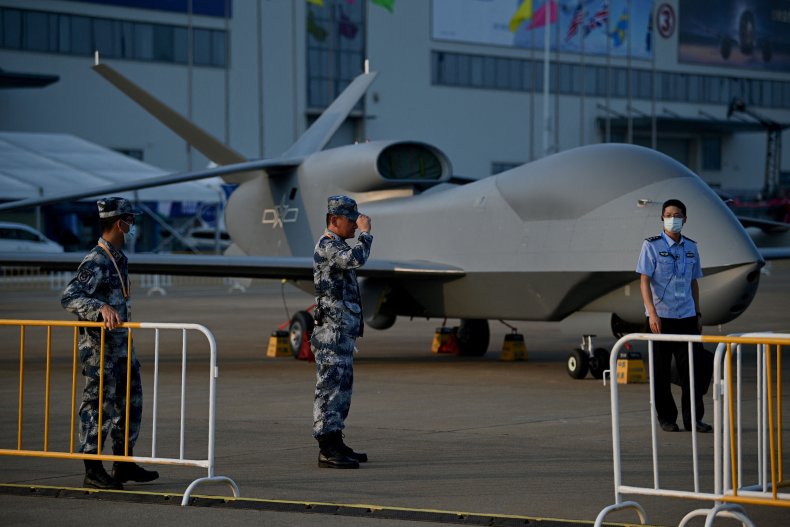 Chinese officials say the military moves were a necessary response to House Speaker Nancy Pelosi's visit to Taiwan between August 2 and 3. She became the most senior American official to travel there in a quarter-century, defying Beijing's progressively vocal opposition to warming U.S.-Taiwan ties.
White House officials say China means to create a new status quo where its presence near the island and especially across the Taiwan Strait "median line"—an unofficial buffer maintained since the early days of the Cold War—is normalized. The U.S. says it won't accept the "new normal" and has suggested it intends to push back against the new Chinese force posture, but Washington's response so far has been conservative.
China's flight operations have only become more sophisticated since they began two years ago. They now regularly include combinations of various attack and reconnaissance aircraft, as well as bombers and refuelling planes. Analysts believe the routine incursions serve important operational training purposes as the Chinese air force familiarizes itself and maps the airspace around Taiwan.