Japan says it has scrambled fighter aircraft to intercept Chinese military drones and accompanying surveillance aircraft on three consecutive days this week as its defense forces took part in a series of readiness exercises with regional allies.
Thursday marked the third straight day of Chinese unmanned aerial vehicle sightings reported by the Japanese Defense Ministry's Joint Staff Office. Images of the drones were captured by fighters of the Japan Air Self-Defense Force.
According to illustrated flight paths released by the office, Japan detected a Chinese TB-001 reconnaissance drone loitering in the East China Sea on Tuesday. The following day, Japan intercepted a BZK-005 UAV and two People's Liberation Army Y-8 support aircraft of the maritime patrol and intelligence-gathering variants.
Wednesday's three Chinese aircraft transited the Miyako Strait into the Western Pacific through the international airspace between the islands of Okinawa and Miyako, said the Joint Staff Office press release.
After the TB-001 and two Y-8s returned on Thursday following similar flight patterns, Japan's Defense Ministry characterized the drone as serving both surveillance and attacking functions.
None of the PLA aircraft intruded into Japanese airspace, a Kyodo News report said on Wednesday.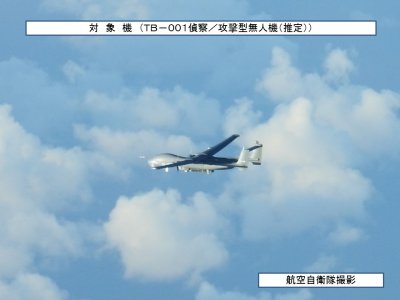 The series of drone sightings coincide with ongoing military drills involving the Japan Maritime Self-Defense Force, who conducted joint exercises with Britain's visiting Queen Elizabeth Carrier Strike Group on August 24. The drills—joined by Japanese destroyer JS Asahi and helicopter carrier JS Ise—took place south of Okinawa, according to Japan's Ministry of Defense.
On August 26, Japan's maritime forces joined the navies of the United States, India and Australia—all partners of the Quadrilateral Security Dialogue—for the start of exercise Malabar 2021 in the Philippine Sea, the U.S. Seventh Fleet said in a press release.
Japan's concerns about Chinese military expansion into the East and South China seas and across the Taiwan Strait have increased in frequency and urgency in recent months, culminating in its call for a "sense of crisis" in its annual defense white paper in July.
In a surprising development with potentially groundbreaking implications for collective security in the Indo-Pacific region, ruling party officials from Japan have invited their Taiwanese counterparts for bilateral security talks, which are scheduled to take place virtually on Friday.
In a monthly press conference on Thursday, China's Defense Ministry spokesperson Tan Kefei accused Japan of exaggerating Beijing's military threat. "To use this as an excuse for its own military expansion is very wrong and irresponsible," he said.