In a Rare Move, China Sanctions Seven Taiwanese Officials
The political fallout from House Speaker Nancy Pelosi's recent visit to Taiwan continued on Tuesday, as China announced new sanctions against seven Taiwanese officials and lawmakers.
The newly targeted "diehard 'Taiwan independence' elements" included Hsiao Bi-khim, Taiwan's envoy in Washington, as well as Wellington Koo, who is national security adviser to President Tsai Ing-wen of Taiwan. They join Beijing's blacklist of 10 Taiwanese politicians, all but one of whom are from the island's ruling Democratic Progressive Party (DPP).
"For some time, a small number of diehard 'Taiwan independence' elements, out of their personal interests, have gone to great lengths to collude with external forces to pursue 'independence' provocations," China's official Xinhua News Agency said, quoting a spokesperson from the Taiwan Affairs Office (TAO) in Beijing.
"They have deliberately instigated cross-strait confrontation and recklessly undermined peace and stability in the Taiwan Strait, demonstrating especially vile behavior during Pelosi's visit to Taiwan," the statement said.
The sanctioned politicians will be prohibited from travel and business activities in China, Hong Kong and Macau, according to the TAO spokesperson.
China claims Taiwan as its own, but the democratic island sees itself as a functionally independent state outside of Beijing's jurisdiction. Despite decades of political differences across the Taiwan Strait, it was only the second time in recent months that the Chinese government had pursued sanctions against Taiwan's democratically elected officials.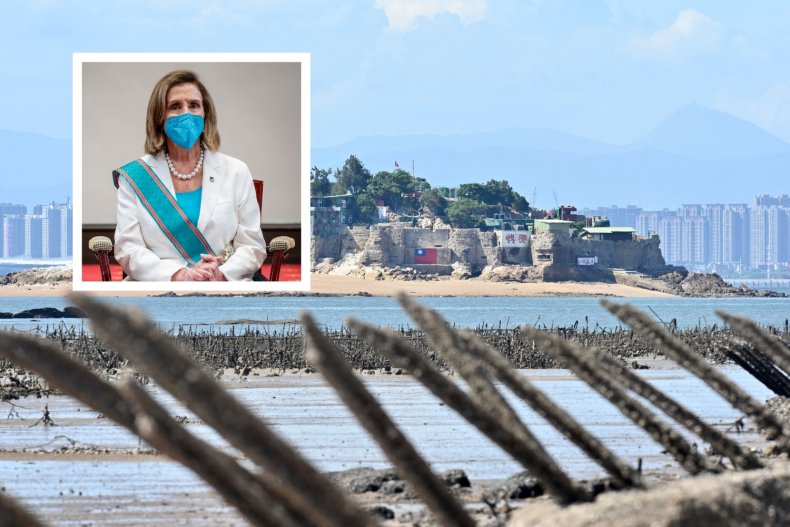 Taiwan's Foreign Minister Joseph Wu, Premier Su Tseng-chang and parliament speaker You Si-kun were previously sanctioned in November. Also included on Tuesday were the Taiwanese legislature's majority leader Ker Chien-ming, DPP deputy secretary-general and former student activist Lin Fei-fan, and outspoken senior lawmaker Wang Ting-yu.
The measures—largely symbolic because of Beijing's lack of practical control over Taiwan—would apply "for life," the TAO spokesperson said. The targeted politicians, meanwhile, have dismissed the move.
"Each attack by the enemy is a medal on my chest," Ker said. Wang, who was among a group of bipartisan legislators to welcome a visiting delegation led by Massachusetts Democrat Sen. Ed Markey over the weekend, said it was "an honor" to receive the same treatment as Pelosi.
The House speaker—also sanctioned after her historic trip—recently described the Chinese announcement as "of no relevance whatsoever."
Chen Jiau-hua, chair of the pro-independence New Power Party and the only individual not from Taiwan's ruling DPP, said in a statement: "I'm very honored that the Chinese Communist Party has listed me as a diehard Taiwan independence element. It's an affirmation of my years-long determination to defend Taiwan's sovereignty and uphold democratic values."
Joanne Ou, a spokesperson for Taiwan's Foreign Ministry, told reporters in Taipei that the sanctions were proof that China had overreacted and was "looking for an excuse to create a crisis."
"Taiwan is a democratic country under the rule of law, in which China cannot interfere, let alone intimidate with its authoritarian system," Ou said.
Beijing conducted a week of unprecedented war games around Taiwan during Pelosi's visit, including by launching ballistic missiles over the island for the first time. The Chinese military continued its drills on Monday in response to Markey's congressional delegation.
China said in a new white paper last week that it would prioritize "peaceful unification" with Taiwan, but that it wouldn't rule out the use of force as a last resort. Taiwan's population of 23.5 million, meanwhile, has shown declining interest in a political union with the Chinese mainland.
Hsiao, Taiwan's de facto ambassador to the United States, told CBS's Face the Nation earlier this month: "The way we see the threat, it involves two parts: capabilities and intentions. We work on intentions by communicating reason and rationality, and we deal with capabilities by also fortifying our own deterrences."
"We do not intend, nor are we able to engage in an arms race with China, but we are going to be smart and asymmetrical about our own capabilities. That, ultimately, in cooperation with other shareholders in the region, is to deter an actual invasion from happening," she said.