Nancy Pelosi Shrugs Off China Threats After Taiwan Visit: 'Who Cares?'
Democrat Nancy Pelosi on Wednesday defended her recent visit to Taiwan and dismissed China's retaliatory sanctions against her and her family members.
Pelosi, who became the first serving House speaker to set foot in Taipei in 25 years, was the subject of Beijing's public and private warnings before the trip took place between August 2 and 3.
China, which claims the island as its own, saw the high-profile move as being inconsistent with the U.S.'s informal relations with Taiwan.
After her delegation departed the Taiwanese capital, Beijing launched its largest military drills around the island in nearly three decades. On August 5, the Chinese Foreign Ministry announced sanctions against Pelosi and her immediate family for what it called an "egregious provocation," although what exactly the measures would entail wasn't immediately clear.
"Who cares?" the California lawmaker said at a press conference about her delegation's wider trip across Asia.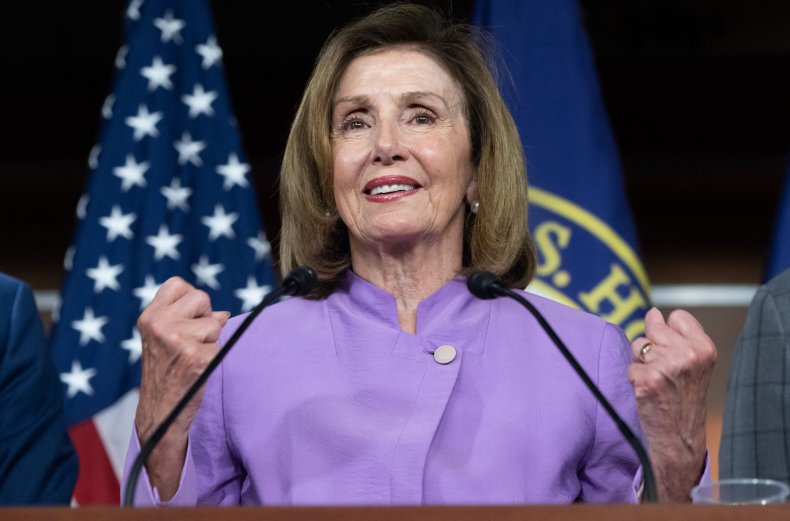 "We didn't go there to talk about China. We went there to praise Taiwan. And we went there to show our friendship to say: 'China cannot isolate Taiwan.' So that's what it was about. That is incidental to me, of no relevance whatsoever."
Before her visit, Pelosi was already disliked in China because of her criticism of Beijing's human rights record throughout her career.
Her No. 2 position in the presidential line of succession, however, added an additional, sensitive element to what was otherwise a common demonstration of the bipartisan support Taiwan enjoys in Congress.
Despite President Joe Biden's personal assurances to Chinese counterpart Xi Jinping, Beijing continues to argue that the U.S. is quietly upgrading its unofficial ties with Taiwan, in the process undermining over four decades of commitments fundamental to the formal U.S.-China relationship.
With neither the U.S. nor China willing—or able—to show a conciliatory attitude on their respective interests in Taiwan, observers fear prolonged and heightened tensions across the Taiwan Strait could push the two superpowers to war.
But Pelosi, who had remained tight-lipped about her travel plans, said her trip to Taiwan was "to say that we have this strong relationship built on the status quo."
Beijing's military drills officially concluded on Wednesday, but it came with the announcement that Chinese forces would begin regularizing their previously rare patrols in the Taiwan Strait, closer to the island's defenses.
"When China does what it does in the Taiwan Strait or in the South China Sea, it has an impact on America's working families, because you cannot tie up the waterways. That just increases cost," Pelosi said. "What we saw with China was they were trying to establish sort of a new normal. And we just can't let that happen."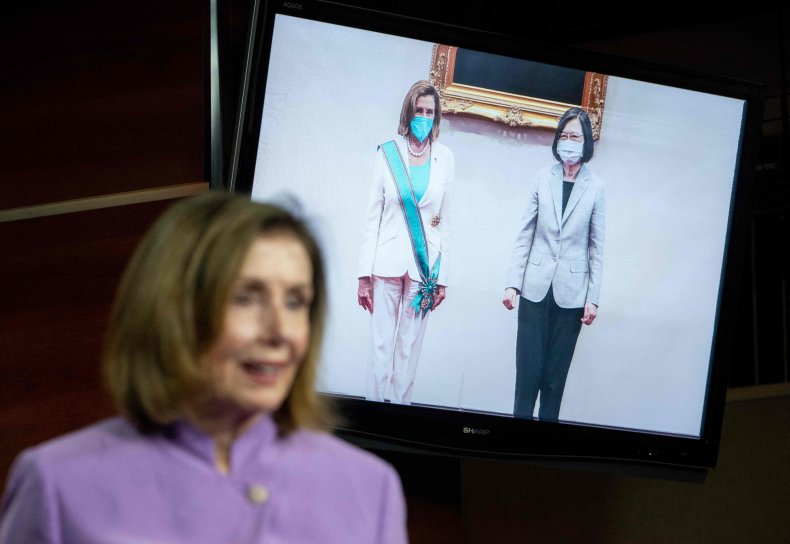 Responding to questions about Biden's earlier comments about the Pentagon's opposition to Pelosi's visit, the House speaker said she "[didn't] remember them ever telling us not to go."
The Pentagon's preparation, she said, "actually, I think, minimized the impact of the Chinese on our trip. So they took very good care of us."
China's August 5 sanctions on Pelosi were followed by its cancelation or suspension of eight working-level talks with the U.S. on topics including military maritime consultation to avoid risks, cooperation against transnational crimes, counternarcotics and climate change.
China watchers argue the move indicates Beijing's instrumental use of U.S.-China dialogue as bargaining chips.