China Already Expects U.S. Forces to Defend Taiwan—Think Tank
President Joe Biden made headlines in Washington and drew protests from Beijing when he declared the U.S. would defend Taiwan from a Chinese attack in a 60 Minutes interview on Sunday. In reality, however, a recent survey by the Center for Strategic and International Studies found that China most likely already expects American forces to intervene in Taiwan.
The Washington-based think tank's China Power Project polled several dozen subject-matter experts, who unanimously agreed that China's designs on Taiwan, the democratically-ruled island Beijing claims as its own, account for the involvement of U.S. troops. The occasional glimpse into Chinese military planning suggests it expects some of America's closest allies to defend Taiwan as well.
Biden's public pledge to defend Taipei in the event of "an unprecedented attack"—the fourth time he has made such remarks in the last 13 months—was seen in some quarters as breaking with four decades of "strategic ambiguity," the longstanding U.S. policy of not committing the U.S. military in advance. The policy was traditionally understood to serve the goal of "dual deterrence" across the Taiwan Strait—preventing China from using force and discouraging Taiwan from declaring formal independence.
The ChinaPower report, which polled 64 policy analysts and former U.S. government officials between August 10 and September 8, said 64 percent of respondents expected Beijing to react "negatively and significantly, provoking a crisis" in response to such a shift in U.S. declaratory policy, while 31 percent said China's anger would be limited to responses such as diplomatic protests.
A day after Biden's controversial remarks aired on Sunday, China's foreign ministry spokesperson Mao Ning said Beijing had lodged "solemn representations" with Washington. China would "reserve the option to take all necessary measures" to achieve unification with Taiwan, she said at a daily press briefing.
Mao's response was later struck from the ministry's official Chinese and English transcripts for September 19, such was the sensitivity surrounding the president's 60 Minutes interview, where he also said "Taiwan makes their own judgements about their independence"—again appearing to stray from the U.S.'s official position of not openly endorsing Taiwanese self-determination.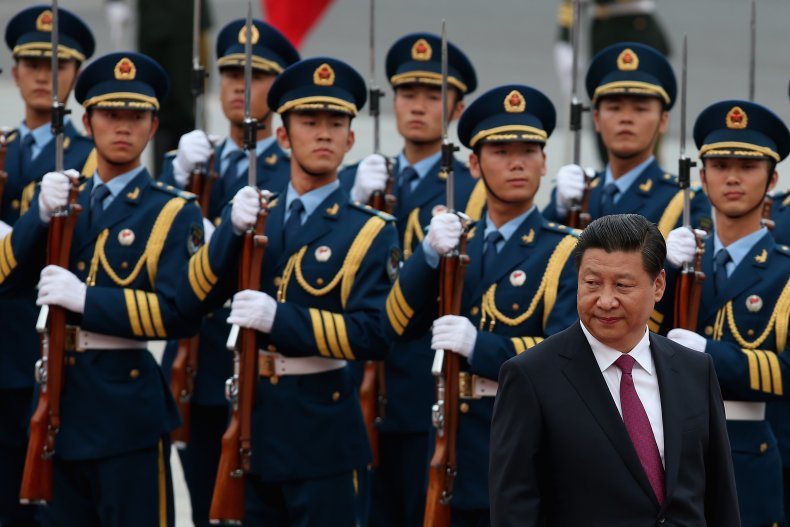 Some 80 percent of the respondents felt Beijing lacked "a coherent internal strategy and roadmap, with concrete stages and actionable next steps" to achieve unification with Taiwan. A similarly high 84 percent said China would be willing to "wait for unification"—but not indefinitely.
The survey's results speak to a view of the Chinese leadership as having not established a timeline for when it will attempt to secure political control over Taiwan, even as U.S. officials assess Beijing seeks to have the capacity to do so—over U.S. intervention—by the end of the decade.
In its latest white paper on Taiwan, China didn't rule out the use of force but said it would prioritize "peaceful unification." The ChinaPower poll suggests this position isn't the result of Beijing's magnanimity toward Taipei, but rather due to lingering concerns about the balance of power in the region.
All of the 64 experts polled by the think tank said China would expect U.S. forces to defend the island. Additionally, just over half (55 percent) of respondents said Beijing could be uncertain about its own capabilities vis-à-vis the U.S., which holds a military advantage.
Washington supplies arms to Taipei but isn't obliged to come to its defense. Since Russia's invasion of Ukraine, however, congressional leaders have sought to accelerate reforms to the U.S.-Taiwan security partnership, while the island also is raising its defense spending with an eye on American weapons systems used to great effect by Kyiv.
Of the dozens polled by the project, 83 percent felt China was unlikely to use force against Taiwan by 2027, the year its military, the People's Liberation Army, celebrates its centennial. Less than half (44 percent) of respondents believed Beijing had a "hard internal deadline for resolving the Taiwan issue" by 2049, the centennial of the founding of the People's Republic of China.
Some 63 percent said a Chinese invasion of Taiwan was possible in the next decade, but only 10 percent felt it was likely or very likely. None of the 64 respondents believed China would ever accept Taiwanese independence, and 77 percent of them said China would invade Taiwan within six months if the island declared formal independence, an electorally unpopular prospect that has been dismissed by President Tsai Ing-wen.
Amid heightened tensions across the strait, however, nearly all said an "unintended military accident or collision" was either possible (39 percent), likely (34 percent), or very likely (22 percent). This view was likely reinforced by China's intense war games around Taiwan last month, in what Beijing said was a response to House Speaker Nancy Pelosi's visit to the island on August 2 and 3.
With President Xi Jinping expected to extend his rule over China by securing an unprecedented third five-year term next month, 79 percent of analysts predicted that he would prioritise peaceful unification with Taiwan, although they were divided on whether he would do so peacefully or through the use of military force.