Taiwan Eyes HIMARS Rockets for Defense Against China
Taiwan's army plans to field more than two dozen batteries of U.S.-made High Mobility Artillery Rocket System (HIMARS) launchers to "kill, destroy and paralyze" invading enemy forces, according to a new budget submitted to the island's parliament on Wednesday.
The cabinet of Taiwanese President Tsai Ing-wen recently proposed a double-digit hike in defense spending for next year amid fresh tensions with China, raising the military's budget by nearly 14 percent to $19.41 billion. The army was requesting $1.07 billion—roughly double its 2022 plan—for the procurement of long-range precision fire capabilities from the U.S., lawmakers were told.
The island's ground forces will order 29 M142 High Mobility Artillery Rocket Systems—18 more than originally planned. The army also is ordering 84 MGM-140 Army Tactical Missile System (ATACMS) missiles (up from 64), and 864 "precision rockets"—both for use with the truck-mounted HIMARS launchers.
Once the purchase request is made, Taiwan expects to receive its first batch of HIMARS—11 systems—in 2024, according to the proposal. The army aims to fulfill the full package by 2027.
Long-range precision strike capabilities would help make up for logistical challenges when resupplying and reinforcing frontline troops on outlying islands—only miles from the Chinese coast—or when providing support across conflict zones in Taiwan proper, legislators who will review the budget were told.
"Therefore, the best solution is to provide immediate cross-zone fire support to kill, destroy and paralyze the enemy's landing force with long-range, precise, highly mobile and large-area firepower," it said.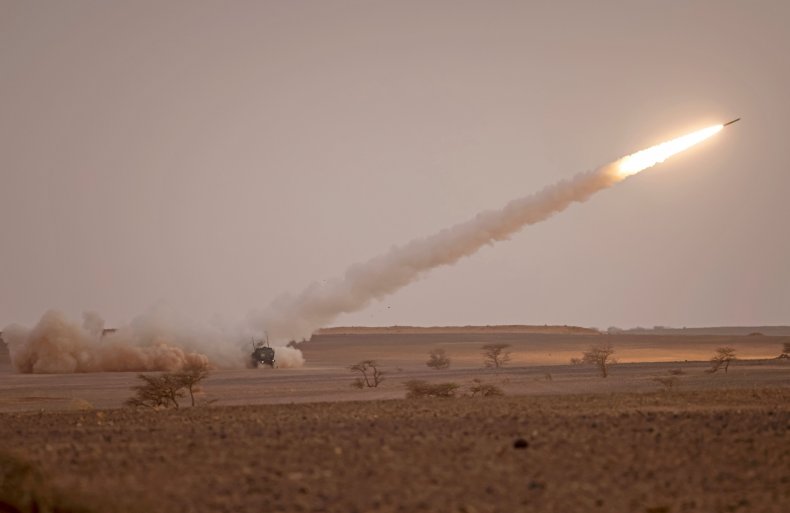 Taiwan's army turned to HIMARS after scrapping a previous plan to buy 40 M109A6 "Paladin" self-propelled howitzers, a $750 million deal approved by the Biden administration one year ago.
In May, the U.S. notified Taiwan of a likely delay in fulfilling the order due to a "crowded" production line. It meant the island wouldn't have taken delivery of the systems until at least 2026. Washington suggested guided multiple rocket launch systems (GMLRS), like HIMARS, as an alternative.
Plans to field more HIMARS would be in keeping with Washington's desire for Taipei to invest more in "asymmetric" capabilities to deter and defend against China, which hasn't ruled out the use of force to one day seize the island that Beijing says is part of its territory.
Outgunned and outnumbered, Taiwan should deploy cheaper, highly mobile and precise asymmetric weaponry, defense planners say—as Ukraine has done against invading Russian forces since February.
Since June, the U.S. has supplied Kyiv with 16 HIMARS launchers, the Pentagon says, and continues to train groups of Ukrainian troops to use them. Ukraine's armed forces have used the systems to great effect, striking Russian command posts and ammunition storage facilities.
While the HIMARS fielded by Ukraine have a reduced range of 50 miles, with Kyiv committing not to fire into Russian territory so as not to further escalate the conflict, Taiwan's launchers will be capable of firing at the intended effective range of around 190 miles—more than enough to cover the Taiwan Strait, which is between 80 and 110 miles wide.
The Biden administration has notified Congress of five arms packages for Taiwan, including four in 2022.