Inspired by Ukraine, Taiwanese People Prepare for a China Invasion
In Taiwan, the war in Ukraine remains a constant theme on television sets across the country. No sooner had it begun in February than it animated concerns about the specter of an invasion by neighboring China.
Visceral images broadcast daily from Ukraine have helped many Taiwanese visualize the brutal realities of modern warfare. It turned a once abstract fear into a realistic possibility, and Ukraine's ongoing resistance into an opportunity to address their own readiness.
In the past four months, some of island's residents have rushed to sign up for first aid lessons and weapons training courses, privately run civil defense groups tell Newsweek. It's reflective of the public's sense of urgency, and they want the government to take notice.
Taiwan is China's foremost territorial claim; at one time or another, successive leaders in Beijing have articulated a desire to eventually exert political control over the island, which is today a democracy of 23.5 million people. It was only last week that a Chinese general vowed to "fight to the very end" if Taipei were to move away from semi-recognition under its Republic of China government in pursuit of de jure independence.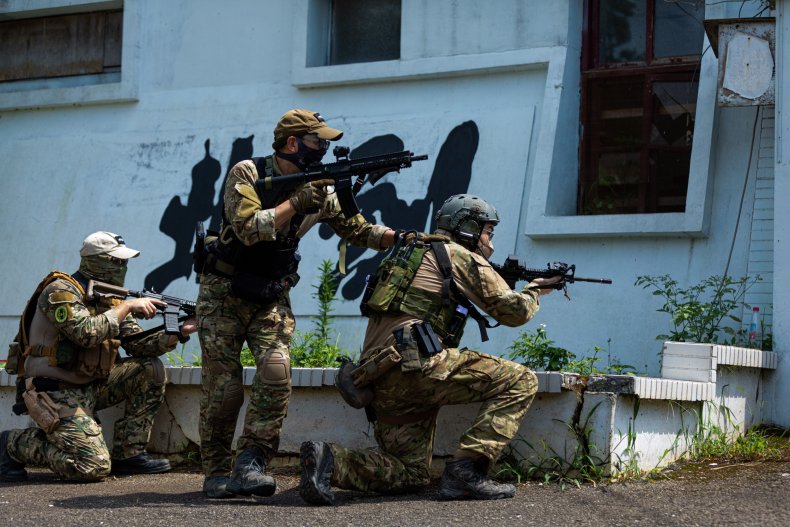 Observers don't agree on whether a Chinese Communist Party helmed by Xi Jinping is likely to move militarily against Taiwan in the near future. What's not in doubt is Beijing's development of capabilities to do so in the coming decades.
Given Taiwan's much smaller armed forces relative to those of the Chinese military across the Taiwan Strait, defense planners in Taipei and their counterparts in Washington have debated the most suitable military doctrine for the island's defense. They reached a further consensus on asymmetric warfare in 2021, Taiwan's Defense Ministry said in May.
The concept aims to disrupt the rhythm of the enemy's advance and prevent a fait accompli, the ministry said. It involves the use of high-end, mobile and survivable weapons systems—to include American-made Javelin and Stinger missiles—that strategists see as having proved highly effective in Ukraine's resistance against Russian forces.
Taiwan's government also is in the process of reforming the country's army reserve program, and is considering a U-turn on its four-month conscription. But experts believe territorial defense may be the missing piece of the puzzle.
In Ukraine, the predecessor to the Territorial Defense Forces began to take shape after Russia's annexation of Crimea in 2014. After the invasion this February, these groups of local volunteers frustrated attempts to rapidly capture key towns by ambushing Russian units and disrupting supply lines.
A territorial defense force in Taiwan might look rather different, and advocates of such a program don't all point to Ukraine as the best model, given differences in topography, size and population. But like in Ukraine, these citizen soldiers not only would have to learn how to fight, but also how to survive.
Taipei-based Forward Alliance, formed in 2020, is a group looking to enhance the sort of "public resilience" that could one day form the backbone of community defense. Founder Enoch Wu, a former banker and retired Taiwan special forces soldier, says the organization's goal is to impart knowledge for disaster relief in peacetime and civil defense in wartime.
Its workshops, which have been endorsed by the de facto U.S. embassy on the island, the American Institute in Taiwan, have been fully booked for weeks. Instructors are holding 15 classes a month but the waiting list remains consistently above 1,000 people, Wu says. "At the moment, we're completely overwhelmed by demand."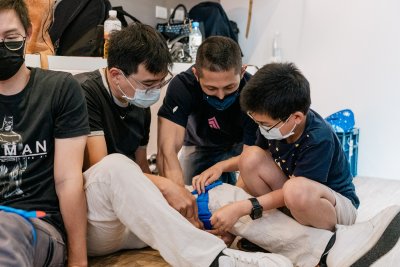 "To preserve peace, we have to broaden and expand participation in Taiwan's security," he says. "We need a military that is capable of countering Chinese military operations. Equally important is a civilian population that is united and prepared for a crisis."
The group is looking to diversify its training courses to eventually cover not only first aid and trauma care, but also search and rescue, shelter management and community security. Wu hopes this grassroots resilience can "inform other organizations and also public agencies as we continue to modernize our training to meet future needs."
"An advantage of an NGO like ours is we can move so much faster, and we can test different concepts and different programs," says Wu, who ran for a seat in the Legislative Yuan, Taiwan's parliament, in 2020. "I see our work in some ways as a proof of concept, as a pilot, that the government can then get budgetary approval for; that would help inform how we can nationalize this effort."
Taiwan has some of the strictest gun laws in the world; the idea of regular attendance at a shooting range is a wholly foreign concept. But there's always been a constituency of people keen to learn how to handle firearms, and their numbers have only grown since the Russian invasion of Ukraine, says Max Chiang, head of combat training service Polar Light.
Chiang, who retired from Taiwan's air force to create the company 15 years ago, is now accepting a peak of 50 to 100 newcomers every month, four times as many as in 2021. They receive weapons and tactical shooting training from instructors with military or police backgrounds, using airsoft guns and plastic pellets.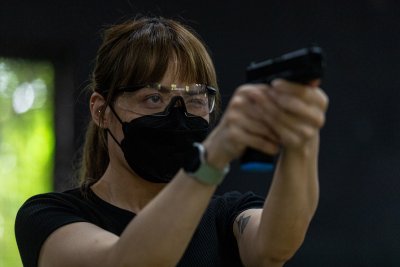 The group witnessed a similar spike in numbers in 2020, after Chinese warplanes began regular operations around Taiwan, but the outbreak of war in Europe has made such threats more vivid to the public.
"They feel the need to learn certain skills to protect themselves," Chiang says, noting an influx of female learners—accounting for roughly 15 percent of beginners last year to sometimes over 50 percent today.
Polar Light is for a territorial defense program for Taiwan, which Chiang argues would guarantee determination and loyalty by virtue of its all-volunteer makeup. These groups could operate in local areas and reduce the pressures on Taiwan's professional forces, he says.
"The easiest way to engender collective resolve is around the idea of a home, where we have families and businesses, and our own values and way of life. We don't want any external force to change that, and that's why we're willing to fight," Chiang says. "No one's going to complain about defending their own home."
What Chiang sees is a group of highly disciplined individuals who are spending their own time and money to become more prepared, and whose willingness to fight would be wasted if not incorporated into a well-structured and well-funded system.
He fears Taiwan's conservative defense establishment might require a culture shift before it's ready to accept a territorial defense concept as deployed in Europe. He also raised concerns about a potential lack of consensus among the island's political leadership and the likelihood of inconsistent government policy as ruling parties change in Taipei.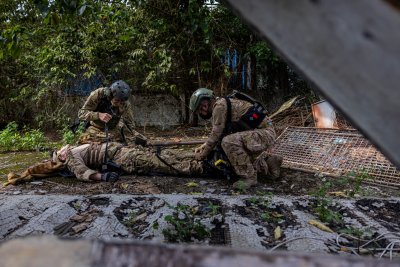 Bonnie Glaser, director of the Asia Program at the German Marshall Fund of the United States, is a proponent of a territorial defense program, separate from army reserves, modeled on that of other small nations bordering an authoritarian power, such as the Baltic states.
"Bottom-up pressure needs to be combined with advocacy by champions from the Legislative Yuan and encouragement from other sources, including foreign governments and experts," Glaser says of a possible solution to break a policy impasse in Taiwan's government.
Taiwan's Interior Ministry already has provisions for volunteer police, firefighters and paramedics. Citizen soldiers would fall under the remit of its Defense Ministry.
Su Tzu-yun, a research fellow with the island's top military think tank, the Institute for National Defense and Security Research, says Taipei is deliberating arrangements that could start to meet some of the grassroots demand.
One method, he explains, could be to amend regulations surrounding Taiwan's armed forces volunteers, a position currently limited to former professional soldiers. "Loosening existing laws to integrate ordinary citizens could be a shortcut to create a territorial defense force by a different name," Su says.
"If Taiwan could make use of these elites, who have a strong will to fight, it could go some way toward rebalancing the scales," he says of the widening power gap between Taiwan and China. "A display of national resolve would also be a credible deterrent."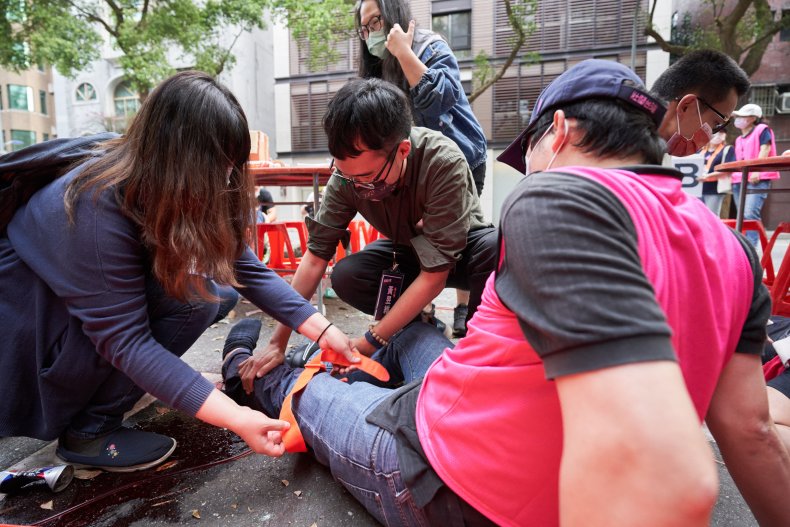 Michael Hunzeker, assistant professor at George Mason University's Schar School of Policy and Government, says a territorial defense scheme doesn't require hundreds of thousands of volunteers to work. "But what it does need is top-down resources and integration into a coherent strategy."
"Without these things China is unlikely to take territorial defense seriously, which means it will not enhance deterrence. People keep forgetting that the goal here is to deter a war, not to fight one," he says.
In a March essay for the national security-focused website War on the Rocks, Hunzeker and Adm. Lee Hsi-min, Taiwan's former chief of general staff, argued only the government was capable of ensuring a territorial defense program was "fully integrated into a holistic, multi-layered, denial-centered defensive scheme."
"For too long, too many people assume armed popular resistance occurs spontaneously, which history suggests is not the case, and Taiwan's unique situation suggests it is impossible," says Hunzeker, who shares Chiang's concerns about uncertainty at the top of government.
"I believe the war in Ukraine has bought us at least three to five more years," Chiang says. "We still have time. Why shouldn't we get this right?"
Wu is optimistic about the national mood. "The conflict has reminded us how fragile peace is," he says. "The public accepts that our well-being, our future, is everyone's job."