Video of Russian Tank Blowing Up in Ukraine Captured by China State Media
A recent video captured in Ukraine reportedly shows a Russian tank as it is destroyed in a massive explosion.
The dramatic footage, captured by a dashcam in a vehicle with a reporter from the partially state-owned Chinese television network Phoenix TV, shows the moment the Russian tank was demolished in an explosion on May 6 near the Ukrainian city of Mariupol. Video of the explosion posted to Twitter was captured as the reporter and another man were headed in the direction of the blast.
In the dashcam footage, several cars can be seen heading in the opposite direction of the explosion seconds before it occurs. People in the back of a truck right in front of the reporter's vehicle can be seen attempting to duck for cover as the explosion takes place.
As smoke and fire engulf the tank, what appears to be its turret can be seen as it is thrown into the air.
The reporter was on his way to the Azovstal steel plant to interview individuals who had been seeking shelter at that location when the explosion occurred, according to the New York Post. Ukrainians in the Azovstal plant, the last holdout against Russian forces in Mariupol, are facing dire conditions, with reports of inadequate food and medical care for the wounded.
At this time, it remains unclear who or what is responsible for the destruction of the Russian tank. It's also uncertain if there were any injuries or casualties as a result of the blast.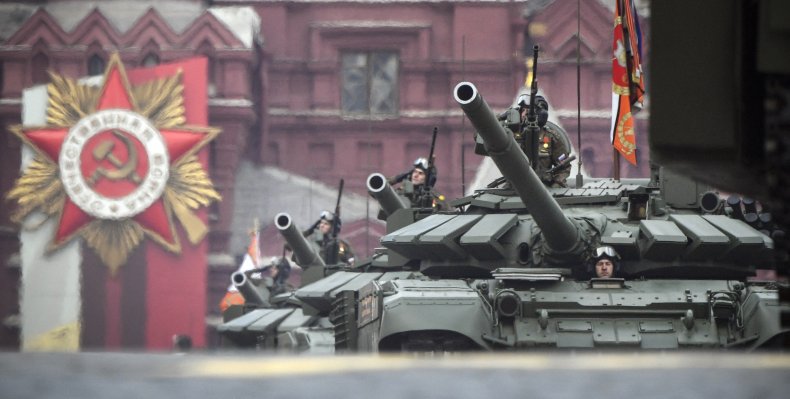 On Thursday, House Democrats formally requested that YouTube, TikTok, Twitter and Meta archive possible evidence on their platforms of alleged war crimes. The House lawmakers expressed concern that content posted on the platforms "could be lost due to the automated systems and processes that social media platforms often use to remove graphic and violent posts."
Ukraine's Defense Ministry posted a video to Twitter Tuesday showing an aerial view of another tank just before it was struck and engulfed in flames that sent a black mushroom cloud of smoke into the air. In the post, which has now been viewed more than 640,000 times, the ministry said it used Swedish-made weapons in the operation and thanked the "Swedish people and the King for their help."
A Ukrainian war reporter posted a photo of himself on Facebook on May 4 standing near a knocked-out T-90M tank in the eastern Kharkiv region. Experts said the photo showed the first confirmed loss in the Ukraine war of one of Russia's most advanced tanks.
Newsweek has reached out to the Russian Foreign Ministry for comment.