Taiwan Blasts 'Big Bully' China After 29 Warplanes Fly Near Island
Taiwan has said the military threat posed by Beijing was "more serious than ever" after China conducted a large-scale exercise featuring fighter jets and heavy bombers on Tuesday.
Taiwan's air force said it scrambled fighter aircraft and trained air defense missiles on at least 29 People's Liberation Army (PLA) warplanes as they operated inside the island's air defense identification zone (ADIZ) throughout June 21, in what has become a near-daily occurrence and a mark of increased tensions across the Taiwan Strait.
The latest PLA air exercise featured 12 Chinese fighter jets and six nuclear-capable heavy bombers, accompanied by a complement of support aircraft performing roles such as electronic and anti-submarine warfare; intelligence-gathering; airborne early warning and control and long-range refueling.
An illustrative map published by Taiwan's Defense Ministry showed several Chinese warplanes flying past southern Taiwan into the western Pacific, threading the so-called first island chain. It was the largest show of air power near the island since Taipei tracked 30 PLA sorties on May 30 and 39 sorties on January 23.
An ADIZ is a self-declared buffer zone falling within international airspace, where countries request self-identification by passing aircraft, whether military or civilian. The zones aren't regulated under international law, but they're maintained by Taiwan's neighbors including by Japan, South Korea and China.
Taipei has been publicly reporting frequent Chinese aircraft incursions into its ADIZ since September 2020. Taiwan sees the flights as provocative and threatening, while the United States—the island's strongest international backer—warns Beijing's moves risk miscalculation and are destabilizing.
"The latest large-scale exercise by the #PLA shows authoritarian #China's military threat is more serious than ever," Taiwan's foreign minister, Joseph Wu, said Wednesday while tweeting from the ministry's account.
"But there's no way #Taiwan will cave in & surrender its sovereignty & democracy to the big bully. Not a chance! JW," he wrote, concluding with his initials.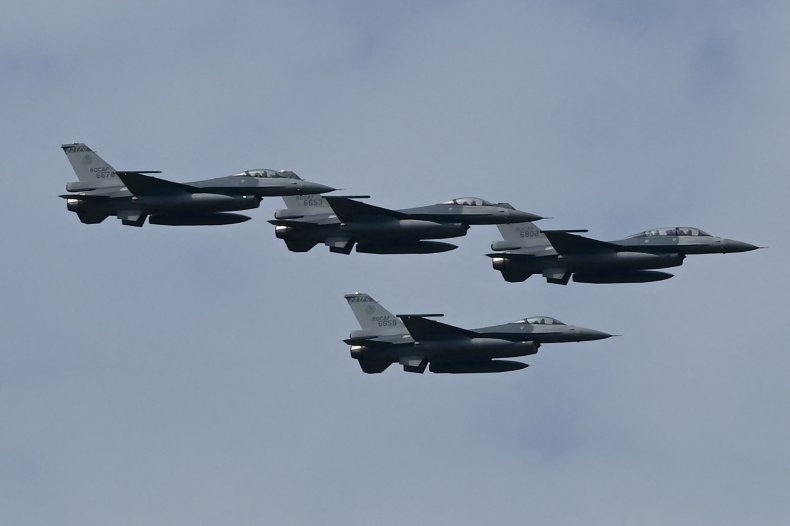 According to statistics compiled by Washington-based defense analyst Gerald Brown, Chinese aircraft sorties into Taiwan's ADIZ totaled 972 in 2021, more than double the Taiwanese government's 2020 estimate of 380 flights. As of Tuesday, PLA air incursions around the island stood at 522 sorties for the year.
Taiwan doesn't report PLA activity on the mainland side of the Taiwan Strait "median line," the tacit buffer down the center of the waterway. It doesn't regularly report activity outside the bounds of its ADIZ either.
In 2021, China's Defense Ministry said the actual number of sorties near Taiwan—presumably including flights outside of the ADIZ—were higher than Taipei's reported figures, although Beijing didn't disclose its own numbers.
Researchers say the frequent flights near Taiwan serve multiple purposes, among them psychological pressure and wearing down the island's limited equipment and manpower. For the Chinese military, these operations also benefit pilot training as Beijing's forces slowly expand their scope.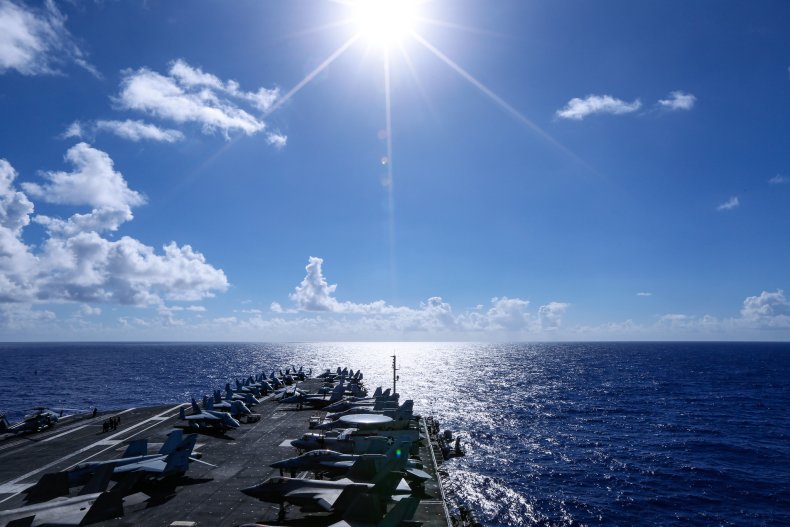 Larger-scale operations involving more than 10 aircraft or more are rare; only 13 have been witnessed this year, and only three involved more than 20 planes. They tend to coincide with certain—although unspecified—operations, including deterring U.S. Navy aircraft carriers sailing in the region
Over the weekend, USS Abraham Lincoln and USS Ronald Reagan, both Nimitz-class aircraft carriers, were operating in the Philippine Sea in the western Pacific, according to Defense Department images.
But on Tuesday, the day of the PLA flights near Taiwan, Abraham Lincoln was in the eastern Pacific, while Ronald Reagan's position was unknown.