China Sends 30 Warplanes Near Taiwan in Largest Training Drill in Months
The Chinese military flew at least 30 warplanes into the skies off southwest Taiwan in one of the largest air force exercises of the year, Taiwan's Defense Ministry said late on Monday.
Twenty-two fighter jets and eight support aircraft of the People's Liberation Army (PLA) Air Force were involved in the training operation inside Taiwan's air defense identification zone (ADIZ), a self-declared buffer zone extending beyond a state's territorial airspace.
Monday's exercise was the biggest show of force by China's air forces since Taiwan detected 39 PLA aircraft in its ADIZ on January 23. The latest incursion—activity Taipei began disclosing in September 2020—brings the total for the year to 468 sorties, according to statistics compiled by Washington-based defense analyst Gerald Brown.
Taiwan's Defense Ministry, which published illustrated flight paths as part of its now near-daily reports, said it dispatched interceptors, issued radio warnings and readied surface-to-air missiles to track the PLA aircraft. Monday's report also included what is believed to be the first appearance of two of the Russian-made Su-35 jets operated by the Chinese air force.
The Taiwanese air force didn't return a request for comment regarding the Su-35s before publication.
Ex-military radio enthusiasts who monitor the airspace around Taiwan for the regular ADIZ incursions heard Taiwan's air force issue 18 radio challenges between 6:23 a.m. and 11:27 a.m. local time on May 30, according to logs seen by Newsweek.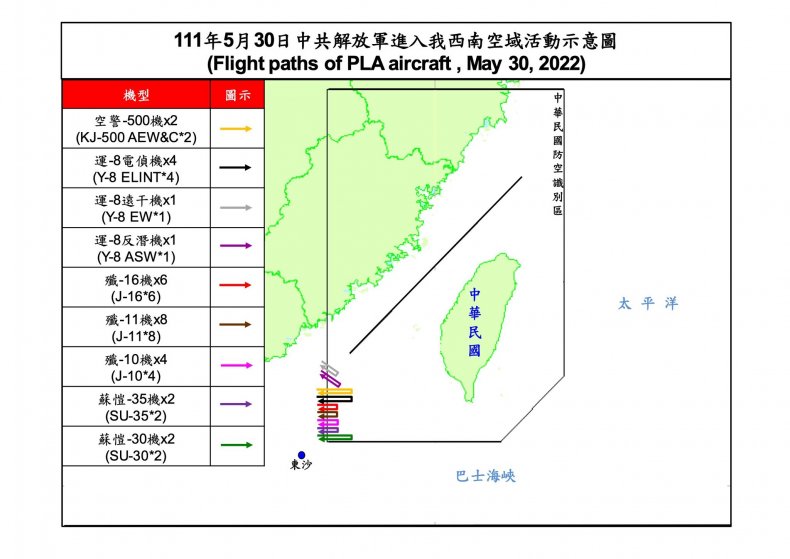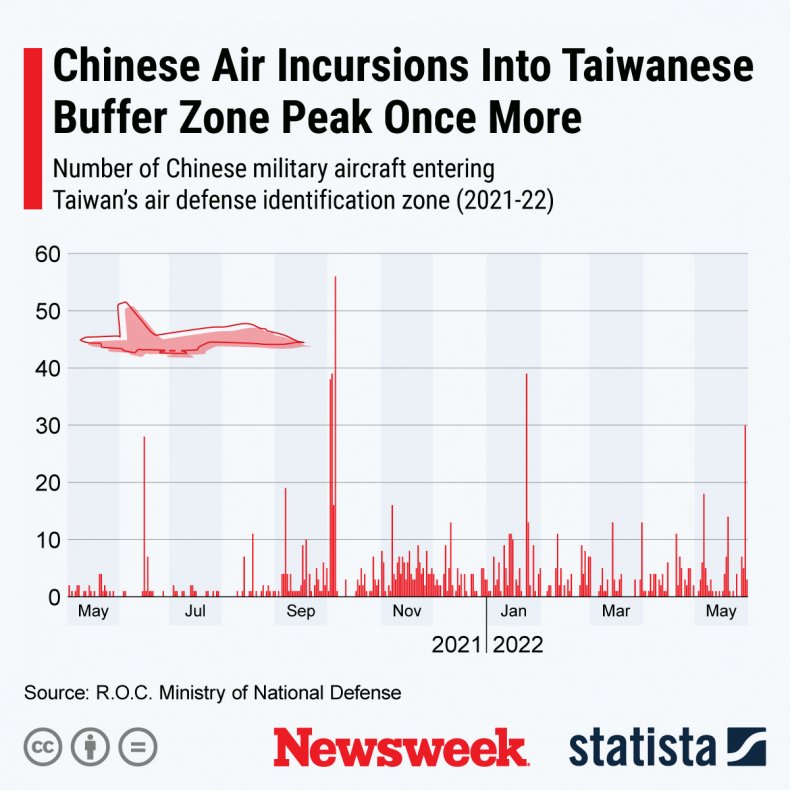 Chinese air force activity in Taiwan's southwest ADIZ began in March 2019, a year in which there were just over 10 sorties into the area, Taiwanese defense officials told the island's parliament late last year. The flights increased to around 380 in 2020 and more than doubled to nearly 1,000 sorties last year—at a reported cost to Taiwan of $24.5 million in aircraft maintenance. The above graphic from Statista shows the number of Chinese military aircraft entering Taiwan's ADIZ over the past two years.
Taipei sees the moves as an escalation of tensions across the Taiwan Strait; Beijing views them as a legitimate response to increasingly close U.S.-Taiwan ties. In reality, China's operations serve multiple purposes, including practical training for its troops and wearing down Taiwan's defenses while also deterring intervention by the U.S. military.
Large PLA Air Force incursions like the one seen this week at times coincide with U.S. military operations in the region. Over the weekend, the U.S. Navy announced the deployments of aircraft carriers USS Ronald Reagan and USS Abraham Lincoln to the Western Pacific, several hundred miles east of Taiwan.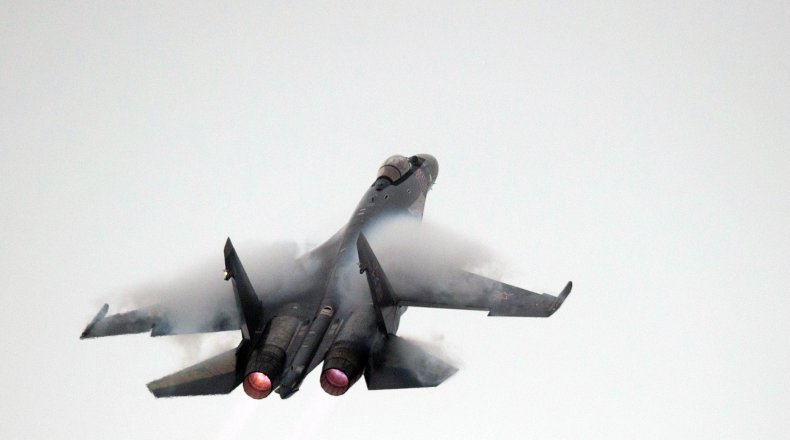 Secretary of State Antony Blinken, announcing the Biden administration's China strategy last Thursday, described the Chinese military activity as part of "Beijing's growing coercion" against Taipei.
"Beijing has engaged in increasingly provocative rhetoric and activity, like flying PLA aircraft near Taiwan on an almost daily basis. These words and actions are deeply destabilizing; they risk miscalculation and threaten the peace and stability of the Taiwan Strait," Blinken said.
On the second last day of President Joe Biden's visit to Japan, he said China was "already flirting with danger right now by flying so close" to Taiwan. It was at the same press conference in Tokyo that the president broke with 40 years of convention and signaled his intention to defend Taiwan militarily if the island were to be invaded by China in the future.
The White House and Biden himself later said there had been no change in U.S. policy toward Taiwan, but neither addressed directly the president's pledge to defend the island, which China has vowed to capture by force if necessary.