Satellite Images Hint at China's Taiwan Invasion Plans
New satellite imagery from a desert in northwestern China has revealed a dummy missile target shaped like an airplane operated by the Japanese military that could be called into use should China attack Taiwan.
Japan, which hosts the largest number of American troops outside of U.S. territory, is the linchpin of Washington's power projection in the Pacific. The U.S. ally is also among the nations most likely to be involved in a potential defense of Taiwan in the future.
In the Taklamakan Desert in Xinjiang, researchers believe the airframe mockup used by the Chinese military for target practice is modeled on a Boeing E-767, an airborne warning and control system (AWACS) aircraft operated by the Japan Air Self-Defense Force (JASDF), according to a May 20 report by Nikkei Asia.
The satellite photo captured on May 13 in Xinjiang's Ruoqiang county shows the dummy target with twin engines and a large, disc-shaped radar on its fuselage parked on a runway. It appears to be surrounded by a number of smaller fighter aircraft.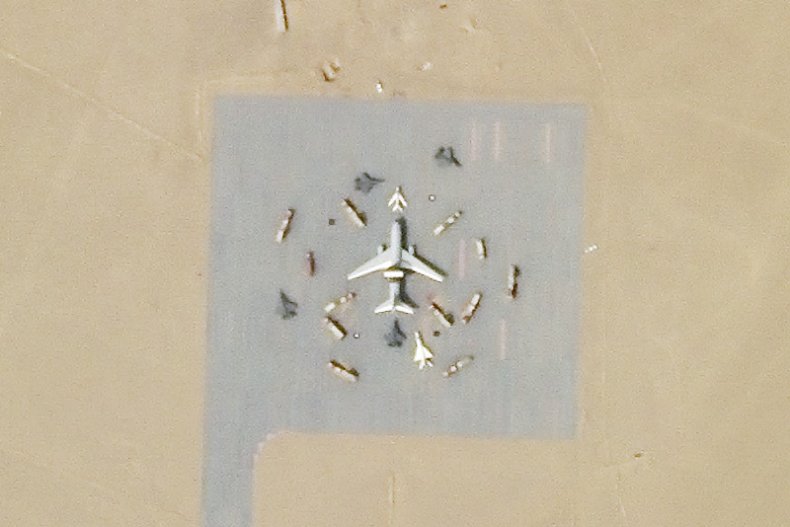 Thomas Shugart, a defense analyst and adjunct researcher with the Center for a New American Security, identified the aircraft design as an E-767, four of which are operated by the JASDF out of Hamamatsu Air Base, the report said.
AWACS aircraft play an important surveillance role in combat, scanning the skies to detect enemy aircraft and missiles that may be out of reach for ground-based radar stations. In the case of the E-767, it can maintain its high-altitude coverage for some 5,600 miles.
According to Nikkei Asia, Matt Korda, a researcher with the Nuclear Information Project at the Federation of American Scientists, pinpointed the location with images taken by U.S. satellite company Planet Labs. Planet supplied Newsweek with the imagery for this article.
Korda was part of two teams of analysts who discovered hundreds of missile silos being constructed at separate sites in Xinjiang and Gansu in summer 2021, also with the help of Planet's photographs.
Earlier in May, the U.S. Naval Institute (USNI) discovered a dummy target resembling the frame of a warship and a pier structure in the Taklamakan Desert. Analysts in Taipei identified the shape of the pier structure as resembling a feature at the port of Su'ao in eastern Taiwan.
In 2021 USNI News reported the discovery of a model U.S. aircraft carrier and destroyer on rails in the desert—both likely used as targets for missile tests.
The U.S., Japanese and Taiwanese governments are doubtless aware of China's target range. It suggests Beijing, while continuing to modernize its forces with the aim of potentially annexing Taiwan, is factoring in likely military intervention by Washington and Tokyo.
The JASDF's E-767—crucial for monitoring troop movements in such a contingency—is most vulnerable when on the ground, and China's desert mock up points to attempts to develop a credible preemptive strike capability, according to Su Tzu-yun, a research fellow at the Institute for National Defense and Security Research, Taiwan's government-backed military think tank.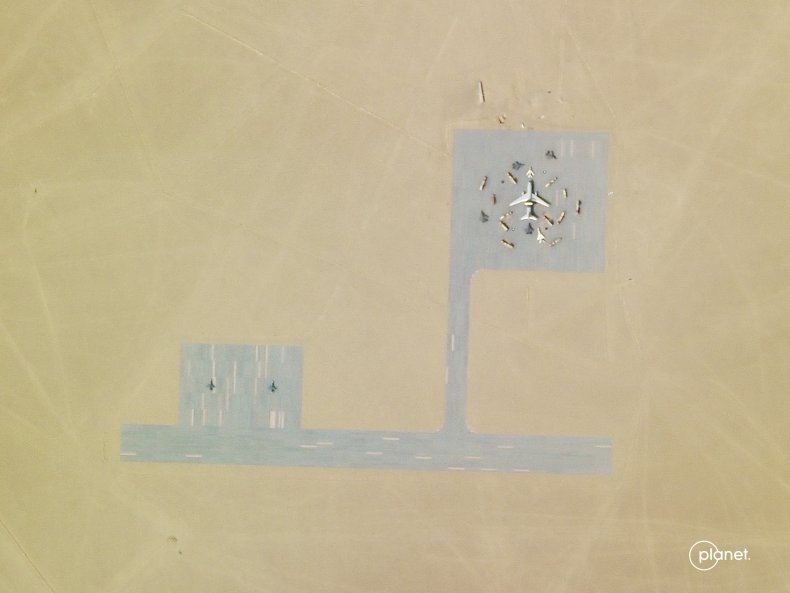 He told Newsweek: "China's efforts to improve the precision and accuracy of its ballistic missiles can increase their lethality, mainly for the purposes of expanding its first-strike capability or its ability to conduct a surprise attack in support of Beijing's political objectives."
China's Taklamakan Desert is the People's Liberation Army's (PLA) missile proving ground, similar to the U.S. military's White Sands Missile Range, Su said. "It's used for testing and refining the precision and accuracy of various new missiles, and is an important facility to develop new strategies."
A number of simulated targets have been spotted at the Chinese missile range, as well as airplanes and ships, including fixed military installations such as aircraft shelters found at U.S. bases on Japan's Okinawa Island, where the majority of forward-deployed American troops and their families are stationed.
Formations of Patriot surface-to-air missile systems and Taiwan's Ching Chuan Kang Air Base were also among the dummy targets, said Su, "to test the precision of Chinese missiles and assess their damage."
The analyst said U.S. forces are strengthening their missile defenses and aircraft shelters in Guam and Okinawa in response.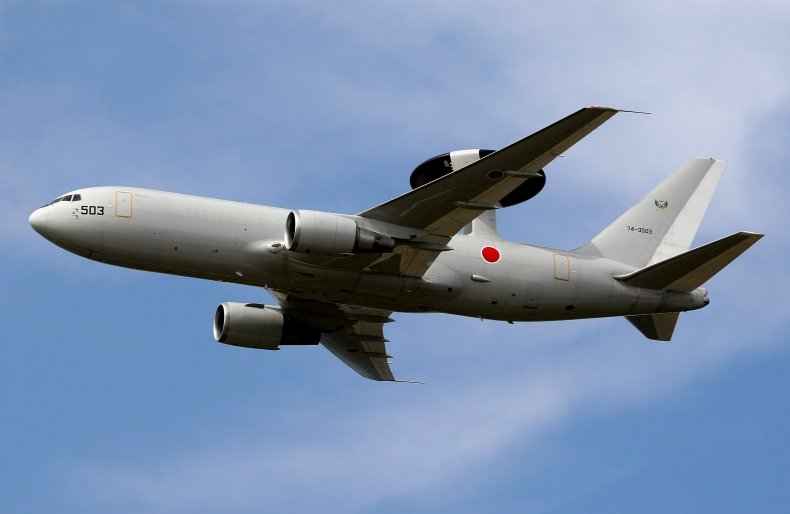 Despite possessing ground, naval and air forces that already dwarf their counterparts on the opposite side of the Taiwan Strait, a Chinese military move on Taiwan isn't a given. Beijing's decision to use force would likely involve significant domestic political calculations revolving around the legitimacy of China's leader, Xi Jinping.
Taiwan's own assessment of the political calculus in Beijing is that an invasion isn't likely in the near term, at least for the remainder of the presidency of Tsai Ing-wen. U.S. officials, however, believe China intends to develop the necessary capability—including the ability to repel American or Japanese intervention—by 2027, the centennial of the PLA.
President Joe Biden, speaking at a press conference in Tokyo on Monday, said the U.S. would defend Taiwan militarily in the event of a Chinese attack.