Chinese Drones Spotted Gathering Intel Around Taiwan Islands
Unmanned aerial vehicles belonging to the Chinese military have been gathering intelligence around a Taiwan-controlled island in the South China Sea, the Taiwanese coast guard has reported.
The Coast Guard Administration will step up defense preparations on the islands of Dongsha and Taiping—also known as Pratas and Itu Aba respectively—following recent drone sightings around the former.
In a report given to legislators ahead of a parliamentary hearing on Thursday, Taiwan's coast guard said the drone activity, likely for reconnaissance purposes, was in addition to the Chinese warplanes that frequently fly into the country's air defense identification zone.
Taiwan's defense ministry publishes figures showing the near-daily ADIZ incursions by People's Liberation Army fighter jets and spy planes. The number stands at more than 170 sorties since the start of the year, but would exceed 200 if drones were included.
Dongsha, which lies roughly 275 miles southwest of Taiwan, is administered by the port city of Kaohsiung. China claims the islet as part of Shanwei, Guangdong province.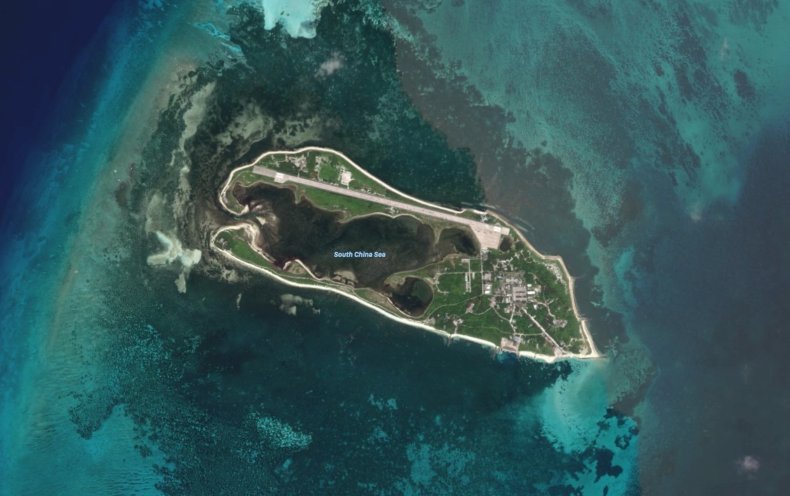 In recent months, there has been media speculation—fueled by debates among security analysts—that Beijing plans to capture the island. While Chinese government officials have remained coy on the subject, observers are divided over the merits of what would amount to a high-profile military operation.
China has strengthened its military and its "far seas" strike capabilities, the report said. Beijing continues to use all measures short of war to "isolate Taiwan diplomatically" and intimidate the island with "escalating military threats," the foreign affairs and national defense committee was told.
Citing PLA warplanes and warships that frequently appear in the skies and waters around Taiwan, the coast guard predicted further "harassment" of Taiwan and its outlying islands by the Chinese Communist Party—including three-pronged activity by China's armed militia, coast guard and navy.
The coast guard report said it would continue intelligence gathering and sharing between relevant government departments, as well as close communication with regional allies.
Defensive preparations on Dongsha and Taiping would include the coast guard's short-notice deployment capabilities and its readiness to respond to contingencies, the document added.
The coast guard took over defense duties on the islands from the Taiwan Marine Corps in 2000. Despite rising tensions in the South China Sea, Taiwanese Defense Minister Chiu Kuo-cheng told lawmakers this month the country had no plans to redeploy marines to Taiping, which lies 1,000 miles southwest of Taiwan.
Lawmakers at Thursday's hearing in Taipei, which included senior officials from the intelligence community and defense and foreign ministries, also requested more information about the U.S.-Taiwan coast guard pact signed last Friday.
An administration official said both Taipei and Washington had agreed to keep the content of the agreement private for the time being.