A Chinese official denounced on Tuesday the ongoing anti-Asian violence that has sparked demonstrations across the U.S., discussing it in the context of systemic racism.
Zhao Lijian, a spokesman at the Foreign Affairs Ministry, called on U.S. leadership to "earnestly honor its commitment to protecting human rights" and "cracking down on discrimination and hate crimes," in remarks delivered during his press conference.
"In recent years, hate crimes against Asians and other ethnic minorities in the U.S. has been on the rise, leading to many tragedies," said Zhao, pointing specifically to the ways in which racist and xenophobic rhetoric from former President Donald Trump likely contributed to increased anti-Asian sentiment since the onset of the coronavirus pandemic.
He described U.S. racism as "a systemic and persistence existence" permeating all aspects of society, a perspective shared by numerous public figures and advocates, both in the U.S. and abroad.
"We hope the U.S. will earnestly honor its commitment to protecting human rights, cracking down on discrimination and hate crimes against ethnic minorities including Asian Americans and earnestly protecting the rights of ethnic minorities so that they will be free from the nightmare of discrimination and hate crimes and no longer live in violence and fear," Zhao continued.
The official's comments came as widely publicized instances of anti-Asian hate crimes and violence shed light on a steep rise in similar crimes throughout the course of the pandemic. Last month, six women of Asian descent were among the eight people killed during a shooting spree in Atlanta. Soon after, videos that showed Asian Americans being physically attacked or verbally harassed during incidents in which the perpetrators' motives were clearly racist began to surface on social media.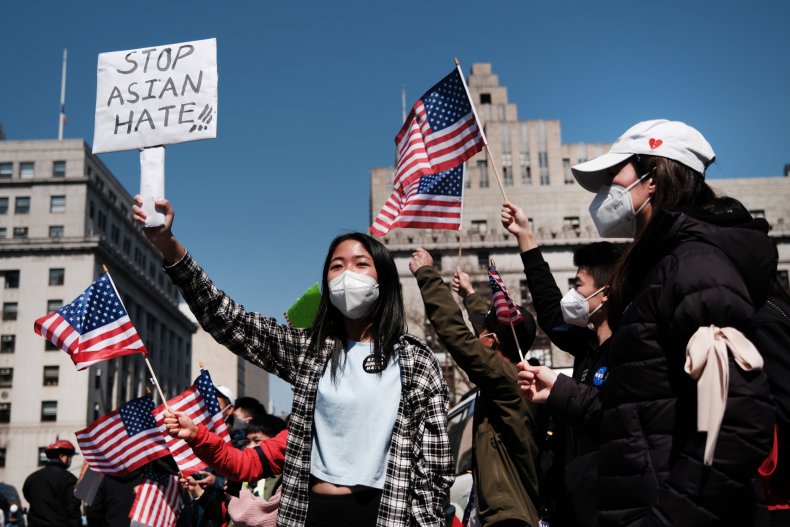 China and the U.S. have openly criticized each other's human rights offenses. At the end of March, the Chinese State Council Information Office published a report that evaluated the state of human rights in the U.S. in 2020, examining issues related to racial injustice, gun violence and COVID-19 mitigation.
The report found that "racism exists in a comprehensive, systematic and continuous manner" nationwide. The deadly attacks in Atlanta were one of two mass shootings that took place in the U.S. in March. Last year, multiple high-profile cases of Black Americas killed during violent interactions with police prompted months of global protests last year.
Two days before the human rights report's release, U.S. Secretary of State Antony Blinken announced that President Joe Biden's administration would join allied countries, including Canada, the United Kingdom and the European Union, in establishing sanctions against China for its inhumane treatment of Uyghur communities and other ethnic or religious groups considered minorities by the government. China's use of internment camps to arbitrarily detain thousands of Uyghur people, who are predominantly Muslim, has for years been condemned as an act of genocide.
Newsweek reached out to China's Ministry of Foreign Affairs for further comment but did not receive a reply in time for publication.