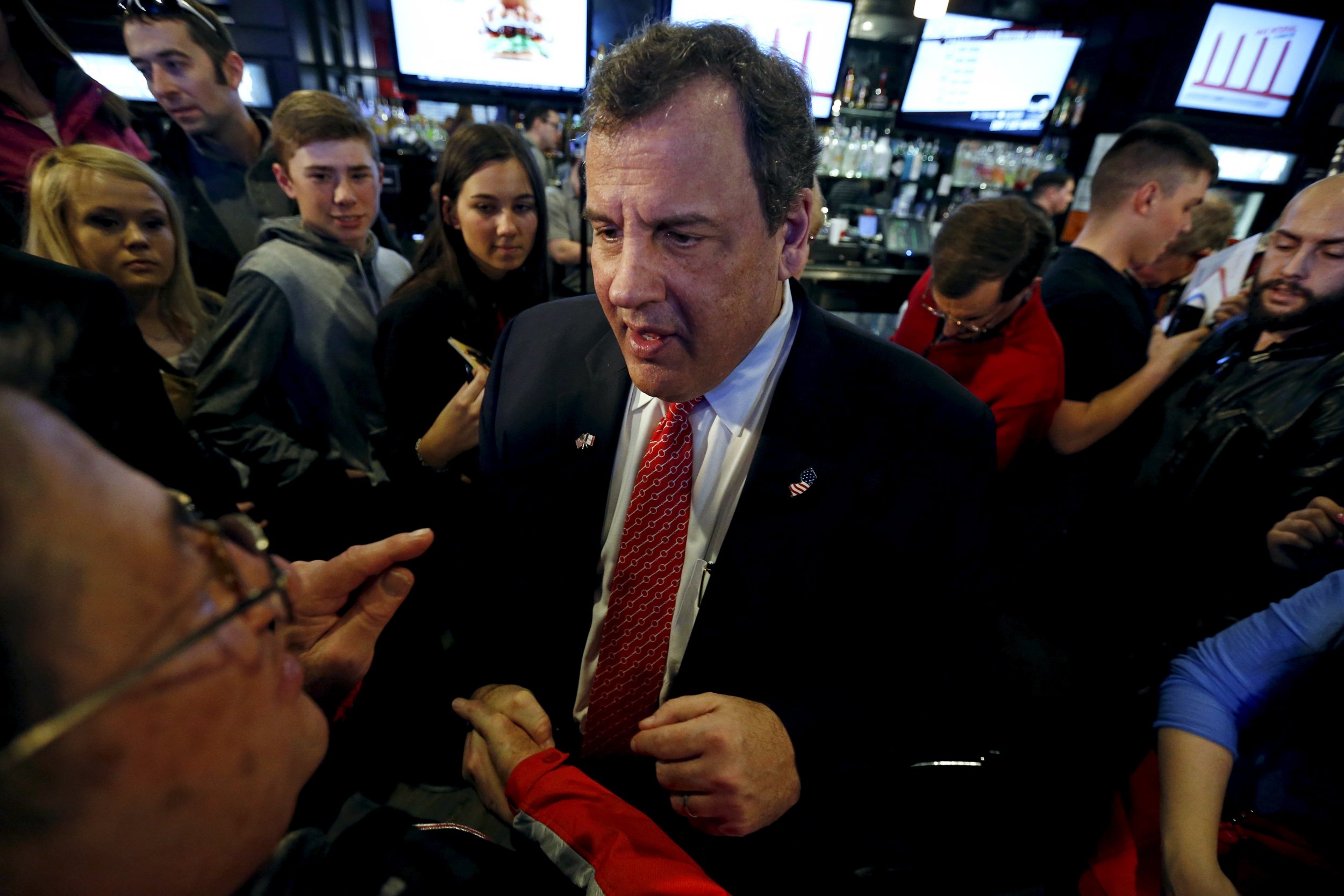 As winter storm Jonas threatens most of the East Coast ahead of the weekend, New Jersey Governor Chris Christie decided Friday afternoon to cancel his campaign events in the early primary state of New Hampshire for the next two days. Instead, the Republican presidential candidate will return to his home state to deal with what is expected to be a major blizzard.
With less than three weeks to go until New Hampshire voters cast their ballots, Christie on Thursday said he would attend the previously scheduled town hall events in the Granite State and trust his staff to prepare for the impending storm, which is predicted to begin early Saturday morning and last through Sunday. Central New Jersey could see up to 18 inches of snow.
But as meteorologists continued to warn of the storm's possible effects, including blizzard conditions and coastal flooding, Christie suspended his campaign to tend to the Garden State's response. His wife, Mary Pat, will remain in New Hampshire.
"I'm sorry, New Hampshire, we've got snow coming in New Jersey so I gotta go home. But, I'll be back," Christie said Friday afternoon on Twitter.
But Christie's decision to cancel his town hall events and leave New Hampshire during the last crucial weeks before the primary—when every handshake counts—presents the possibility that his campaign will be affected.
This is not the first time Christie was faced with the decision to continue with his personal plans outside of New Jersey or return home. He was scrutinized during a snowstorm in December 2010 because he chose to remain in Walt Disney World in Florida with his family while New Jersey residents were pounded with one of the state's worst blizzards in decades. He fired back at his critics, saying part of being a leader was selecting strong staff members to deal with problems in his absence.
Christie's image improved in 2012 as residents praised his response to Hurricane Sandy, which inundated New Jersey towns with water and inflicted historic damage in the state.
Gene Grabowski, a partner and issues management and communications counselor at the Washington, D.C., firm kglobal, says Christie's decision to return to his duties as governor was smart, as long as he carries out his responsibilities.
"If he's perceived as he's going back because he doesn't want to travel in the weather or other reasons, that can hurt you," he tells Newsweek. "If you message assertively, if you message boldly, and you carry on a conversation with constituents, they'll listen."
Since Christie is polling toward the middle of the crowded Republican field, his decision to leave New Hampshire probably won't hurt him as much as a similar hypothetical situation might affect GOP front-runner Donald Trump or Texas Senator Ted Cruz, Grabowski says. Trump and Cruz, currently the two leading Republican candidates, are neck and neck in some polls.
"If he shows that he's acting responsibly [in New Jersey] and he makes it up to the voters in New Hampshire somehow, he should be OK," Grabowski says. He adds that Christie could schedule a bigger event later in New Hampshire or visit voters' homes in return for canceling his appearances this weekend.
Many voters expect governors and other elected officials to uphold their responsibilities despite previously planned events. In January 1987, then-Mayor Marion Barry of Washington, D.C., continued with his California vacation as his constituents were pummeled with more than 2 feet of snow. As residents spent days struggling to dig out from the storm, Barry stayed in the Golden State to attend the Super Bowl. Some critics credit his public flop during the storm as the beginning of his downfall.
Being present but not acting responsibly also can hurt a campaign. In late December 2010, during the same storm that led to Christie's Disney World headlines, then-Mayor Michael Bloomberg faced mounting criticism for the slow pace of cleanup after one of the largest snowstorms in New York City history. Tens of thousands of residents were stranded in their homes as scores of streets were left unplowed and city transportation struggled for several days. Bloomberg ultimately publicly took the blame for the city's slow response.
Some critics credit the loss of former Chicago Mayor Michael Bilandic to his opponent because of his inefficient handling of at least two major snowstorms that dumped more than 35 inches of snow on the Windy City in two weeks in January 1979. His rival, Jane Byrne, won the Democratic nomination later that month.
As for Christie, "clearly there are going to be some people in the crowd who are upset," Grabowski says. "I think most people in New Hampshire are going to understand it."