Chris Christie Rips Trump's Response to Pence's Jan. 6 Remarks: 'Immature'
New Jersey's former Republican Governor Chris Christie called out Donald Trump's response to former Vice President Mike Pence's remarks about January 6, 2021—saying the former president's statement was "immature."
Pence spoke at a Federalist Society event in Florida on Friday and pushed back against Trump's claim that he had the power as vice president to overturn President Joe Biden's election victory during the formal certification process in Congress on January 6, 2021. The former vice president asserted that Trump "is wrong," resulting in the former president releasing a statement later in the day criticizing him.
Christie supported Trump in 2016 and again in 2020—even helping the former president prepare for a debate against then Democratic presidential candidate Biden. But Christie has become critical of Trump and his lie that the 2020 election was "rigged" or "stolen," as well as how the former president incited his supporters to attack the U.S. Capitol. He gave his assessment of the Trump-Pence spat during an appearance on ABC News' This Week on Sunday.
"Let's call this what it is. January 6 was a riot that was incited by Donald Trump in an effort to intimidate Mike Pence and the Congress into doing exactly what he said in his own words last week—overturn the election," the former governor said.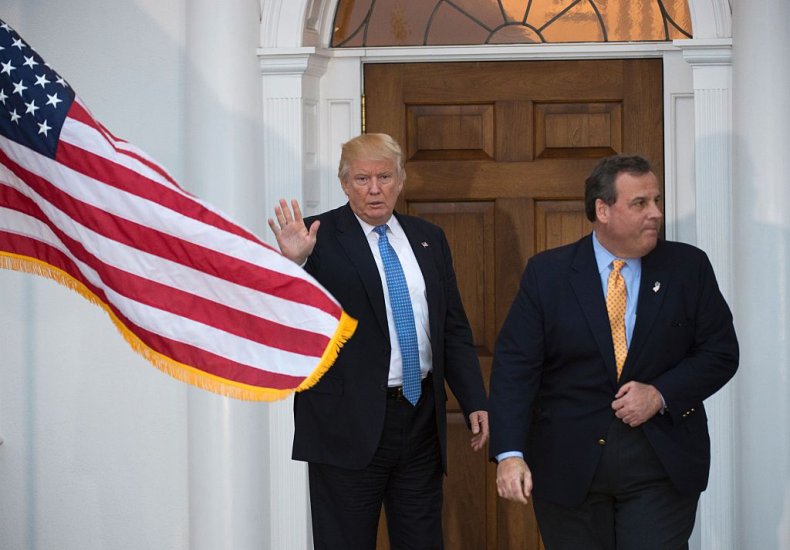 Christie went on to say that Trump's response to Pence "is kind of akin to the kid standing in the corner holding his breath." He said, "it's immature and it's beneath the office that he held."
In a Tuesday statement, Trump suggested that Pence should be investigated for declining to overturn the 2020 election results. Then in his Friday remarks, Pence rejected his former boss' assessment.
"I heard this week, President Trump said I had the right to 'overturn the election,'" the former vice president told the conservative audience at the Federal Society event. "President Trump is wrong."
Later on Friday, Trump released another statement taking aim at him again.
"Just saw Mike Pence's statement on the fact that he had no right to do anything with respect to the Electoral Vote Count, other than being an automatic conveyor belt for the Old Crow [GOP Senate Minority Leader] Mitch McConnell to get Biden elected President as quickly as possible," the former president said.
Trump again called out Pence and McConnell in a Saturday statement.
"Mike Pence said he had no authority other than to send the votes forward to the Old Crow, Mitch McConnell. If so, why are the Dems and RINOs fighting so hard to make it impossible for a VP to do so in the future?" he said.
The former president publicly and privately urged Pence to unconstitutionally overturn Biden's victory on January 6, 2021 as he oversaw the formal certification of the 2020 Electoral College votes. Pence refused, drawing the ire of Trump and his supporters. Hundreds of pro-Trump rioters then attacked the U.S. Capitol that day—with many chanting their desire to "hang Mike Pence."
Despite the violent disruption, Pence and Congress reconvened later on and finished the certification of Biden's election victory. The former vice president described those events as a "dark day" in June remarks at a Lincoln-Reagan Dinner fundraiser sponsored by the Hillsborough County Republican Committee.
"You know, President Trump and I have spoken many times since we left office. And I don't know if we'll ever see eye-to-eye on that day. But I will always be proud of what we accomplished for the American people over the last four years," the former vice president said.
Newsweek reached out to Trump's and Pence's press offices for comment.