Chris Noth Fired From 'Equalizer' After Sex Allegations, Despite Appearing in Recent Promos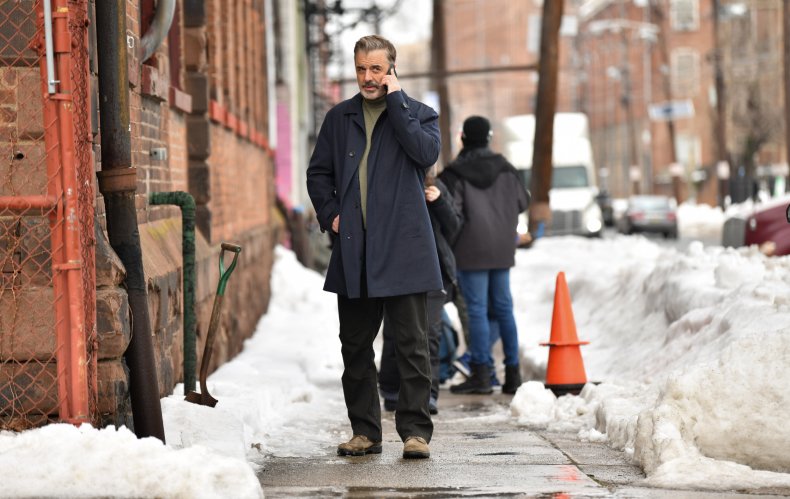 Sex and the City actor Chris Noth has been fired from CBS series The Equalizer following sexual assault allegations, although he continued to feature in promotional ads for the series after the allegations emerged.
Noth played the supporting role of William Bishop in the Queen Latifah-starring crime drama. The show had aired seven episodes of its second season and was on a December break when the firing was announced. Noth is still set to appear in one coming episode that was already filmed and possible repeats of past episodes, according to Deadline.
"Chris Noth will no longer film additional episodes of The Equalizer, effective immediately," CBS and Universal Television said in a statement.
A representative for Noth declined to comment on the firing when contacted by Newsweek.
Noth remained in ads for the show days after the allegations emerged. Jason Lynch, TV editor for the advertising trade magazine Adweek, tweeted on Monday that he "thought it was strange that Chris Noth was still being featured" in The Equalizer ads that aired during NFL games on Sunday.
Noth's ouster from The Equalizer came four days after the publication of an article from The Hollywood Reporter that detailed sexual assault allegations against Noth by two women. A third woman alleged that Noth also assaulted her in a Daily Beast article published on the following day. Noth has denied all of the allegations.
The accusations detailed in The Hollywood Reporter were said to have taken place in 2004 and 2015, when the women were age 22 and 25, respectively, and Noth was 49 and 60. Both women alleged that they turned down advances from Noth before he sexually assaulted them from behind as they faced a mirror. The third accuser alleged that Noth assaulted her in the office of a New York City restaurant after she had finished a work shift in 2010.
"The accusations against me made by individuals I met years, even decades, ago are categorically false," Noth said in a statement regarding the allegations. "These stories could've been from 30 years ago or 30 days ago—no always means no—that is a line I did not cross. The encounters were consensual."
"It's difficult not to question the timing of these stories coming out," he added. "I don't know for certain why they are surfacing now, but I do know this: I did not assault these women."
The accusations have resulted in consequences for Noth beyond his firing from The Equalizer. The $12 million sale of Noth's Ambhar tequila brand was also reportedly canceled on Monday in light of the allegations.
The allegations came days after Noth appeared in the debut episode of Sex and the City revival series And Just Like That ..., with Noth's character "Mr. Big" dying of a heart attack after exercising on a Peloton stationary bike.
"We are deeply saddened to hear the allegations against Chris Noth," Sex and the City stars Sarah Jessica Parker, Cynthia Nixon and Kristin Davis said in a joint statement on Monday. "We support the women who have come forward and shared their painful experiences. We know it must be a very difficult thing to do and we commend them for it."
Peloton stock price plummeted after Noth's screen death aired, prompting the company to quickly release an ad featuring Noth and a Ryan Reynolds voiceover reminding potential customers that exercise improves cardiovascular health.
The ad went viral almost immediately, amassing millions of views within hours of being released. However, Peloton deleted the ad from social media following the emergence of the allegations against Noth.