This Isn't the First Joke Chris Rock Has Made About Jada Pinkett Smith
Chris Rock's joke about Jada Pinkett Smith at the 2022 Oscars on Sunday night did not go down well with her husband Will Smith who stormed the stage and promptly slapped the comedian in the face in viral footage that has shocked millions of people the world over.
It turns out that Rock made a dig at Pinkett Smith at the Oscars back in 2016, which may have been part of the reason for Smith's explosive reaction at this year's ceremony.
On Sunday night, Rock was on stage to present an award when he cracked a joke about Pinkett Smith.
"Jada, I love you. G.I. Jane 2, can't wait to see it," he said, referring to Pinkett Smith's shaved head, a result of her experience with the condition alopecia.
This prompted Smith to quickly walk up on stage and smack Rock across the face, before returning to his seat and shouting: "Keep my wife's name out your f****** mouth!"
"Wow, dude, it was a G.I. Jane joke," a shaken Rock responded —to which Smith shouted once again: "Keep my wife's name out your f****** mouth!"
Rock replied: "I'm going to, okay?" before going on to say, "That was the... greatest night in the history of television."
Smith, Pinkett Smith and Rock have known each other for many years, but there seems to have been some bad blood between the stars already.
A resurfaced clip from the 2016 Oscars shows Rock taking a dig at Pinkett Smith who was boycotting the event that year as part of the #OscarsSoWhite movement which saw a number of celebrities take a stance against the Academy due to a lack of diversity.
Rock was presenting the Oscars that year, and in his opening monolog, he quipped: "Jada boycotting the Oscars is like me boycotting Rihanna's panties. I wasn't invited."
He also joked about Smith, adding: "It's not fair that Will was this good and didn't get nominated. It's also not fair that Will was paid $20 million for Wild Wild West!"
Pinkett Smith spoke about the joke shortly afterward in an interview with X17.
"Hey look, it comes with the territory but we gotta keep it moving. We gotta keep it moving. We gotta keep it moving," she said at the time, per The Independent.
"There's a lot of stuff we gotta handle, a lot of stuff in our world right now. We gotta keep it moving."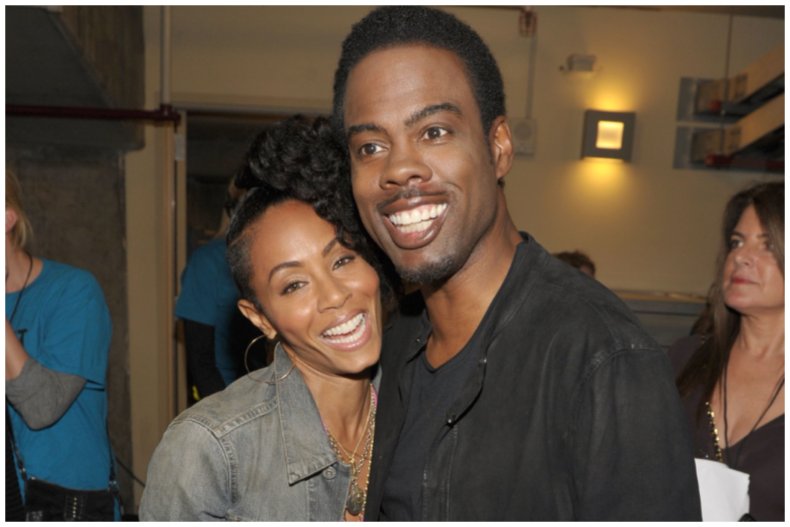 Two years later, Rock made an online joke about the couple after Smith wrote a birthday message to his ex-wife Sheree Zampino, who he shares a son with.
Smith shared a photo of Zampino on Instagram, writing: "Happy Bday, @shereezampino. #BestBabyMamaEver! :-) I Love You, Ree-Ree."
Rock commented on the post by writing: "Wow. You have a very understanding wife," in reference to Pinkett Smith, E! Online reported. According to the news outlet, the Smith, Pinkett Smith and Zampino did not always have a good relationship—and Rock's joke appeared to highlight that.
In response, Zampino replied to the comedian's jab by stating: "Don't hate."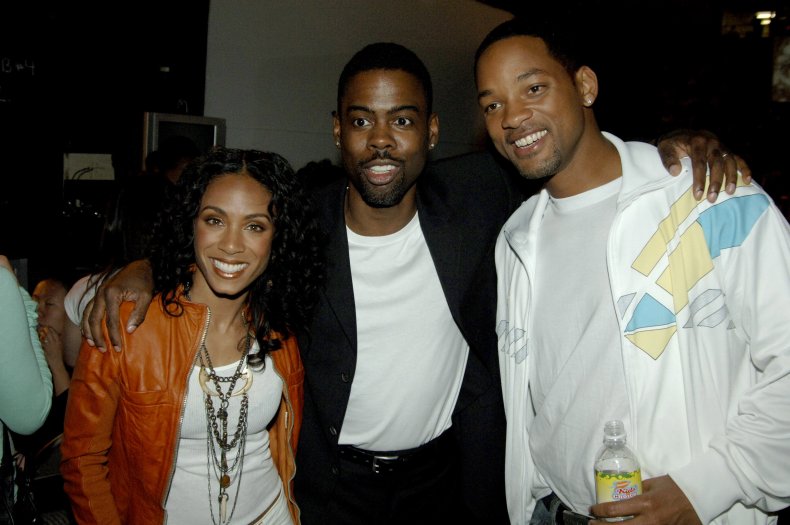 Smith later apologized to the Academy and his fellow nominees for the slapping incident, during his acceptance speech after winning Best Actor for King Richard.
"I know to do what we do, you've got to be able to take abuse, you've got to be able to have people talk crazy about you. In this business, you've got to be able to have people disrespecting you, and you've got to smile, and you've got to pretend like that's OK," Smith said in part.
"Denzel [Washington] said to me a few minutes ago, he said, 'At your highest moment, be careful. That's when the devil comes for you.' It's like, I want to be a vessel for love."
"I want to apologize to the Academy, I want to apologize to all my fellow nominees," he added, before joking that he hopes "the Academy invites me back."