A Timeline of Chris Rock, Will Smith and Jada Pinkett Smith's Friendship
Will Smith slapped Chris Rock at the 2022 Oscars ceremony after the comedian made a joke about the actor's wife, Jada Pinkett Smith.
Rock had made a joke during his opening monologue about Pinkett Smith's baldness by saying she was getting ready to star in "G.I. Jane 2."
Pinkett Smith suffers from alopecia, which results in hair loss. Shortly after the joke Smith stepped up on stage and slapped Rock, telling him to "keep [his] wife's name out of your f***ing mouth."
Smith later apologized to the Academy and his fellow nominees for the incident, and made reference to Richard Williams, Serena and Venus Williams' father who he played in King Richard and won the Best Actor nod for.
"I want to apologise to the Academy. I want to apologise to my all my fellow nominees," Smith said during his acceptance speech.
"Art imitates life. I look like the crazy father, just like they said about Richard Williams. But love will make you do crazy things."
The Los Angeles Police Department told Variety that Rock had declined to file a police report against Smith for the slap.
Here is how long Smith, Pinkett Smith and Rock have known each other.
A Timeline of Chris Rock, Will Smith and Jada Pinkett Smith's Friendship
Despite the incident at the 2022 Oscars, Smith, Pinkett Smith and Rock have known each other, and been friends, for quite some time.
1995
In 1995, Rock starred in The Fresh Prince of Bel-Air alongside Smith in a dual cameo performance as Maurice and his sister Jasmine.
Smith's character Will had to take Jasmine out on a date in order to ensure he could keep his new job.
1999
After his appearance on the comedy show Smith and Rock remained friends, and they often went out socially together.
Smith and Rock also went out socially when the actor started dating Pinkett Smith in 1995, who the actor then married in 1997.
The trio were seen enjoying some time together at the 1999 MTV Music Awards Arrivals at Lincoln Center in New York City, for example.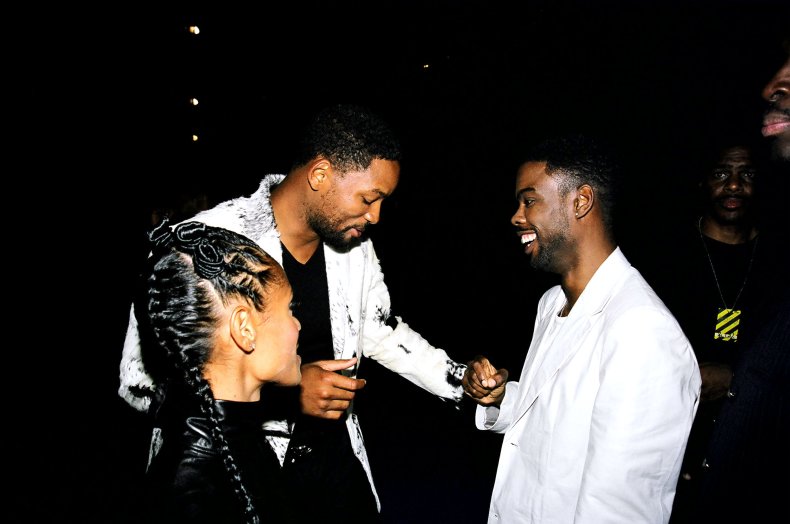 2005
Pinkett Smith and Rock worked together on the movie Madagascar in 2005, with the comic playing Marty the zebra and the actor portraying Gloria the hippo.
The duo went on to star in two more Madagascar movies: Madagascar: Escape 2 Africa in 2008, and Madagascar 3: Europe's Most Wanted in 2012.
2009
In 2009, Rock said in an interview with CNN that it was not possible to tell jokes about President Barack Obama, referencing Smith.
The comic shared: "[Obama's] just one of those guys, you know, like Will Smith. There's no Will Smith jokes. There's no Brad Pitt jokes.
"You know, what are you going to say? 'Ooh, you used to have sex with Jennifer Anniston. Now you have sex with Angelina Jolie. You're such a loser.'
"What do you say? 'Ooh, your movies are big. You make $20 million.' There's nothing to say about Brad Pitt."
2012
In a joint interview for the aforementioned Madagascar 3, Rock shared how his daughters were big fans of Pinkett Smith and Smith's daughter Willow.
In an interview with Fuse, Rock said: "Hey, my kids listen to your kids! '21st Century Girl' Oh my god. And they love 'LMFAO,' but they have no idea what it stands for."
2016
During the 2016 Academy Awards, which Rock also hosted, the comic poked fun at Pinkett Smith's decision not to attend the event over the lack of Black nominees.
In his opening monologue, Rock said: "But what happened this year? People went mad. Spike Lee went mad... Jada Pinkett Smith went mad. Will Smith went mad. Everyone went mad.
"Jada said she's not coming, protesting. Isn't she on a TV show? Jada boycotting the Oscars is like me boycotting Rihanna's panties—I wasn't invited."
He then added: "That's not an invitation I would turn down. But I understand. I understand you're mad—Jada's mad her man Will was not nominated for Concussion [Smith's 2015 film]."
"I get it. Tell the truth. I get it. It's not fair that Will was this good and didn't get nominated. It's also not fair that Will was paid $20 million for Wild Wild West."
2018
In 2018, Rock reportedly made a joke about Smith and Pinkett Smith after the former left a birthday message to ex-wife Sheree Zampino, who he shares son Trey with.
Smith had shared a picture with Zampino and wrote: "Happy Bday, @shereezampino. #BestBabyMamaEver! :-) I Love You, Ree-Ree."
According to E! Online, Rock commented about Pinkett Smith writing: "Wow. You have a very understanding wife," to which Zampino replied with "Don't hate."