Chris Rock's Non-Verbal Learning Disorder Gains Attention After Oscars Slap
Chris Rock's non-verbal learning disorder (NVLD) diagnosis gained renewed attention after he was slapped by Will Smith at the 94th Academy Awards ceremony.
Smith stunned viewers when he walked on stage and slapped the comedian moments after he made a joke about the actor's wife Jada Pinkett Smith.
Smith slapped Rock over a joke about his wife's shaved head, which was due to alopecia—a hair-loss condition.
The subsequent controversy overshadowed Smith's best actor win, the ceremony as a whole and brought intensified attention to him and Rock.
Commentators and people online criticized both Rock and Smith over the joke and slap, respectively.
Smith has since resigned from the Oscars Academy over the slap and said in a statement: "My actions at the 94th Academy Awards presentation were shocking, painful and inexcusable."
In the aftermath of the slap controversy, a renewed focus has fallen on Rock's NVLD diagnosis.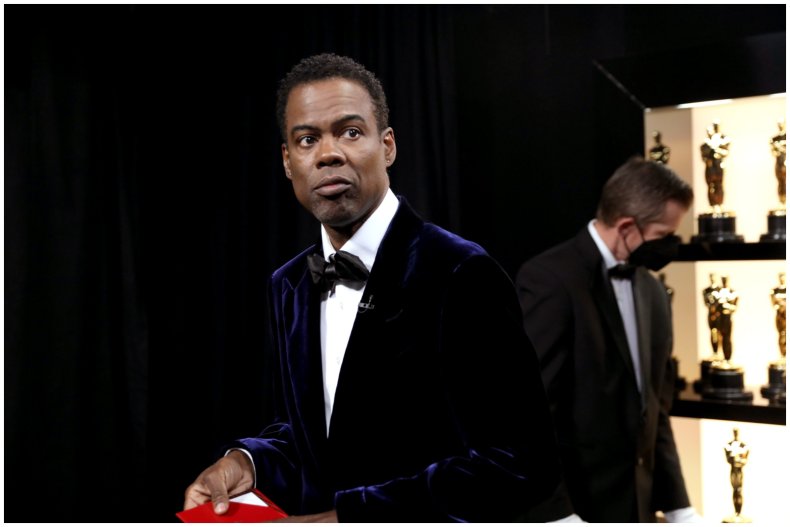 According to the NVLD Project, a nonprofit that aims to raise awareness of the condition, people with it "specifically have difficulty with social skills and spatial concepts."
Since the slap, Google searches for NVLD on Google have risen sharply, with peak interest in the condition seen on March 31.
People on social media have shared information about Rock and NVLD on their Twitter profiles in recent days.
Actress and producer Austin Highsmith Garces said in a March 31 tweet: "Just learned that Chris Rock himself has a disability. He has NVLD which is similar to Asperger's Syndrome."
Legal correspondent Amy Dash shared a March 29 post on the platform, which read: "Great time for @ChrisRock to draw attention to his non-verbal learning disorder diagnosis and its impact on his social interactions.
"Could help a lot of people who may not otherwise realize they or someone they know has NLD. Look it up."
Showrunner Holly Sorensen added in a March 28 tweet: "As long as we're talking diagnoses, Chris Rock has non-verbal learning disorder.
"It's a neurological condition that includes difficulty ready social cue and social appropriateness."
Rock himself has been open about his NVLD diagnosis and his experience with the condition in several interviews.
The comedian told celebrity news outlet ExtraTV in May last year that he was diagnosed after a friend told him that he could have Asperger's Syndrome.
He added: "It turned out that I had something that was a lot like Asperger's. I kinda have a hard time with non-verbal cues with people.
"I always have. I didn't know I did, but I'm great with words. I can hear, but most communication—they say that 70 percent of all communication is non-verbal."
He told The Hollywood Reporter in 2020 that he had difficulties with one-on-one relationships.
"And I'd always just chalked it up to being famous. Any time someone would respond to me in a negative way, I'd think, 'Whatever, they're responding to something that has to do with who they think I am.' Now, I'm realizing it was me. A lot of it was me," Rock said.
Newsweek has contacted Rock's representatives for comment.
According to a study published by the American Medical Association's JAMA Network Open in April 2020, as many as one in 25 children and adolescents in the U.S. and Canada may have NVLD.
It added the findings estimated that between 2.2 million to 2.9 million U.S. children under 18 could have NVLD.
A summary of the study added: "7 percent to 50 percent (depending on sample) had received no psychiatric diagnosis."