Chris Rock's Brother Wants Will Smith to Get Oscar Revoked: 'It Eats at Me'
Kenny Rock said he does not accept Will Smith's apology for slapping his brother, comedian Chris Rock, during the 2022 Academy Awards ceremony and believes the actor should have his Oscar revoked.
Earlier this week, Smith announced that he would resign from the Academy of Motion Picture Arts and Sciences over the now-infamous Hollywood moment. But Kenny Rock said in a new interview that it's not enough.
"It eats at me watching [the slap] over and over again because you've seen a loved one being attacked and there's nothing you can do about it," Kenny Rock told The Los Angeles Times. "My brother was no threat to him and you just had no respect for him at that moment. You just belittled him in front of millions of people that watch the show."
Kenny Rock called on the Academy to take further "disciplinary action" against Smith, including revoking his best actor award for the 2021 film King Richard – which he received just minutes after the slap – and barring him from attending future Oscars, the Times reported.
Smith made headlines last week when he rushed onstage during the award ceremony to slap Chris Rock and yell profanities at the comedian for making a joke about his wife Jada Pinkett Smith's hairstyle. Pinkett Smith had previously spoken about her experience with alopecia, an autoimmune disorder that causes hair loss.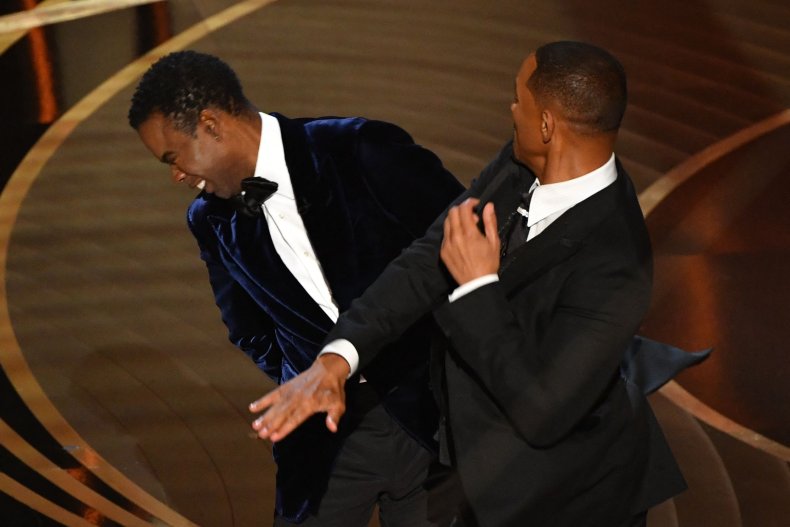 Smith, 53, did not immediately apologize to Chris Rock during the ceremony, but he made an announcement on social media the next day stating that his behavior was "unacceptable and inexcusable." The actor added that he reacted emotionally toward Rock because "a joke about Jada's medical condition was too much for me to bear."
However, Kenny Rock said that he doesn't believe Smith's apology was sincere.
"I don't accept it because I don't think it was genuine," he told the Times. "I think his publicist and the people that work under him probably advised him to do that."
He also said that he doesn't believe his brother even knew about Pinkett Smith's medical condition before he made the joke.
"The joke was funny," Kenny Rock said. "It wasn't hilarious funny, but I know that if he knew that she had alopecia ... he wouldn't make a joke about that. But he didn't know."
Kenny Rock, a 42-year-old actor, is one of Chris Rock's six surviving siblings, according to the Times. He told the news outlet that he first saw a video of the slap while riding the subway in New York City, and thought it was fake at first. Once he realized it wasn't, he said he felt angry with the Academy for not removing Smith from the ceremony.
"He should have been escorted out of there," he told the news outlet. "I hold them accountable for that. He could have went up there and did anything you wanted to my brother. It could have been much worse than what he did."
The Academy, in turn, has claimed that it did ask Smith to leave the awards but the actor refused. The organization said it plans to move forward with further disciplinary proceedings against Smith for violating its standards of conduct when the board meets on April 18.
For his part, Chris Rock said last week that he was "still processing" the slap. At a sold-out show in Boston, the comedian told the audience that "at some point I'll talk about that s***. It'll be serious. It'll be funny, but right now I'm going to tell some jokes."
Newsweek contacted the Academy of Motion Picture Arts and Sciences for additional comment but did not hear back in time for publication.